September 5, 2020
Dear Members of the Wellesley Public Schools Community,
I write to provide you with an update on our reopening plans for SY 2020-2021. On Monday, our staff returned for the start of the year and we came together for a virtual kickoff event to provide a district welcome and to outline the many new aspects of our work this fall. Our two priorities this year remain the health and safety of our  students and staff as well as a deepening of our work focused on diversity, equity, and inclusion.  Throughout the week, both of these topics were recurrent themes as our staff engaged in training and professional development along with individual and team preparation for teaching this year. I am also pleased to provide updates on the following topics:
Viral Testing
On Wednesday night, WPS and the Wellesley Education Foundation (WEF) hosted a webinar on viral testing that was led by an esteemed group of scientists and medical professionals who are deeply engaged in COVID-19 work at area institutions and whose expertise we have been fortunate to leverage in developing our proposed viral testing program.  The scope of this program includes baseline testing of students and staff before the start of in-person instruction, as well as a subsequent pilot program of surveillance testing of staff.  We expect to receive proposals from possible vendors early next week, which will allow us to brief the community with more specific details on the final budget needed to launch this program as well as the logistics for the testing itself.  WEF has graciously offered to donate $250,000 for back-to-school testing as well as additional funds raised through its ongoing campaign to support the surveillance testing pilot program.  Please visit the WEF website for more details on how you can support this important element of our school reopening plans.
Memorandum of Agreement (MOA) between the Wellesley Public Schools (WPS) and the Wellesley Educators Association (WEA)
On Friday morning the WEA approved an MOA with the WPS, which outlines our agreement on many aspects of our school reopening plan.  The Wellesley School Committee voted to approve this same plan Friday afternoon. We remain grateful for the spirit of collaboration that led to this agreement and reinforces our shared sense of urgency to support the safe return of students and staff to in-person education beginning on October 1 as outlined in our transition plan.
Athletics
Another area of our operations that we have been working to define is athletics.  Based on recent state and league guidance, we plan to bring a recommendation on the scope of our athletics program for the Fall semester to the School Committee on Wednesday evening (9/9) at 6:30PM.
Remote Learning School (RLS)
On Friday we announced that Michael LaCava, our current PreK-12 Director of Performing Arts will take on the position of RLS Principal for 2020-2021.  Michael previously served as a principal and assistant principal in Chelmsford and was instrumental in the development of  the WPS Elementary Standards-Based Report Card.  Michael will continue to oversee the Performing Arts Department with support from colleagues at each level.  Toni Carlson, our PreK-12 Director of Libraries and Innovation, will provide additional leadership and support of our Remote Learning School.  WPS is continuing to work to finalize the staffing for the RLS with current WPS educators and newly hired colleagues.  Mr. LaCava will be in touch with RLS parents and staff moving forward regarding these and other details.  We remain grateful for everyone's patience as we complete this extraordinarily complex set of activities in preparation for opening day for students on September 16th.
Back-to-School Information
Beyond district level communications, each school is now communicating specific back-to-school information in advance of opening day.  Please be sure to check your email regularly and your school's website for information on back-to-school packets, school supply lists, principal messages, and other important details.
In particular, on Friday all families received information on the Parent PowerSchool Portal, which will open on Tuesday, September 8th at noon.  All parents/guardians must login to update their personal information and sign off on required permissions for each child for the year.  Once completed, parents will then be able to view home room and cohort information for grades K-8. Grade 9-12 schedules will be available approximately one week before school begins.
Overview of School Reopening Plan
In the approved WPS reopening plan, remote instruction for students will begin on September 16th with a transition to a hybrid model, which will begin on October 1st.  The key dates on that calendar are listed below:
Overview of WPS School Reopening Launch 2020
Phase
Dates
Highlights
Phase 1:

Teacher Preparation & Building Reacclimation

August 31-September 4
Staff return for SY2020

(Optional in-school/remote)

Welcome back activities

Safety Training

Professional Development

Teacher preparation/planning

September 7: Labor Day
No School
September 8–11
PAWS / Elementary Schools:

Staff return on-site

WMS / WHS:

Phase-in of staff on-site

Phase 2: 

Student Personalization /

First Day of School

September 14-15
Teacher remote check-ins/introductions to students individually (elementary) and small groups (WMS/WHS)
September 16

(Half-Day)

First Day of School for all Students (RLS and Hybrid)

Remote Learning for all

Phase 3:

Building Whole School Community / Finalizing Safety Elements

September 21-30
Remote Learning for all

Baseline viral testing of students and staff

Tent installation and inspection

September 28: Yom Kippur
No School
Phase 4:

Transition to In-Person Hybrid

October 1-2
Cohort A students return to school in person October 1

Cohort B students return to school in person October 2

October 5 – onward
Regular Hybrid Schedule

Cohort A Monday/Thursday

Cohort B Tuesday/Friday

Wednesday: Remote learning half-day
Overview of WPS School Reopening Launch 2020
This year, WPS will be supporting a number of different student schedules as outlined in the following overview document.  Students in the RLS will engage with their teachers in a full remote model.  Students in the hybrid will attend school two days a week with their respective cohort as well as engage in at-home learning two days a week.  Both cohorts of students will come together with their teachers for a half-day of remote instruction on Wednesdays.  Additionally, prioritized students will attend school in-person four days a week.  This includes students with complex and significant needs who cannot be served appropriately in a remote environment.  WPS is also continuing to explore the possible earlier return of our youngest learners to four days of in-person instruction based on our final student numbers and space availability.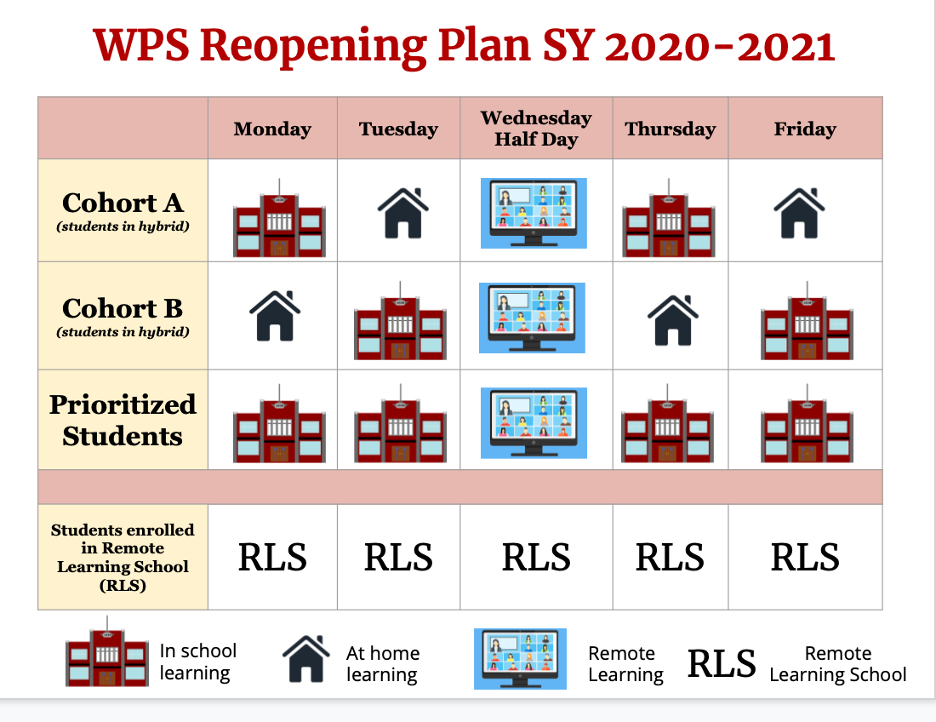 WPS Reopening Update 9/5/2020