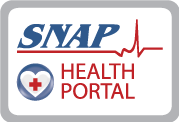 Our department is in the process of implementing and launching this online health "portal" that partners with PowerSchool to allow access to the most up to date and direct access to your student's health records on any device.
As part of the initial set up, emails were sent out to families from SNAP asking that you set up your personalized account. Please note that no action is required on your part right now and stay tuned for more information before the start of school.
Read more about the SNAP Health Portal on the WPS Nursing website.
Thank you,
Ashley Hulme, Director
Nursing Services