Background:
As we follow best practices and develop a series of policies and procedures to keep school open safely, Wellesley Public Schools leadership's foremost goals are to minimize the risk of COVID-19 infection and spread and to maximize the opportunity for learning and growth during the 2020-21 academic year through in-person instruction. In addition to implementing the CDC safety recommendations (mandatory face masks, social distancing, improved air filtration), we will conduct a COVID-19 saliva-based pool (or population) test each week. Testing will begin the week of October 13 for a portion of staff, expand the week of October 19 to include all staff then expand the following week to include high school students and middle school students.
WPS is contracting with Mirimus to implement this evidence-based approach, which is responsive to practical public and private lab constraints (e.g., scarcity of testing materials, machines, and time) and enables the delivery of highly accurate test results within 24–48 hours. Mirimus will test the samples on behalf of WPS.
Below, we attempt to anticipate and answer questions that you may have regarding pool testing. As always, we welcome your additional questions or concerns. Please submit comments or questions to WPSCOVIDtesting@wellesleyps.org. We will either respond personally or update our FAQ.
Questions have been divided into five categories
---
Questions about the Test:
What is pool testing?
Rather than test each individual student and employee separately, a time and resource intensive process, samples will be combined—or pooled—to cut down on the number of tests. Different types of samples could theoretically be pooled. In this case, we will be using saliva. If one person within a pool of 24 saliva samples tests positive, the entire pool is flagged as positive and subsequent testing is enacted to discern which individual(s) within the pool was the positive case.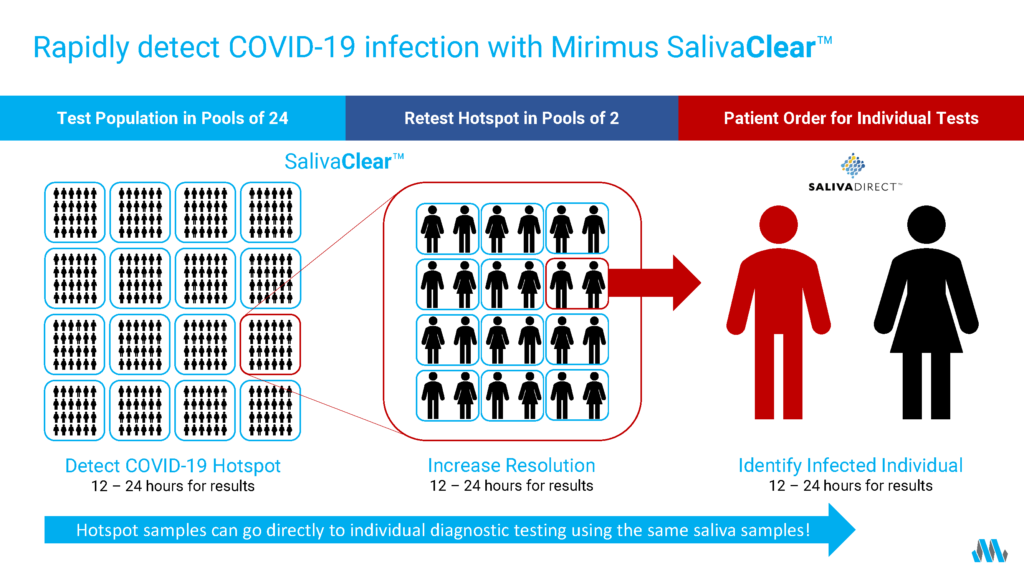 Why is WPS using COVID-19 pool testing?
Pool testing can identify and isolate asymptomatic carriers of the COVID-19 virus, thus enhancing the health and safety of those in the WPS buildings. A recent study suggested that screening pools of greater than 20 could be cost-effective when the case prevalence rate in a particular community is below 1%. This protocol will allow us to minimize the presence of the COVID-19 virus on our campuses and maximize our ability to remain open for on-site learning and engagement throughout the 2020-21 academic year. We will continue to monitor and maintain all CDC health and safety recommended protocols throughout the 2020-2021 academic year, as well.
What is the difference between surveillance, screening, and diagnostic testing for COVID-19 testing?
Surveillance for COVID-19 includes ongoing systematic activities, including collection, analysis, and interpretation of health-related data, essential to planning, implementing, and evaluating public health practice. It is generally used to monitor for an occurrence, such as an infectious disease outbreak, in a population or community, or to characterize the occurrence once detected, such as looking at the incidence and prevalence of the occurrence. Surveillance testing is primarily used to gain information at a population level, rather than an individual level. Surveillance testing may be random sampling of a certain percentage of a specific population to monitor for increasing or decreasing prevalence and determining the population effect from community interventions such as social distancing. The FDA generally does not regulate surveillance testing.
Screening for COVID-19 is looking for occurrence at the individual level even if there is no individual reason to suspect infection such as a known exposure. This includes broad screening of asymptomatic individuals without known exposure with the intent of making individual decisions based on the test results. Screening tests are intended to identify infected individuals prior to development of symptoms or those infected individuals without signs or symptoms who may be contagious, so that measures can be taken to prevent those individuals from infecting others. FDA regulates screening tests as in vitro diagnostic devices and has provided recommendations and information regarding Emergency Use Authorization (EUA) requests for COVID-19 screening tests in the Policy for Coronavirus Disease-2019 Tests and the EUA templates referenced in that Policy. Examples of screening include the baseline testing conducted prior to the start of in person hybrid learning or the testing plans developed by a workplace to test all employees returning to the workplace regardless of exposure or signs and symptoms and testing plans developed by a school to test all students and faculty returning to the school regardless of exposure or signs and symptoms, with the intent of using those results to determine who may return or what protective measures to take on an individual basis. Diagnostic testing for COVID-19 is also looking for occurrence at the individual level but is performed when there is a particular reason to suspect that an individual may be infected. Diagnostic tests are intended to diagnose an infection in patients suspected of COVID-19 by their healthcare provider such as in symptomatic individuals, individuals who have had a recent exposure, individuals who are in a high-risk group such as healthcare providers with known exposure, or testing to determine resolution of infection. Diagnostic tests may also be appropriate in areas of high community spread, at the discretion of the ordering healthcare provider. FDA regulates diagnostic tests as in vitro diagnostic devices and has provided recommendations and information regarding EUA requests for COVID-19 diagnostic tests in the Policy for Coronavirus Disease-2019 Tests and the EUA templates referenced in that Policy. Examples of diagnostic testing include testing symptomatic individuals presenting to their healthcare provider, testing individuals who indicate that they were exposed to an individual with a confirmed or suspected case of COVID-19, and testing all individuals present at an event where an attendee was later confirmed to have COVID-19.
If at any time a patient specific result is to be reported by a facility, it must first obtain a CLIA certificate and meet all requirements to perform testing. For more information:
How reliable is the test?
Based on efficacy studies conducted to date by Mirimus, pool test protocols detect the existence of the COVID-19 virus as well as it can be detected via an individual COVID-19 test but at a fraction of the cost, thus providing an opportunity for WPS to regularly test a larger school population.
Please remember that any negative test, and especially a pooled 24 sample test, does not definitively always imply that there is no virus in the individual's system. For example, soon after infection the body is not shedding virus, so it is neither infectious or easily detectable by a test. Other factors can also affect the presence of the virus in the sample. Even with a negative result everyone should abide by the recommended health practices such as mask wearing, physical distancing, and hand washing.
For individuals positive with COVID-19 virus, with very high viral loads, the test has a very high sensitivity (that is the ability to return a positive result if the patient is actually positive). In fact, Mirimus conducted experiments where they compared results from pooled testing to individual tests for the same individuals from a very close point in time and found a 97 percent match. Retesting exactly the same samples with the corresponding individual test yielded a 100 percent match.
For individuals positive with COVID-19 virus, with lower viral loads (for instance in the very earliest stages of infection), the exact sensitivity is unknown, but scientific estimates range from 80-95%.
What this means is that for every 10 individuals that are truly positive, we believe that this inexpensive approach will help us find 8 or 9 of them, without difficulty. It is possible the approach will find all 10, but we cannot be sure. This is why getting tested every single week is so important.
Is there a potential for false positives?
False positives are possible but very rare. The test utilized by Mirimus detects three different unique viral RNA templates. For a positive result, at least two RNA templates must be detected. The protocols used substantially decrease false positives created by detecting dead viral particles.
How is user privacy ensured?
At WPS, the barcode corresponding to the sample will be connected with an individual's name. This information is not transferred to Mirimus. Therefore, the data portal that will be used meets and exceeds all HIPAA privacy protections afforded every individual since no Protected Health Information (PHI) will be shared. Your saliva samples will be used for COVID-19 testing only, and for Mirimus to make improvements to their diagnostic products. Individuals can only access their own results. Only approved WPS administrators will be able to view all pool results.
Mirimus will never know the identity of those being tested, as they only receive bar coded vials. WPS will only be provided name and email addresses; the email addresses are used as unique identifiers for those being tested.
If a definitive diagnostic test is required (for individuals in pools of 2 that contain a positive), a distinct HIPAA compliant system will be utilized that will also protect PHI.
---
Questions about WPS approach:
Are you required to participate in pool testing to attend (and/or work) at WPS this year?
The testing is not mandatory but highly encouraged to keep our schools/district safe.
Explain the pilot program approach?
To try to build on the safety protocols (masks, improved air filtration, frequent hand washing, social distancing, etc) put in place, WPS developed a COVID testing plan that began with baseline testing of all students and staff. After learning from that experience, we piloted weekly at home collection PCR surveillance testing beginning first with WHS and WMS staff then expanding to all staff.
Based on a generous donation from Wellesley Education Foundation, we are now in the position to expand to all secondary students. Depending on available funding, changes in the testing landscape, the success of testing secondary students and conditions in the community, we will then determine how best to proceed going forward. Currently the program is funded through December to test all staff and secondary students.
What are the costs of this approach?
Weekly testing is being made available to students and employees through a grant from the Wellesley Education Foundation (WEF). WPS's ability to continue testing and to expand testing to a broader population of students is contingent upon having funds available. Families that would like to contribute to the testing initiative may do so by making a donation to the WEF COVID-19 Innovation Fund. Contributions to this fund should be viewed as an investment in safety that provides a community benefit to all. Making a contribution has no impact on whether you or your child will be tested.
Why are secondary students included?
Looking at neighboring communities it appears the greatest number of cases within schools are with secondary students although the transmission appears to be coming from activities outside of school (carpools, travel sports leagues, parties or gatherings). "The bulk of evidence now suggests only limited transmission from young children to adults with safety precautions in place. The risk among older children in middle and high schools is less clear." NY Times
How often will testing occur?
The testing process will occur once per week for eligible members of the WPS community. We began the program with WHS and WMS staff, we expanded to include all staff. Beginning the first week in November we will be expanding to include secondary students. Therefore every secondary student and staff member is encouraged to participate EVERY week.
How will the pooled tests be administered?
Saliva samples will be collected at home and delivered to campus the same morning. After all samples are received on the WPS campus, the samples will be shipped to Mirimus at SUNY Downstate in Brooklyn, NY. Samples collected on Monday from staff, Cohort A and Cohort C will be grouped together by location and then sent to the lab Monday afternoon. Samples collected on Tuesday from Cohort B, will be shipped on Tuesday afternoon.
If your pair tests positive you will be contacted for consent to do an individual diagnostic PCR saliva based test. This test will be performed with the existing saliva sample with results within a couple of hours from your consent at no cost to the individual. For those couple of hours, you will be asked to isolate but we hope to have the results as quickly as possible.
If WPS tests the community, do we still need to wear masks, social distance, etc.?
The implementation of the pool tests is intended to supplement and not supplant the other safety actions on campus (e.g. mask wearing, frequent hand washing, social distancing). Using pool testing in addition to following safety recommendations (both inside and outside of school) will help WPS students and employees minimize health issues related to COVID-19, and help keep the community safer.
How will pools be created?
Staff and students from the same building and cohort will be grouped together.
---
Questions about the process:
How does the testing process work?
Test kits will be distributed through the school. For WMS students, kits will be distributed in homeroom. For WHS students, kits will be available in the cafeteria. The test requires each individual to submit a vial of saliva. WPS will provide the vial and collection tools in a test kit. Students and employees will bring their sample to school and deposit it in a designated place. Samples will be taken to a lab for analysis. Pooled test results will be reported to WPS in 24 – 48 hours of sample submission. If a pool is positive, the pool of 24 will be split into 12 pools of 2, which will each be re-tested at the laboratory. If a positive signal emerges from a pool of 2, these two individuals will be asked to provide consent for an FDA EUA-approved PCR diagnostic test to be run to determine individual positivity.
What steps do I follow to participate?
Please refer to the instructions outlined here for an overview of the four steps.
Pick up kit
Register kit
Collect Saliva
Drop off kit.
What is included with the collection kit?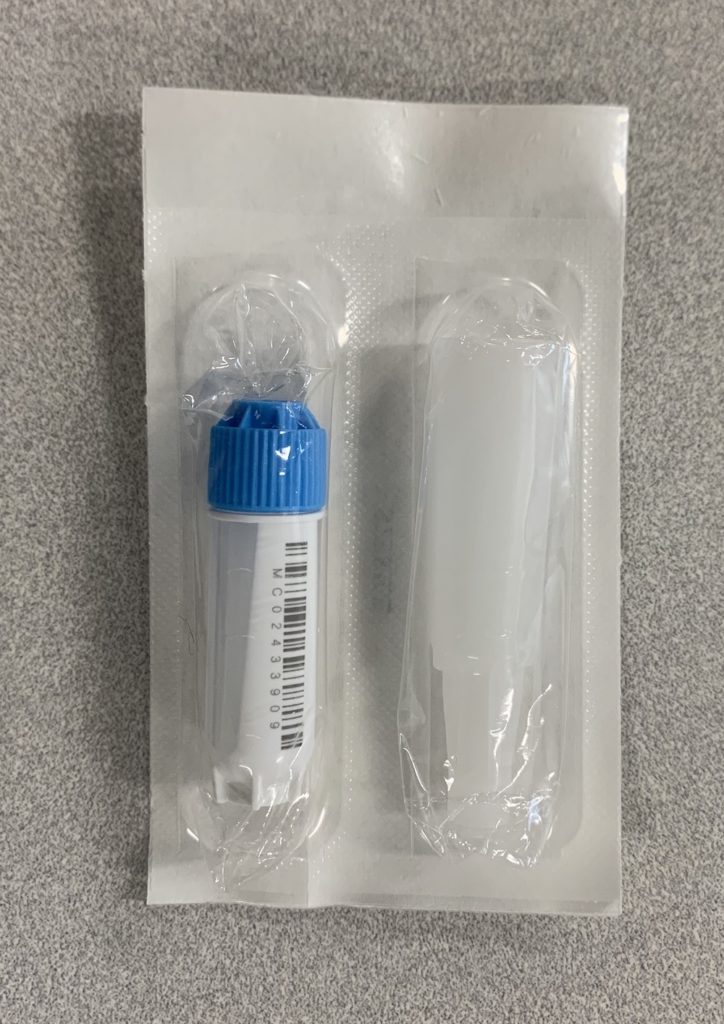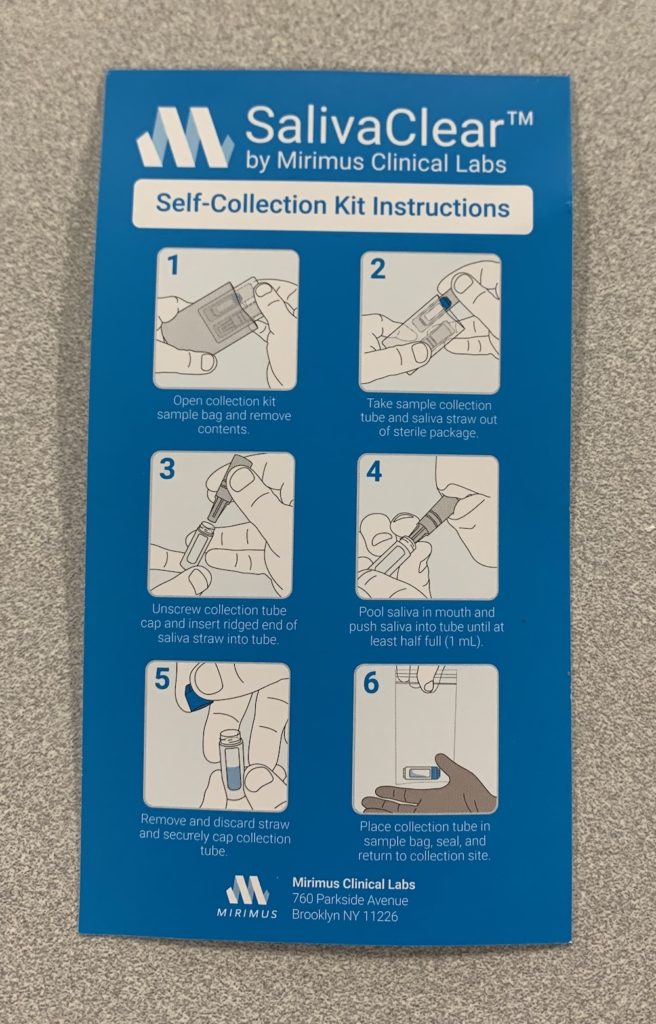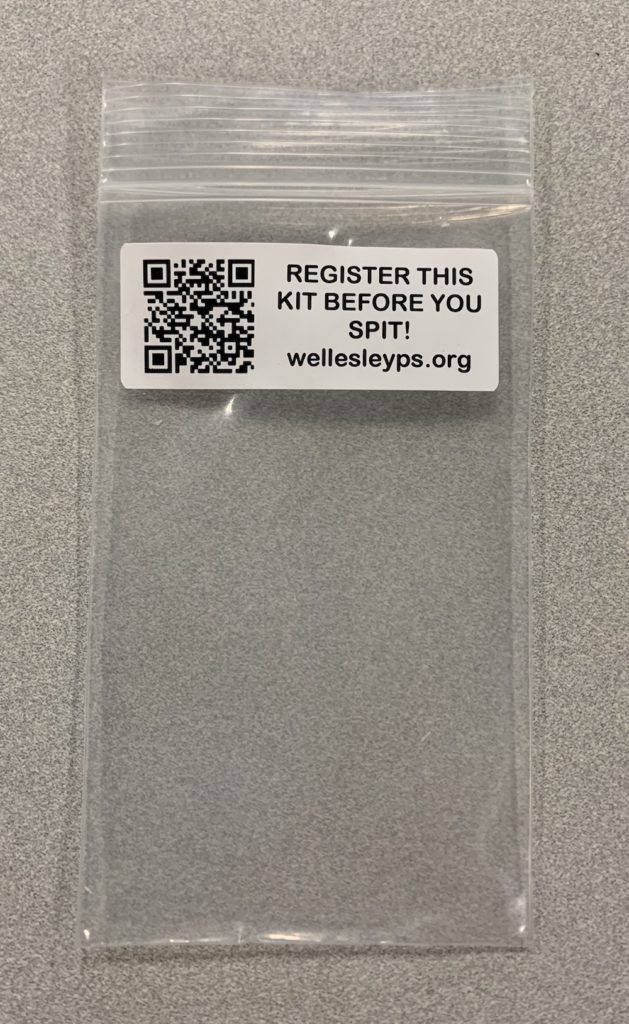 Where can I pick up my collection kit?
Pick up will be anytime on Thursday and Friday
WHS – Kits available from 7:30 – 3:30 for students to pick up before school, during breaks or as they leave for the day
WMS – Kits will be distributed during Homeroom
Staff will be able to pick up kits outside school nurse's office
When can I pick up and drop off my collection kit?
In most cases students will pick up the kit on their in person day on Thursday or Friday and then return to school on their in person day on either Monday or Tuesday. There are three exceptions. Cohort B students will drop off samples during their in person day on Wednesday November 4 due to half day for election. Cohort A students will drop off saliva sample on Wednesday December 2 due to professional day on Monday of that week.
Also students will pick up two test kits the week before Thanksgiving on either November 19 or November 20.
| | | |
| --- | --- | --- |
| Kit Pick Up Date | Saliva Collection Date | Who will be tested |
| 10/29/2020 (Th) | 11/2/2020 (M) | All staff + Cohort A (WMS + WHS) |
| 10/30/2020 (F) | 11/4/2020 (W) | Cohort B (WHS + WHS) |
| 11/5/2020 (Th) | 11/9/2020 (M) | All staff + Cohort A (WMS + WHS) |
| 11/6/2020 (F) | 11/10/2020 (T) | Cohort B (WHS + WHS) |
| 11/12/2020 (Th) | 11/16/2020 (M) | All staff + Cohort A (WMS + WHS) |
| 11/13/2020 (F) | 11/17/2020 (T) | Cohort B (WHS + WHS) |
| 11/19/2020 (Th) | 11/23/2020 (M) | All staff + Cohort A (WMS + WHS) |
| 11/20/2020 (F) | 11/24/2020 (T) | Cohort B (WHS + WHS) |
| 11/20/2020 (F) | 12/1/2020 (T) | All staff + Cohort B (WMS + WHS) |
| 11/19/2020 (Th) | 12/2/2020 (W) | Cohort A (WHS + WHS) |
| 12/3/2020 (Th) | 12/7/2020 (M) | All staff + Cohort A (WMS + WHS) |
| 12/4/2020 (F) | 12/8/2020 (T) | Cohort B (WHS + WHS) |
| 12/10/2020 (M) | 12/14/2020 (M) | All staff + Cohort A (WMS + WHS) |
| 12/11/2020 (Th) | 12/15/2020 (T) | Cohort B (WHS + WHS) |
Can I just pick up a bunch of kits for my student?
Due to some constraints in the supply chain, the lab is only sending us exactly what we need each week. If your student picks up more than one kit, that means someone else will not have a kit. Please be considerate of others.
What happens if I forget to pick up my kit?
Additional kits are available in the main office of your school.
How do I register my kit?
Follow the steps outlined here. You will need to complete one registration each week for each student participating in testing.
My WHS student does not start school until late on their collection day?
Students are allowed in the school to drop off their sample in one of the collection points between 7:30 -9:30 am. If they are unable to do that, they may drop off their sample directly to the school nurse between 9:30-11 am. It is important that all samples be submitted by 11 am so that they can be appropriately packaged and shipped to the lab. If you have extenuating circumstances, please call and talk to the school nurse to work out a specific plan.
What tips do you have for sample collection?
Here is a short training video of the saliva collection process.
For best results please do not eat, drink, smoke, vape or brush teeth within 30 minutes of providing your sample.
Do not use mouthwash within 2 hours of sample collection.
Saliva sample self-collection is simple, non-invasive, and safe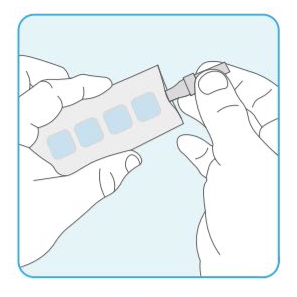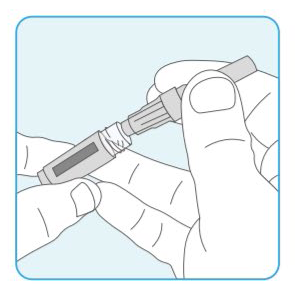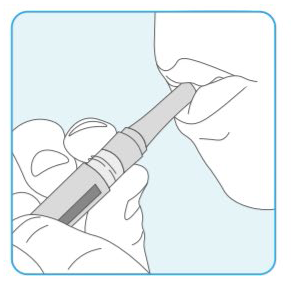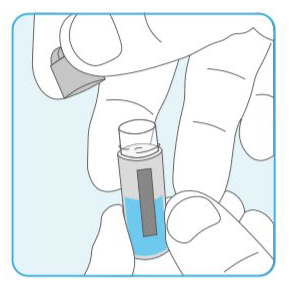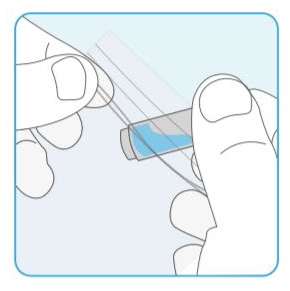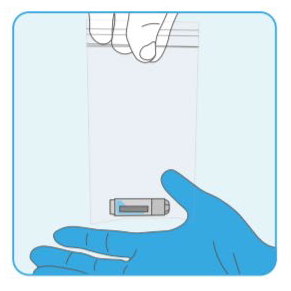 Ideally it is best to collect the saliva sample first thing in the morning (before eating, drinking or brushing your teeth) on the morning that you will be submitting your sample to school.
If providing adequate sample volume is a challenge for you or someone you are assisting, the following may help increase saliva production:
Gently rubbing the outside of your cheeks
Making chewing motions with your mouth
Smelling or imagining sour foods such as lemons
Thinking about your own favorite food
Gather saliva first before inserting straw in your mouth
We forgot to collect saliva and return to school? Can I just use kit the following week?
Yes, the kits do not have an expiration date and can be used anytime assuming that you did not already collect the saliva. If so, throw out and get a new kit.
I forgot to turn in my sample. What should I do?
Unfortunately your saliva does have a shelf life. If you already collected your saliva but forgot to turn it in. Throw it out and pick up a new kit for the following week.
I had problems accessing my data during the baseline testing. Is that going to be a problem here?
No, we are using a different process. You will only be contacted (from the information provided when you register the kit) in the event of a positive. Please enter the best contact information when you register.
---
Questions about results:
How quickly will we get back the results?
Pool results will be available within 24-48 hours following sample submission. That means that all results will be back by end of the day on Wednesday for staff, Cohort A and Cohort C and then end of the day on Thursday for Cohort B. You will only receive notice if your pool pair tests positive or there was a problem with your sample. "No news is good news." For example, typically if you drop off your sample on Monday morning, we will have initial pool test results by end of day on Tuesday. If a pool needs to be refluxed to pairs, those results will be available mid day on Wednesday. If a pair has been identified as potentially positive, assuming that the individual gives consent for testing, those results will be available by the end of the day on Wednesday.
What will happen when a "pool" of students or faculty test "positive"?
If the pool of 24 samples are found to be positive, samples will be rerun in pairs. If a pair is found to be positive, those two individuals will be contacted about conducting a diagnostic test. You will receive an email/phone call to the account that you provided in the kit registration process. This email will include a link to a third party reporting platform. The email will ask you to register for an account, sign a consent form, provide CDC required demographics and answer health history screening questions. From this, a physician's order will be generated which will trigger an individual PCR diagnostic test of the saliva that was already submitted. In less than six hours you will receive an email that your results are ready to view. You can then log back into the HIPAA compliant platform to view individual test results.
What happens if you are part of a positive pair?
You will be contacted immediately by Linda Corridan or David Lussier typically on Wednesday early afternoon if you drop off your sample on Monday, Thursday early afternoon if you drop off your sample on Tuesday or Friday if you drop off your sample on Wednesday. They will provide:
An overview of next steps will be provided
You will be asked to complete CDC required information for an individual diagnostic test (consent, PHI) through Mirimus. This can be done in a matter of hours using your existing saliva sample at no cost to you
If you would prefer not to use Mirimus for diagnostic testing you may quarantine and contact your PCP for testing
If I am a part of a positive pair do I need to quarantine?
If you are notified you are in a pair that is potentially positive, you should get an individual PCR test done as soon as possible. The quickest way is to submit your info to Mirimus and you should have your individual results back within a few hours using your existing saliva sample. This test is completed at no cost to you. You simply have to give your consent for testing. If you choose to get a test done somewhere else that is your option. While you are awaiting results, you will be asked to not be in school. Hopefully, it will not be more than a couple of hours by using Mirimus before you get a definitive positive or negative result.
Either way please do not return to school until your individual test results are negative or quarantine for 14 days.
If an individual diagnostic test comes back as positive, what is WPS approach?
Contact the individual / family
Provide direction / support / education
Notify the Wellesley Health Department (24/7)
Continue to gather information
Joint collaboration with the Wellesley Health Department for both in school and outside of school contact tracing
Notification:

Administration
Parent and school community
DESE

Protect the privacy of everyone involved
Please visit Guide to Understanding a Positive Pool Result or WPS Nursing website for additional information
Who conducts contact tracing?
WPS in coordination with the Wellesley or appropriate board of health will conduct contact tracing.
What can be concluded from a "negative" pool result?
Though rare, it is possible for an individual that has COVID-19 to register "negative" as the viral load increases within their system. This is why we will continue to adhere to all CDC recommended safety protocols, which have been proven to significantly decrease the chance of spreading the virus. Over time, statistically, we will be able to become more confident in the actual absence of the virus on the WPS campus.
If I am found to be positive through an individual diagnostic test, how long do I wait until participating in pool testing once again?
If an individual is found to be positive for COVID-19 via a diagnostic PCR test, the individual should not participate in pool testing for 90 days. This is because viral DNA could linger in the patient for some period of time, even when there is no active virus. So, we might accidentally conclude that a positive DNA test means such a person is once again infectious, when they in fact are not.
What does an inconclusive test result mean?
An inconclusive test result can mean one of three cases:
The person has tested positive, most likely within the last 12 weeks. Viral RNA is still detectable, but the person is not infectious.
The person has had recent exposure but is too early to yield a positive detection. They are at the very early stages of an infection, likely not infectious at the time the sample was provided; however, viral loads can reach infectious levels in as little as 6 – 18 hours. Persons should be treated as presumptive positive, begin quarantine and take a confirmatory test 2-3 days from the date of the first sample submission.
The person is at the very end of an infection the viral loads have ramped down to noninfectious levels. If the person has never tested positive before, a confirmatory test is recommended within 3-5 days of the first sample submission. A second inconclusive or negative result will confirm that the person is not carrying infectious loads of virus and can end quarantine.
Other Resources
Are there any articles about testing approaches in schools that you recommend?