Track & Field Project – Wellesley Field Fund
Dear WHS Families,It truly is likely that Wellesley can have a new track and field (with synthetic turf) by September 2016.As outlined in the attached official press release, the Track & Field project will receive matching funding from three sources: the Community Preservation Commission,; the Town; and private charitable donations. I am writing to you about the third source -­‐ the need to raise $900,000 in private donations, through an effort organized tax-­‐free chartable fund, the Wellesley Field Fund (WFF).The goal is to raise the $900,000 from the Wellesley community this fall so that collectively we can demonstrate to the Town that we are fully committed to turning this project into reality next summer. The task is an achievable one, and the WFF is hoping all families will participate and contribute to the greatest extent possible. This is everyone's field!
We are seeking one thoughtful and generous tax-­‐deductible donation from each family
– not separate donations per sport. Attached is a sheet describing different levels of giving opportunities.There are many ways to make your gift:
Via check made out to Wellesley Field Fund and mailed to WFF, PO Box 812839, Wellesley MA 02482
Online at www.wellesleyfieldfund.com
Stocks or securities may also be donated. Please contact lisawesley@wellesleyfieldfund.com
Much appreciation.John Brown
WHS Athletic Director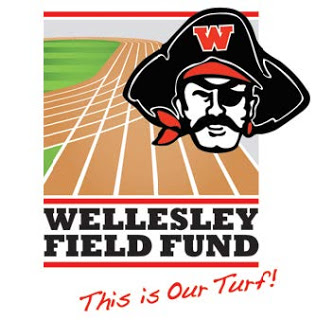 Wellesley Field Fund – Levels of Giving Opportunities Announcing the Wellesley Field Fund: This is Our Turf!
Wellesley High School Athletic Department
Home of the Raiders 50 Rice Street • Wellesley Hills • Massachusetts • 02481
Phone 781-446-6290 x7 • Athletic Trainer x4612
Fax 781-446-6289 • athletics@wellesleyps.org
www.wellesley.k12.ma.us/athletics
Follow on Twitter
@wellesleysports
for Scores & Updates John Brown, Athletic Director • MaryAnne McDonald, Admin. Assistant to A.D. • Patricia Hickey, Athletic Trainer, LAT, ATC
Raider Pride • Raider Pride • Raider Pride • Raider Pride • Raider Pride
Wellesley Public Schools would like to continue connecting with you via email. If you prefer to be removed from our list, please contact Wellesley Public Schools directly. To stop receiving all email messages distributed through our SchoolMessenger service, follow this link and confirm: Unsubscribe If you need to update your email address or phone number, please contact the secretary at your child's school. SchoolMessenger is a notification service used by the nation's leading school systems to connect with parents, students and staff through voice, SMS text, email, and social media.
Track & Field Project – Wellesley Field Fund