The Weeks Ahead Bulletin 3/4 – 3/13
Friday, March 4 Day 4
Coffee with Director of GuidanceFDR – 9:00 a.m.Acastock ConcertAuditorium – 7:00 p.m.Monday, March 7 Day 5
Tickets Available – Click BelowUS Navy Band ConcertWHS Auditorium – 7:00 p.m.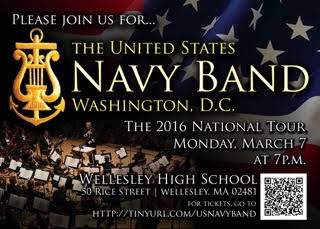 Tuesday, March 8 Day 6
School Council 2:45 p.m. – Main Office Conference Room Wednesday, March 9 Day 7Term 3 MidtermWinter PlayAuditorium – 4:30 p.m.
Thursday, March 10 Day 1
Faculty MeetingAuditorium – 2:45 p.m.Winter PlayAuditorium 7:30 p.m.
Friday, March 11 Day 2
Winter Play – In- School PerformanceAuditorium – 10:00 a.m.
Sunday, March 13
Daylight Savings Begins- Spring Ahead
Wellesley High School
50 Rice Street • Wellesley Hills • Massachusetts • 02481
Phone 781-446-6290 • Fax 781-446-6308
www.wellesley.k12.ma.us/whs
David F. Lussier, Superintendent • Jamie B. Chisum, Principal Housemasters: Mark F. Bender • Andrew E. Kelton • Lynne F. Novogroski
Steven J. Favulli, Director of Guidance Wellesley High School cultivates positive learning experiences and fosters responsibility and integrity so that, upon leaving, our students will continue to contribute to their worlds.

Wellesley
Public
Schools Learning • Caring • Innovating
CORE VALUES
Academic Excellence • Commitment to Community • Respect for Human Differences • Cooperative and Caring Relationships
Wellesley Public Schools would like to continue connecting with you via email. If you prefer to be removed from our list, please contact Wellesley Public Schools directly. To stop receiving all email messages distributed through our SchoolMessenger service, follow this link and confirm: Unsubscribe If you need to update your email address or phone number, please contact the secretary at your child's school. SchoolMessenger is a notification service used by the nation's leading school systems to connect with parents, students and staff through voice, SMS text, email, and social media.
Weeks Ahead Bulletin 3/3/2016