Please Support All Night Party 2016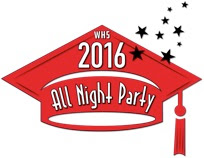 Class of 2016 Parents and Guardians:
CONTRIBUTE!
A huge thank you to those who have already donated! Each family is asked to donate $85 per senior to help pay for the ANP. You are welcome to give more and we are happy to accept whatever contribution you can give. We are well on our way to our goal with 30% of the families having already donated. We are hoping for 100% participation from the class in funding this event. If you would like to be an official sponsor for one of our various food tables or activities, you can do so at the following amounts: Sponsorship levels: Bronze $150, Silver $250, Gold $500 or Platinum $1,000.Go to our
paypall account
to donate online for both the $85/senior donation and sponsorship levels (just enter your desired donation amount at checkout) or make your check payable to: "Class of 2016 ANP" and mail it to Jennifer Madden, 14 Sumner Road, Wellesley, MA 02481
INVITATIONS ARE OUT!
The ANP Parent Party & Fundraiser has been rescheduled to Saturday, April 2nd at the home of Diane and David Freniere. This is the final social event for senior parents as well as the fundraiser for the ANP. So, stop by and catch up with friends! If you did not receive an invitation and would like to come to the event, please
email
us.
GUIDE TO SENIOR EVENTS
! Senior spring is a very exciting and busy time in our students lives. We have created the attached document as an overview of all the senior activities going on over the next few months. We hope you will find this useful in your planning. We will also be sending a hard copy home with your students this week so look for it in their backpack!
The ANP is completely planned, funded and operated by families of the graduating class. We need 100% participation from
all the families of our 379 graduating seniors
. Have questions, great ideas or resources and want to get involved??
Email
or contact any one of the ANP Co-Chairs below.
Thank you!
Key Links
Bradford House Info
Location: 2nd Floor
Housemaster : Lynne F. Novogroski
Attendance Line: 781-446-6290 x4948
House Assistant: Mary Donahue 781-446-6290 x4621
Guidance Counselors: Marissa Coughlin, Cindy Hurley & Rosanne Sannicandro
Perrin House Info
Location: 3rd Floor
Housemaster: Marc F. Bender
Attendance Line: 781-446-6290 x4949
House Assistant: Brenda Iarossi 781-446-6290 x4632
Guidance Counselors: John Steere & Julie Trask
Phillips House Info
Location: 4th Floor
Housemaster: Andrew E. Kelton
Attendance Line: 781-446-6290 x4950
House Assistant: Karen Bognnani 781-446-6290 x4647
Guidance Counselors: Janet Sozio, Kristi Stone & Meg Walendin
Wellesley High School
50 Rice Street • Wellesley Hills • Massachusetts • 02481
Phone 781-446-6290 • Fax 781-446-6308
www.wellesley.k12.ma.us/whs
David F. Lussier, Superintendent • Jamie B. Chisum, Principal Wellesley High School cultivates positive learning experiences and fosters responsibility and integrity so that, upon leaving, our students will continue to contribute to their worlds.

CORE VALUES:
Academic Excellence • Commitment to Community • Respect for Human Differences • Cooperative and Caring Relationships
Wellesley Public Schools would like to continue connecting with you via email. If you prefer to be removed from our list, please contact Wellesley Public Schools directly. To stop receiving all email messages distributed through our SchoolMessenger service, follow this link and confirm: Unsubscribe If you need to update your email address or phone number, please contact the secretary at your child's school. SchoolMessenger is a notification service used by the nation's leading school systems to connect with parents, students and staff through voice, SMS text, email, and social media.
Support All Night Party 2016