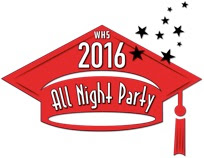 All members of WHS Class 2016 are invited to the All Night Party on Graduation night – Friday, June 3rd.
No outside guests are allowed.
The party is a gift from parents and the entire Wellesley community who have given generously to make this event possible. Please enjoy the music, entertainment and food in celebration of your graduation.
The high school doors will open at 11:00 pm and all ANP attendees must be in attendance no later than 11:30 pm.
You will enter and leave the party through the high school's main entrance.
Wellesley Police officers will be present to help check you in and out. They will also monitor all cars entering the parking lot.
We suggest that you do not drive to ANP, try to carpool if possible.
If possible, have someone drop you off and pick you up from the ANP. Otherwise your best option is to carpool.
Once you are admitted to the party you may not leave before 3:00 am unless arrangements have been made 24 hours in advance by a parent.
To arrange to leave the party early, please email the ANP Committee at whs2016anp@gmail.com. The email should include the departure time and who will be picking up. You will be permitted to leave early only with a parent; once you leave the party, you will not be able to re-enter.
No portable items (liquid or non-liquid) of any kind will be allowed into the party except cell phones and/or cameras.
The only items you can carry into the party are your cell phone and your camera. All other items (bags, bottles, backpacks, jackets, etc.) will be required to be checked at the door and will be searched by ANP chaperones. Items can be picked up at the end of the evening.
The use or possession of tobacco, alcohol or drugs is prohibited on school property. If you arrive intoxicated, you will not be allowed entry to ANP and your parents will be called to bring you home. The Wellesley Police and your parents will be informed of any and all violations.
We hope you enjoy this last fun-filled event together as a class. And best of luck to you all as you each begin your new adventure.
Congratulations to the WHS Class of 2016!
Wellesley Public Schools would like to continue connecting with you via email. If you prefer to be removed from our list, please contact Wellesley Public Schools directly. To stop receiving all email messages distributed through our SchoolMessenger service, follow this link and confirm: Unsubscribe If you need to update your email address or phone number, please contact the secretary at your child's school. SchoolMessenger is a notification service used by the nation's leading school systems to connect with parents, students and staff through voice, SMS text, email, and social media.
All Night Party – One Week Away