The administration, faculty, and staff at Wellesley High School look forward to welcoming students back for full-time in-person learning the week of April 26th. In order to preserve this long-awaited opportunity, each member of our community must commit to doing their part to follow state health and safety guidelines at all times.
As has been the case throughout the pandemic, we need to be flexible and responsive to evolving public health guidelines and protocols for the remainder of the year. Any changes will be communicated with families through email, and with students through their Raider email and House Canvas messages.
GENERAL HEALTH AND SAFETY GUIDELINES
This list of guidelines will be in effect throughout the WHS campus, whether in the classroom or moving around the campus:
Students must continue to complete the Daily Attestation when entering the building each day.
Students are required to wear a mask covering their nose and mouth at all times in the building.
Students should continue to wash and sanitize hands throughout the day.
Students must maintain a distance of at least 3 feet from other WHS community members at all times both indoors and outdoors. This distance must be increased to at least six feet when eating/drinking. These distances must also be maintained during periods of transition by remaining consciously aware of proximity to others.
Students should continue to participate in surveillance testing which remains an essential part of our COVID safety plan. As we return to full capacity in the building, it will be critical to catch cases early to prevent spread and minimize the number of close contacts.
What to do if your student is feeling ill:

Stay home and seek medical care.
Contact your House office to report the absence.
If they subsequently test positive for COVID, they may not return to school until cleared by the WHS Nurses' Office.
If identified as a close contact by the Board of Health or the WHS Nursing staff, your student will receive guidance from the WHS Nurses and administration for next steps.

Follow all directions from WHS faculty and staff as they reinforce safety protocols. This is how we will keep our community safe.
ACADEMIC ENVIRONMENT
Our teachers are so excited to have their full class communities together, in front of them, and learning in-person again. As part of this commitment to the return of in-person learning, per district policy, Zooming into class will now be limited to:
Students who are required to quarantine as a result of testing positive for COVID or have been determined to be a close contact of a positive student by the Board of Health.
RLS students who are currently zooming into classes will be allowed to continue.
In classrooms, students will need to continue to follow all health and safety guidelines and will also need to remain seated in assigned seats unless otherwise directed and leave desks/tables in their established locations.
Virtual opportunities for extra help have proven to be both very effective and efficient for everyone involved this year, and teachers will continue to offer these. If a student wants to make an in-person appointment with their teacher, they should reach out to the teacher and ask when that might work.
WEEKLY SCHEDULE
With the goal of maintaining consistency and routine for both students and faculty, we will continue to use the basic schedule that has been in place since the beginning of the year. The school day will still begin at 8:00 am, but there are some key adjustments to note:
The Wednesday schedule will now feature four rotating color blocks and Advisory.
Passing time between classes on Monday/Tuesday/Thursday/Friday will now be ten minutes.
Passing time between classes on Wednesdays will be five minutes.
Dismissal will be at 1:30 pm on Monday/Tuesday/Thursday/Friday and at 11:50 am on Wednesdays.
Changes related to lunch are detailed below.
We will be providing a week-by-week schedule for the remainder of the year factoring in MCAS testing (when finalized by the Department of Secondary Education on April 20th) and AP testing.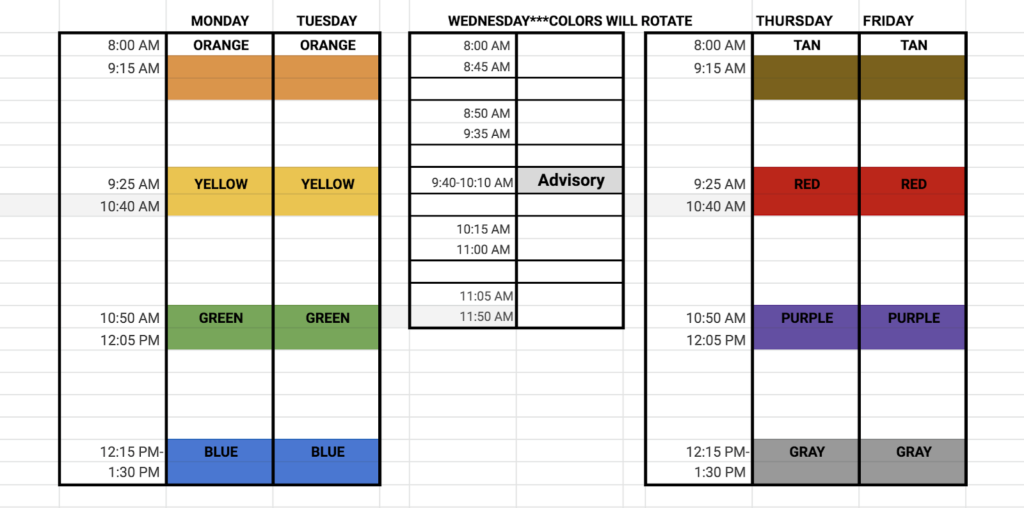 LUNCH
After careful consideration, we have determined that offering lunch as a "grab and go" option at the end of our school day was the best way to ensure health and safety while maximizing time on learning. These "grab and go" lunches may be ordered at the cafeteria servery in the morning for pickup at the end of the school day using their student ID card or through their STOCard App.
Students may bring snacks from home and Whitsons will have food available in the cafeteria throughout the day. Breakfast options will be available starting at 7:15am for students who arrive before 8:00 am. We appreciate that waiting until 1:30pm without lunch may be challenging for some students.
As masks are required to be on at all times indoors, students will need to use passing times, directed research blocks and free blocks to step outside to eat a snack or take a mask break. In the case of inclement weather, we will provide spaces for six feet of distancing indoors monitored by school personnel in the cafeteria and gymnasium.
ARRIVAL
In our pre-COVID operations, arrival and dismissal activity created considerable challenges in our space-constrained parking lot with two arrival times each day (one at 7:30am/one at 8:30am). Now that the day will begin at 8:00am for all students, these challenges have been intensified and we will need the community's full partnership to safely and efficiently get our students into the building.
We have worked extensively with the Town of Wellesley and the Wellesley Police Department to develop the best possible plan given our constraints. As a reminder, I have included a map of our traffic flow patterns through the parking lot.
We estimate that we could have well over 800 cars coming through the parking lot between 7:40 and 8:00am each day. We encourage you to consider alternate options for getting your student to school — walking from home or a drop-off location in the WHS vicinity where they can walk to campus, biking, riding the bus (if you have a bus pass), or carpooling safely (masks on, windows open).
If you MUST drive your student to campus, we would remind you that there are two entrances into the WHS parking lot (noted on the map above in blue and red arrows). When you enter the parking lot, we ask that you pull up as far as you can before dropping off your student. By using the full length of sidewalk from the entrance to the stop sign, we will be able to move the traffic line most efficiently and get students safely into the building. Wellesley Police Department and WHS school personnel will be present in the parking lot to support this endeavor.
PLEASE NOTE:
Our building opens at 6:45am and our staff will be arriving by 7:30am.
Students should be ready to exit the car with their mask on and belongings in hand. They should also be on the sidewalk side of the vehicle. This will help us move a greater volume of cars in a shorter amount of time.
With the end of the hybrid model we wanted to provide information on how senior parking will move forward. We do not have enough parking spaces available to accommodate both Cohorts in the parking lot at the same time, so we felt the fairest protocol is to have you continue to park on your designated Cohort day, A or B. Please pay close attention to your designated day to park. Since all of the parking spaces have been paid for by fellow students and their families, it would not be fair for them to come to school and not have a parking space available to them.
In regard to Wednesdays, we have decided to split up parking between the two Cohorts as shown below.
April 28th, ( Cohort A )
May 5th, ( Cohort B )
May 12th, ( Cohort A )
May 19th, ( Cohort B )
May 26th, ( Cohort A )
We are asking that all seniors use the Paine Street driveway to enter the parking lot to access your parking spaces. There will be some new signage and traffic patterns that you should pay attention to.
AFTER SCHOOL
Similar to the practice we are currently using, students will be expected to leave campus at 1:30pm with the building clear by 2pm. In town busses will leave campus after 1:40pm so that bus riders can grab a "grab and go" lunch. The Boston bus will depart at 2 pm to allow riders to eat their lunch at school before heading home.
Students participating on athletic teams and in other after-school activities are asked to leave campus at dismissal until the start of their activity. Coaches and faculty will provide relevant details to their respective participants, but participants can assume that activity start times will remain generally consistent. They know to leave time for the students to eat after school. Our student supervisors will be monitoring the campus for adherence to the health and safety guidelines.
Please note: As has been the case throughout the year, there will be no lockers available for use at the high school. Students may change in the locker room after school, but once they exit the building they will not be allowed to return.
CONCLUSION
The week of April 26th will be here before we know it, and we couldn't be more excited to have the energy of our full student body in the building again. We believe with a strong commitment to the health and safety guidelines outlined above this can be done safely. Your partnership throughout this journey and your continued flexibility will be essential to our success. And remember, the end of the school year will be here in eight weeks on June 17th.
While we long for the day when we can reopen our doors again fully, we must continue to keep our campus closed to WHS community members other than our students and staff for contact tracing and exposure purposes. We appreciate your understanding.
To ensure a smooth transition for our newest community members, Monday, April 26th will be a full return to the building for our 9th graders only.
All 10th, 11th and 12th graders will be remote on Monday, April 26th.
The entire student body will return to full-time, in-person learning starting on Tuesday, April 27th.
---