June 4, 2020
Dear Wellesley High School Families,
On Saturday, June 6, 2020 we will be holding a parade through town for our graduating seniors. We ask all of you to come out on this sunny morning with the entire Wellesley community and cheer on our Class of 2020.
The procession will end at the school where each senior will receive their diploma. Due to social distancing there will be no viewing of the parade or parking at or around the high school, this area is secured for an honor column of faculty and staff members.
It is most important to be mindful of keeping distance between others and face coverings when you are along the spectator route. The main section of the parade will be on Washington Street from Wellesley Ave to Walnut Street. Washington Street will be closed in that area from 9AM to approximately 10 AM. Washington Street will re-open in sections as the parade passes through.
We hope to hear your excitement from 50 Rice Street!
Here's what you need to know:
(The following has been copied from the Wellesley Police Department)
Updates on road openings will be posted on the Wellesley Police Department's Twitter feed (@WellesleyPolice).
9:00 AM, the parade will start from Babson College on Wellesley Avenue. The parade will travel down Wellesley Avenue to Washington Street near the Town Hall. Seaver Street and Great Plain Ave will be closed for the parade to pass through.
The parade will take a right on Washington Street and head east on Route 16 towards Wellesley Hills. Washington Street will be closed to all traffic from Wellesley Avenue to Route 9 while the parade is passing by.
This road closure includes the Kingsbury Street, Rockland Street, and Cliff Road bridges. Major cross roads that intersect with Washington Street will also be closed until the parade passes (Rice, Forest, Abbott, Cliff, Maugus, etc).
The parade will pass through Wellesley Hills, still heading east on Washington Street. The ramps from Route 9 to Washington Street will be closed. Westbound traffic on Washington Street from the Lower Falls area will diverted on to Route 9 until the parade passes through.
The parade will continue down Washington Street, taking a right on to Walnut Street. The parade will go east on Walnut Street to Cedar Street. The parade will then turn right on to Cedar Street and go southbound over Route 9. Street closures will be in place (River Street, Walnut Street at Cedar) as well as the ramps from Route 9 to Cedar Street.
Washington Street will be fully opened once the parade is completely on Walnut Street.
The parade will continue on Cedar Street, then to Hunnewell Street, and back on to Wellesley Avenue. The parade will travel along Wellesley Avenue, and take a right on to Clifford Street, then a right on Smith Street to Rice Street and the Wellesley High School entrance. Graduates will receive their diplomas in the parking lot, and exit on to Rice or Paine Street.
While the parade is moving, it should take approximately 10 to 15 minutes to pass each location.
There may continue to be delays on Wellesley Ave, Clifford Street, and State Street until the event ends, which is expected around noon.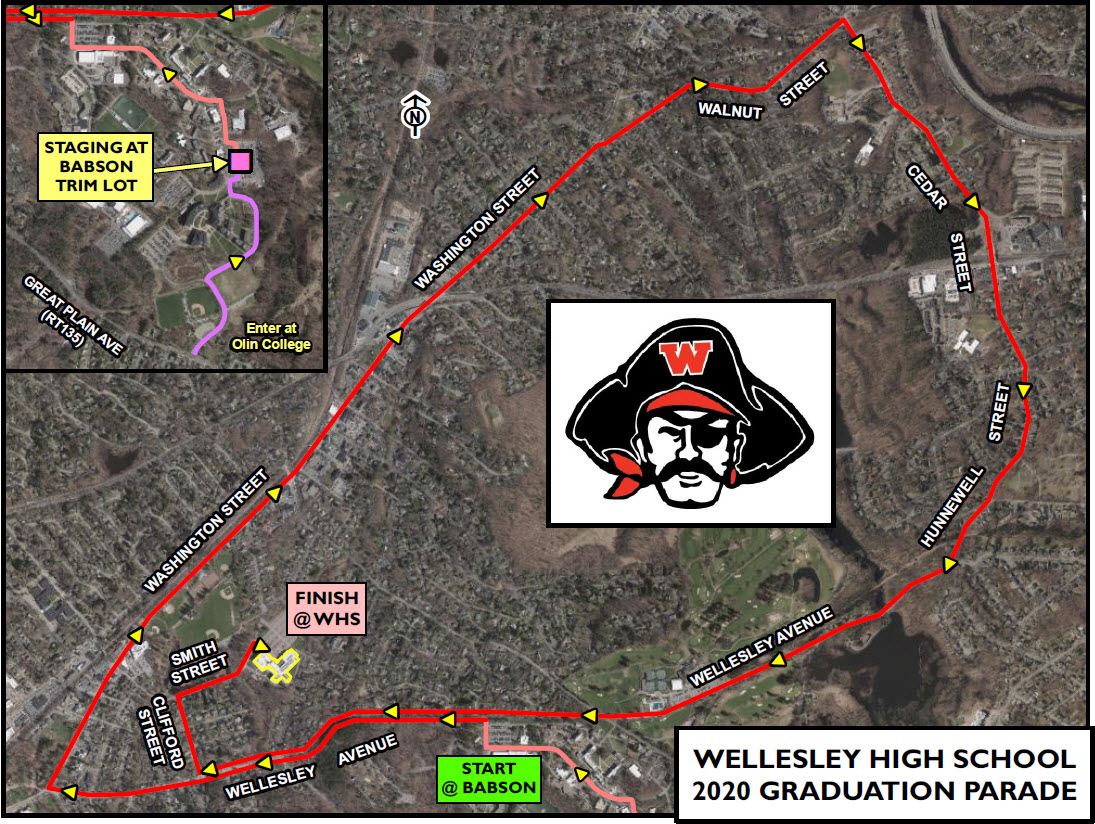 Please Spectate Senior Parade – Saturday, June 6th