Our Mission
We believe it is our moral responsibility to welcome, celebrate and affirm the full spectrum and intersections of human differences in, and beyond our community. We will create a culture that celebrates advocacy and pursues justice for all, especially those from historically marginalized communities. We will practice risk-taking, and challenge one another to continuously examine systems of privilege and bias, and work collectively to disrupt and dismantle inequity in all its forms.
Office of Diversity, Equity and Inclusion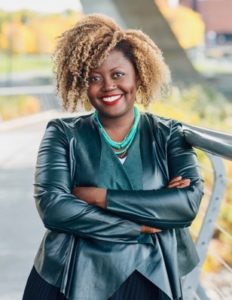 Dr. Charmie Curry
Director of Diversity, Equity and Inclusion
Dr. Curry joined the Wellesley Public Schools in September 2019 as the inaugural director of the Office of Diversity, Equity and Inclusion. Dr. Curry has been an educator for more than 10 years, serving as an elementary teacher, elementary school leader, and teacher coach. Prior to joining WPS, Dr. Curry served in the Boston Public Schools' Office of Human Capital on the Performance Management team. In that role, she supported principals with educator effectiveness in their buildings, and evaluated cohorts of district teachers.
Dr. Curry earned a B.A. in Journalism from Temple University, a Master of Arts in Teaching (M.A.T.) from Northeastern University, and a Doctor of Education in Pre-K-12 Educational Leadership from Endicott College.  
Dr. Curry is a member of the second cohort of Influence 100, an initiative of the Department of Elementary and Secondary Education began "to increase the racial and ethnic diversity of superintendents in Massachusetts, create more culturally responsive districts and leaders across the state, and promote better outcomes for students."
Watch a Wellesley Public Media interview with Dr. Curry here, and a WellesleyWeston Magazine profile here.
Read Dr. Curry's entry plan and summary report.
Ms. Carla Lumley, Secretary, Office of Diversity, Equity and Inclusion
Phone: 781-446-6200
Email: dei@wellesleyps.org
Twitter: @WellesleyDEI
District at a Glance
The Wellesley Public Schools is a learning community that is invested in its path toward being a culturally sustaining institution. The below snapshot provides a look into some quantifiable aspects of diversity, equity, and inclusion in our schools.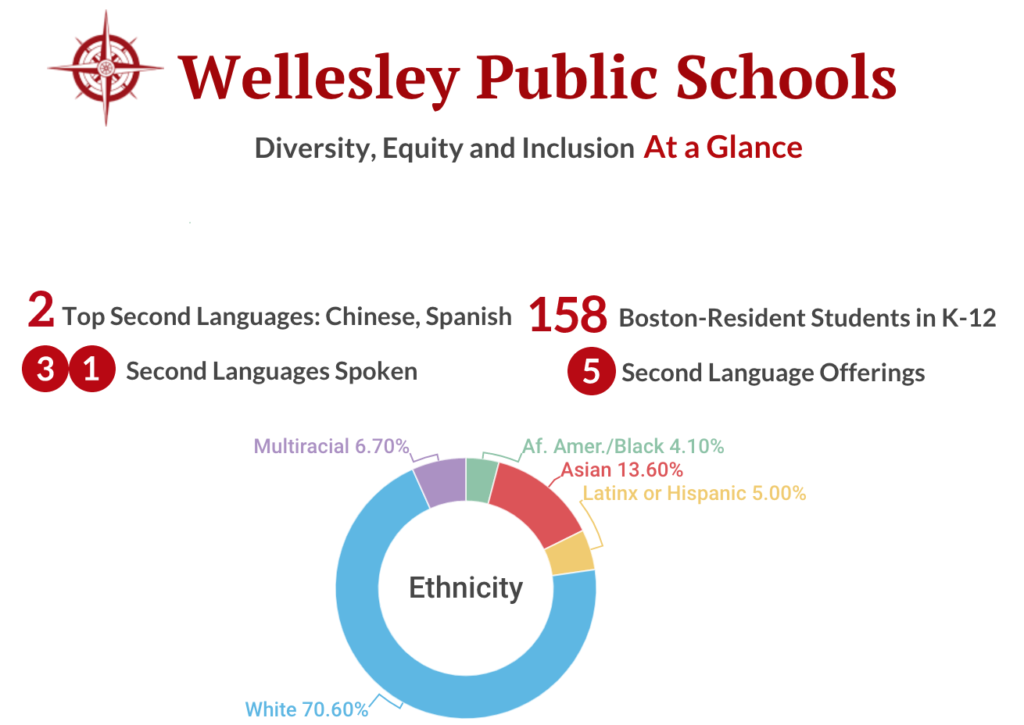 Equity Plan
The reality of the current national climate illustrates that there remains significant threats to the ability of schools to cultivate and sustain learning communities that are safe and supportive for all students. Prejudice, bias, hate and discrimination remain threats that require our vigilance and persistence to ensure that our core values are adhered to, and our mission is realized. 
 
View the District's Equity Plan.
Diversity, Equity & Inclusion Leadership Council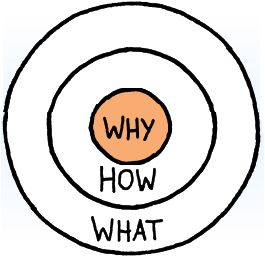 Community Read of Caste: The Origins of Our Discontents

The Office of Diversity, Equity & Inclusion is pleased to officially launch our community read of Isabel Wilkerson's powerful book, Caste: The Origins of Our Discontents. WPS faculty/staff can view this one-pager for more information, and Wellesley community members can view this one-pager to learn how to participate. All book events are listed on Sched. To view the events and participate, interested participants should register here. Ms. Wilkerson is scheduled to join us on March 10, 2022 for a virtual lecture. Registration for that event is open to the first 500 registrants and will go live on the Sched on Tuesday, February 1. Registration for this virtual event will close once we reach capacity.
Upcoming: Fall 2021 Panorama Survey
In Fall 2020, we administered an educator and staff experience survey to gather baseline data to inform our efforts at culturally responsive practices and diversifying our staffing. This work was made possible through a competitive grant from the Dept. of Elementary and Secondary Education. Click below to view results.
Upcoming Dates & Events
Nothing from January 28, 2022 to March 11, 2022.
View more dates in the full calendar…
NEW FEATURE ALERT!
Equity in Action Spotlight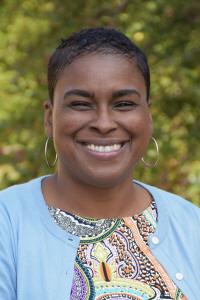 Faculty/Staff: Natasha Padilla-Goddard, Head of the English Department
School: WMS
Short Bio: I was born in New Jersey, but, as a military brat, lived all over. I've settled in Newton with my husband Peter and 3 kids: Brian, Nia, and Miles. I started teaching in 1994 and haven't looked back. I LOVE books, ice cream, and eating ice cream while reading books. Due to the ice cream, I also love circuit training, running, and my new Peloton.
Provide an example of how you teach with an equity lens. I try to put Black excellence at the center of my work with students. For example, our essential question for this term is "Does voting matter?" Instead of starting with voter suppression, I've started with the enfranchisement of Black American men during Reconstruction. It's important for students to see that Black Americans have been engaged in the political process since the end of slavery. It did not start with the Voting Rights Act of 1965.
How does your work advance equitable outcomes for all students? Even though I've started this term with the Reconstruction Era, the conversations about voting and voter suppression are relevant today? Voter ID laws, intimidation at the polls, and gerrymandering exist in a myriad of ways in 2020. At the end of the day, I'm hoping that students will make connections to their own lives and communities which, I hope, will give confidence in themselves and their voices. I want students to feel empowered.
What should other colleagues know about teaching with an equity lens? If one is going to teach with an equity lens, one has to look at their own educational experiences and teaching practices with a critical eye. Don't trust that what you've always known is best for all students, particularly students of color. Integrating public schools did not take into account the ways in which Black students thrived in their all Black learning environment. We are still paying the price of this negligence.
_____________________________________
"Equity is more than a list of practical strategies. It is a lens and an ideological commitment. There are no practical strategies that will help us develop equitable institutions if we are unwilling to deepen our understandings of equity and inequity." – Paul Gorski
This spotlight series wishes to highlight the equity work present in our learning communities. If you wish to be featured, or wish to nominate a colleague, please send an email to dei@wellesleyps.org.
---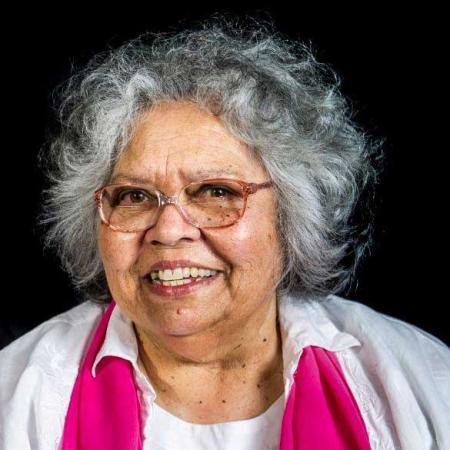 If you have come here to help me, you are wasting your time. But if you have come because your liberation is bound up with mine, then let us work together.

Lilla Watson
Wellesley METCO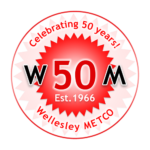 METCO's mission is to provide, through professional leadership and voluntary citizen action, the development and promotion of quality integrated educational opportunities for urban and suburban students in the Greater Boston community, and to work toward the expansion of a collaborative education program with the Boston and suburban school systems.
Wellesley Initiatives
Mentoring
Interested in serving as a mentor for our youth? Please complete this interest form.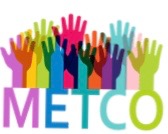 Family Resources
Student Programs
---
Partnerships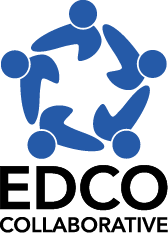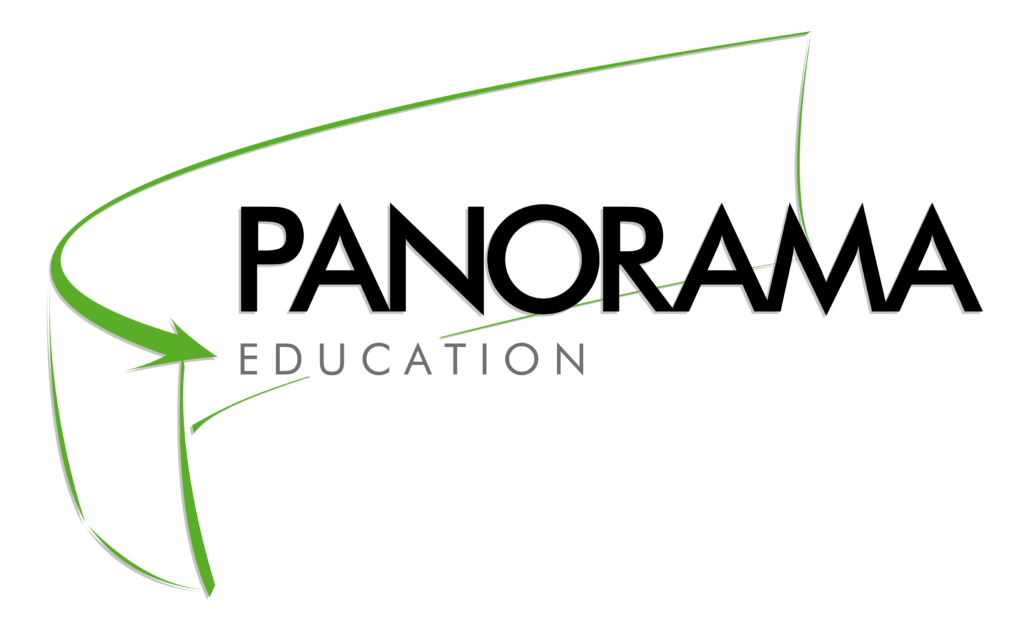 ---
Contact Us