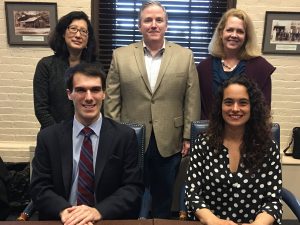 To send a message to the School Committee, please send to: School_Committee@wellesleyps.org
School Committee Members:
Matt Kelley, Chair
Melissa Martin, Vice Chair
Linda Chow, Secretary
Sharon Gray, Member
Michael D'Ortenzio Jr., Member
Student Advisory Committee:
Christopher Kolb
Catelin Magel
Ethan Tabtiang
Regular Meetings
Meetings are held primarily on Tuesdays, in the Felix R. Juliani Meeting Room, Wellesley Town Hall. Please check the Town of Wellesley Meeting Calendar for up-to-date information on meeting dates and agendas.
Public Outreach
2018-19 Committee Office Hours
The School Committee is pleased to continue to schedule 'office hours' which provide the community an opportunity for engagement with one or two members of the Committee on a monthly basis.  Sessions are currently scheduled for:  September 13, 9 – 10 am – Great Hall, Town Hall;  October 25, 7 – 8 pm – 2nd Floor Conference Room, Wellesley Free Library;  November 15, 9 – 10 am – Felix Juliani Room, Town Hall;  December 13, 7 – 8 pm – Arnold Room, Wellesley Free Library.   2019 dates coming soon.
Any community members who wish to engage with the Committee but cannot attend office hours are encouraged to participate in Citizens Speak at a future meeting, or email the Committee at school_committee@wellesleyps.org.
Central Council Meeting Dates and Locations
9/5/18 @ 9 am  –  High School
10/3/18 @ 9 am – Fiske School
11/7/18 @ 9 am – Sprague School
1/9/19 @ 9 am – Schofield School
2/6/19 @ 7 pm – Hunnewell School @ Wellesley Free Library
3/6/19 @ 9 am – Upham School
4/3/19 @ 7 pm – Middle School
5/1/19 @ 9 am – Bates School
Click here to subscribe to the School Committee Newsletter or access previous issues