Guidelines for Submission of Narrative or Flyers
All narrative and flyers must meet the District's guidelines for inclusion. The guidelines provide that items must be directly related to school- or Town-based community events. The Wellesley Public Schools is not responsible for any misprints and/or misinformation contained within a flyer, or any flyer(s) that do not get posted to the webpage. The Wellesley Public Schools will do its best to accommodate all posting requests in a timely manner. and will typically post items on Fridays. No new flyers will be posted during the summer, the first week of school, school vacations or the last full week of school. Narrative and/or flyers should be submitted for approval to Addie Doherty at dohertya@wellesleyps.org.
---
School Committee Office Hours
The School Committee is pleased to continue to schedule 'office hours' which provide the community an opportunity for engagement with one or two members of the Committee on a monthly basis.  Sessions are currently scheduled for:  January 10, 2019, 9 to 10 am – Tolles Parson Center;  February 14, 7 to 8 pm, WHS Faculty Dining Room;  March 14, 9 to 10 am – Great Hall, Town Hall; April 11, 7 to 8 pm, Wellesley Library, 2nd floor conference Room; May 9, 9 to 10 am – Great Hall, Town Hall; and June 13, 7 to 8 pm WHS Faculty Dining Room.
Any community members who wish to engage with the Committee but cannot attend office hours are encouraged to participate in Public Comment at a future meeting, or email the Committee at school_committee@wellesleyps.org.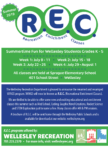 Summer R.E.C. (Recreation Enrichment Classes)
Summertime Fun for Wellesley Students Grades K – 5
Week 1: July 8 – 11 • Week 2: July 15 – 18 Week 3: July 22 – 25 • Week 4: July 29 – August 1
All classes are held at Sprague Elementary School
We are thrilled to be able to offer some new and exciting educational and enrichment classes this summer such as Med School, Coding, Graphic Novel Creations, Rocket Science and STEM Exploration just to name a few. Many classes offer AM & PM sessions. Program Information and Online Registration is available at wellesleyrec.org