Guidelines for Submission of Narrative or Flyers
All narrative and flyers must meet the District's guidelines for inclusion. The guidelines provide that items must be directly related to school- or Town-based community events. The Wellesley Public Schools is not responsible for any misprints and/or misinformation contained within a flyer, or any flyer(s) that do not get posted to the webpage. The Wellesley Public Schools will do its best to accommodate all posting requests in a timely manner. and will typically post items on Fridays. No new flyers will be posted during the summer, the first week of school, school vacations or the last full week of school. Narrative and/or flyers should be submitted for approval to Addie Doherty at dohertya@wellesleyps.org.
---
Announcing Sunday Bird Walks
The Wellesley Conservation Council, Wellesley non-profit land trust, offers free spring Sunday-morning bird walks beginning the 1st Sunday in May.   Beginners and novices are welcome. We explore areas not only in Wellesley but also in nearby towns. It is not uncommon to observe 30 species in their top breeding finery and vocalization! The leader will direct the group to the most promising birding site of the day. Binoculars, guide books, and waterproof footwear are advisable.
Except for our Mother's Day trip to Mt. Auburn Cemetery, which meets at 7 a.m., all bird walks commence at 8 a.m. Sundays from the parking lot at the corner of Cameron and Washington Streets (next to the main Library).
Date               Leader                     Time               Meeting Place
May 5        Natalie Starr              8:00 AM          Cameron and Washington St. Parking Lot (next to main Library)
May 12      Dan Gee                     7:00 AM         Cameron and Washington St. Parking Lot (Mother's Day)
                                                                                         to car pool to Mount Auburn Cemetery
May 19      Natalie Starr              8:00 AM          Cameron and Washington St. Parking Lot  (Wellesley Wonderful Weekend)
May 26      Michael 

Tobin

            8:00 AM         Cameron and Washington St. Parking Lot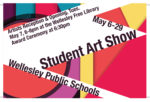 WPS K-12 Student Art Show: May 6 – 29, 2019
Artists Reception and Opening – Tuesday, May 7, 2019, 6 pm to 8 pm
Wellesley Free Library Award Ceremony at 6:30 pm
Schofield 5k, Fun Run and Fun Fair – June 2, 2019
Schofield Elementary School invites all runners to the 5K Road Race and Fun Fair on Sunday, June 2nd.  Registration and Check-in begin at 8:00am, and race time is at 9:30am sharp!  The Kids Fun Run follows at 10:30am. The fantastic fair on the school playground goes from 10:45am – 12:45pm. For the past 25 years, adults, teens, and children alike have enjoyed running the 5K Schofield Road Race, a USATF certified challenging course, featuring three main hills and finishing on a downhill.  The Road Race is unique in that all ages can participate at the same time, with many families training together in the weeks leading up to the event.  On race day they start on Cedar Street and run side by side along the shady, tree-lined streets in the Poets' Corner neighborhood of Wellesley finishing back at Schofield to enjoy the children's fun run around the field and fun fair. T-shirts included for the first 300 registrants. Pre-registration fee is $25 / $30 after May 17th. Proceeds benefit the Schofield PTO. REGISTER as a TEAM! Gather friends, teammates, colleagues or neighbors and run as a group!
To register or for more information: www.schofieldroadrace.org
School Committee Office Hours
The School Committee is pleased to continue to schedule 'office hours' which provide the community an opportunity for engagement with one or two members of the Committee on a monthly basis.  Next session is scheduled for:   June 13, 7 to 8 pm WHS Faculty Dining Room.
Any community members who wish to engage with the Committee but cannot attend office hours are encouraged to participate in Public Comment at a future meeting, or email the Committee at school_committee@wellesleyps.org.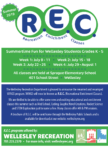 Summer R.E.C. (Recreation Enrichment Classes)
Summertime Fun for Wellesley Students Grades K – 5
Week 1: July 8 – 11 • Week 2: July 15 – 18 Week 3: July 22 – 25 • Week 4: July 29 – August 1
All classes are held at Sprague Elementary School
We are thrilled to be able to offer some new and exciting educational and enrichment classes this summer such as Med School, Coding, Graphic Novel Creations, Rocket Science and STEM Exploration just to name a few. Many classes offer AM & PM sessions. Program Information and Online Registration is available at wellesleyrec.org