Guidelines for Submission of Narrative or Flyers
All narrative and flyers must meet the District's guidelines for inclusion. The guidelines provide that items must be directly related to school- or Town-based community events. The Wellesley Public Schools is not responsible for any misprints and/or misinformation contained within a flyer, or any flyer(s) that do not get posted to the webpage. The Wellesley Public Schools will do its best to accommodate all posting requests in a timely manner. and will typically post items on Fridays. No new flyers will be posted during the summer, the first week of school, school vacations or the last full week of school. Narrative and/or flyers should be submitted for approval to Addie Doherty at dohertya@wellesleyps.org.
---
Important Upcoming HHU Dates
Redistricting Community Forums
Please join us to review and provide feedback on the draft redistricting plans under development for implementation after the construction of the new elementary schools, currently projected for fall of 2024.  Forums are scheduled on the following dates:
Wed., January 22, 2020 at 7 pm
Tues., January 28, 2020 at 9 am
Both forums will be held in the Wellesley Middle School Auditorium.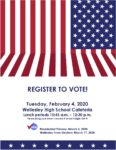 LWV Student Registration Day at WHS – 2/4/20
The League of Women Voters of Wellesley will be back on the WHS campus to register student voters on February 4, before the registration deadline of February 12 to vote in the presidential primary on March 3.
To register, students must provide either the number of a valid MA driver's license or the last 4 digits of the social security number.  18-year-olds may register to vote and 16- and 17-year-olds may preregister.  Preregistration will automatically convert to voter registration on the 18th birthday.  To vote in an election, citizens must be registered and 18 years of age on or before the date of the election.  If you have a valid drivers license or signature on file through a state agency, you may register online: 
https://www.sec.state.ma.us/ovr/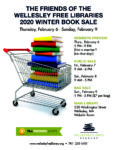 Friends of Wellesley Free Libraries 2020 Winter Book Sale 2/6 – 2/9/20
We are pleased to announce the Friends of the Wellesley Free Libraries Winter Book Sale, February 6th-9th , 2020.  As usual, the sale is open to members on Thursday evening, followed by three days of a public sale, of which the last day is a $7 per bag sale.  We hope to see you there!