WHS Performing Arts Students Selected for National Ensembles
Wellesley Public Schools
PERFORMING ARTS DEPARTMENT
Michael M. LaCava, K-12 Director
40 Kingsbury Street
Wellesley, MA  02481
Phone: 781-446-6210 ext. 5720/Email: lacavam@wellesleyps.org
October 19, 2022
Wellesley High School Performing Arts Students Accepted to  
2022 All-National Mixed Choir and All-National Band
The Wellesley Public Schools Performing Arts Department is proud to announce that Wellesley High School students Frank Mendes and Isabelle Lee were selected to perform with the NAfME (National Association for Music Education) Band and Choir. 
Frank is an active member of our WHS Choir program and has been recognized for his musical excellence through participation in the Massachusetts District and All-State festivals.  His acceptance into the Massachusetts All-State Choir qualified him to submit an audition for the All-National Choir this year.  
Isabelle is an active member of our WHS Band program and has also been recognized for her musical excellence through participation in the Massachusetts District and All-State festivals. Her acceptance into the Massachusetts All-State Band qualified her to submit an audition for the All-national Band. 
The NAfME All-National Honor Ensembles (ANHE), taking place November 3-6 in National Harbor, Maryland, represent the top performing high school musicians in the United States. So much more than a musical showcase, the ANHE program is a comprehensive and educational experience. The 2022 ensembles will meet under the leadership of top conductors in the field of music education.
Isabelle Lee shared "I am so honored and excited for this opportunity to play with some of the best high school musicians in the country. Music has always been such an important part of my life, and all of my teachers and conductors over the years have inspired me to work hard to become the musician I am today. I especially want to thank Mr. Scott, Mr. Adams and Ms. Verrett for leading such wonderful music programs in Wellesley, as well as Mr. LaCava for supporting the entire performing arts community. Lastly, I want to thank my private lesson teacher, Fred Aldrich, and my parents for always supporting me and helping me achieve my goals."
Frank Mendes shared "This has been a personal goal of mine since 7th grade and I'm enormously grateful to my mentors, chorus directors Ms. Lauren Connors and Dr. Kevin McDonald, who guided me and cheered me on at every turn."
"I'm also excited for our first concert of the year, Acatober, in just a few days (October 21/22nd). Nationals will be great but there's nothing better than singing for a sold out auditorium of the community I love." 
We congratulate Isabelle and Frank on this wonderful accomplishment and for representing our Department, School and Community so well!  We also thank Dr. Kevin McDonald, WHS Choir Director and Mr. Steve Scott, WHS Band Director as well as our entire K-12 Music Faculty for their continued support of these students during their musical journey. 
For more information, contact Mr. Michael LaCava, K-12 Director of Performing Arts  at the above address, phone number, and e-mail.
Pictured from Left to Right:
Mr. Steve Scott, Isabelle Lee, Frank Mendes, Dr. Kevin McDonald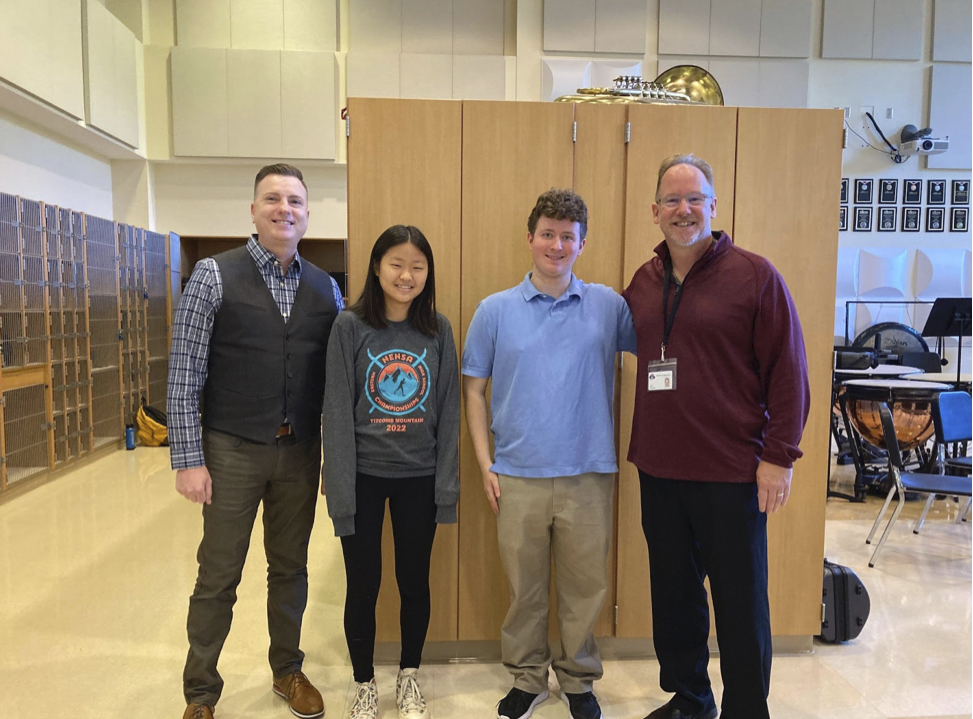 Beginner Registration
Welcome to the Instrumental and Vocal Extension Program (IVEP)!
Students can speak with their ensemble director or school music teacher for a recommendation.
Once you have arranged a time with one of our teachers, please complete the registration and payment process at https://schoolpay.wellesleyma.gov/wbwsc/school.wsc/splash.html. We share the system with the recreation department, so if you have purchased passes from Wellesley Recreation then you already have an account. If you are creating a new account it will take 24 hours for your account to be confirmed.
Elementary Students – In the first two weeks of school in music class, your child will be introduced to all the instruments that we offer in the Instrumental and Vocal Extension Program. Private lessons prepare your child for band or orchestra and support them while they are in an ensemble, in addition to helping students develop a life-long appreciation for music.
You can review the instruments in these lesson plans here: String Family, Woodwind Family, Brass Family, Percussion Family.
Middle School and High School Students – students in band and orchestra, we want to encourage you to take private lessons if you are not already currently enrolled. For students not currently studying an instrument, we would like to encourage you to think about taking one up. It's never too late!
Through lessons you will learn music literacy and musicianship, work on public performance (which is a lot like speaking in public), and learn to express yourself through creativity and interpretation.
Voice lessons can benefit ALL students. Lessons are available in classical music, musical theater, and vocal jazz for the beginning, intermediate, and advanced students.
Lessons are available to all K-12 aged students living in Wellesley or attending Wellesley Public Schools. For your reference, this chart lists the minimum grade level for each instrument.
Strings
Kindergarten
Woodwinds
Grade 3
Brass
Grade 3
Percussion
Voice
Violin
Flute
Trumpet
Percussion (Gr 3)
Viola
Clarinet
Horn
 
Cello
Oboe
Trombone
Voice (Gr 6)
Bass
Bassoon
Euphonium
 
 
 
Tuba
 
**We have closed our piano waitlist until further notice as we are currently unable to accommodate more students. We apologize for the inconvenience.
We are happy to answer any questions you may have so please feel free to contact the IVEP Secretary (MusicLessons@wellesleyps.org), via email. We look forward to starting our program soon and thank you for your continued support of our IVEP program!