IVEP uses the same Online Registration System that is used for Wellesley Parks & Recreation, WPS Bus Fees, Athletics Fees, Wings and PAWS Preschool, so most families already have an account.
Before you start, please double check this chart

Click the Lesson Payments & Ticket Sales link at the top of this page, or the Fee Payment link at the top of any WPS webpage
Look for the MEMBER LOGIN box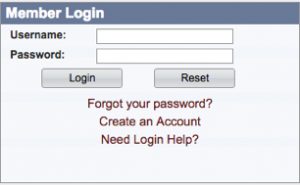 If you have never used the Online Registration System before, you will need to Create an Account and wait until the next business day to be confirmed.
Click My Account at the top of the page and take a moment to review your Contact Information & Family Member data if you have not done so recently. Click Done to go back to the Online Registration Home Page.
At the bottom of the screen select the Instrument Family: Strings, Woodwinds, Brass, or Percussion, Piano, & Voice

The next page lists the instruments and the lesson durations (30-, 45-, or 60-minutes)
Click on the shopping cart next to your selection of instrument and lesson duration
A green bar will appear at the bottom of the page; click ENROLL NOW
Select the family member to register for music lessons from the drop-down list. Click ADD TO CART

If you get an alert about a grade conflict, click OK. Click My Account at the top of the page; scroll down to Change Member Data. Click on the first name of the family member you want to change; correct the grade level and click Finish. Click Done to go back to the home page and go back to Step #4.
If you get an alert about an activity conflict, click OK and continue through the Check-Out process. Lesson times are scheduled directly with the IVEP teacher.

Read and review the Activity Waiver and Lesson Guidelines and click AGREE
Select the private lesson teacher, and answer the other activity registration questions

For Beginning students who do not have a teacher yet, please select "Not sure/help me choose"
Please do not indicate a teacher without first speaking to them about availability and scheduling
Click SUBMIT.

Select a payment option

You may choose to pay in full or through an installment plan (dates predetermined by WPS)
All payments should be made through the Performing Arts office, preferably online using a credit or debit card; please do not give cash or checks to your lesson teacher
Review your shopping cart and click PROCEED TO CHECKOUT

Select the Credit Card type and click CONTINUE
Enter in the payment amount

Lessons must be paid in full prior to starting lessons for the semester

Click SUBMIT PAYMENT
A receipt will be emailed to the email address on file
Contact a teacher to schedule lessons. Contact information can be found at IVEP Teachers. If you would like assistance choosing a teacher, please contact the Performing Arts office.