Announcements: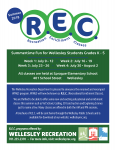 Recreational Enrichment Classes (REC) – Summer 2018
Summertime Fun for Wellesley Students Grades K – 5
Week 1: July 9 – 12. Week 2: July 16 – 19. Week 3: July 23 – 26. Week 4: July 30 – August 2.
All classes are held at Sprague Elementary School
The Wellesley Recreation Department is pleased to announce the renamed and revamped WINGS program. WINGS will now be known as R.E.C. (Recreational Enrichment Classes). We are thrilled to be able to offer some new and exciting educational and enrichment classes this summer such as Vet School, Coding, 3D Construction and Exploring Science just to name a few. Many classes are offered in both the AM and PM sessions.  Questions? Contact Chad Norton: cnorton@wellesleyma.gov
Read the 2018 REC Program Descriptions (mobile friendly)
Printable 2018 REC Program Brochure (PDF)
Register Online
Winter 2018 Illness Management Guidelines
      Wellesley Public Schools
Department of Nursing Services
Winter 2018
Illness Management Guidelines
  As we move deeper into the winter months, we often see an increase in illnesses.  While there is no need for alarm, it bears reviewing some illness management guidelines for both home and school.
Required Online Account Creation for ALL Students
REQUIRED ONLINE ACCOUNT CREATION
All families must create an online account with the district for each child.
All new and returning P.A.W.S. families must create an online account with the district. You must register each child. Click HERE to access the link to the site.
Please note:
You must register your child for the classroom your child has been assigned to. If you are not sure of your child's classroom placement, please contact the P.A.W.S. office and we will assist you.

If you have questions regarding the tuition, please contact the P.A.W.S. office.
News & Updates:
Upcoming Dates:
Nothing from Monday, July 16 to Thursday, August 16.
View more upcoming dates in our monthly view calendar…
---
School Information:
Director: Rebecca Zieminski
Secretary: Isabel Cashman
Nurse: Ann Farrell
63 Hastings Street (adjacent to Fiske School – Use 45 Hastings Street in your GPS for the best route to P.A.W.S.) • Map & Directions
Wellesley, MA 02481
Tel: 781-446-6222
Fax: 781-283-5728
School Office Email: pawsoffice@wellesleyps.org
Building Hours: 8:00 AM – 4:00 PM
Half Day and Full Day Options are based upon availability
Days and Times Vary by Classroom