Announcements:

FAQ: WPS Text Messaging & SchoolMessenger InfoCenter
Customize Your Preferences Anytime: Now that WPS has turned on text messaging, if you would like to customize your phone, email and text message preferences, please login to the PowerSchool Parent Portal and select the "SchoolMessenger InfoCenter" icon in the left sidebar.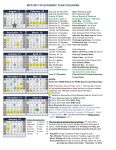 Final 2017-18 WPS Academic Calendar
Click below to view the final 2017-18 school year calendar as voted by School Committee on December 13, 2016.
Bates Buzz News & Reminders:
Bates Buzz
Dec 22, 2016
-
Dear Bates families, Thank you for your support for the many special events at school this month. Our Magnificent Day of Play was a huge success! Thank you to every family who helped their child plan and gather materials and ... Continue reading...
Upcoming Dates:
View more upcoming dates in our monthly view calendar…
---
School Information:
Principal: Toni Jolley
Secretary: Maureen Herzig
Nurses: Chris Spolidoro & Jody Loeser
116 Elmwood Road, Wellesley MA 02481 • Map & Directions
Office Tel: 781-446-6260
Voice Mail: 781-446-6315
Fax: 781-263-1520
Absentee Line: 781-446-6315 ;8 (Option 8)
School Office Email: batesoffice@wellesleyps.org
School Hours:
Monday, Tuesday: 8:30 am – 3:05 pm
Wednesday: 8:30 am – 12:00 pm
Thursday, Friday: 8:30 am – 3:05 pm