Announcements: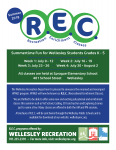 Recreational Enrichment Classes (REC) – Summer 2018
Summertime Fun for Wellesley Students Grades K – 5
Week 1: July 9 – 12. Week 2: July 16 – 19. Week 3: July 23 – 26. Week 4: July 30 – August 2.
All classes are held at Sprague Elementary School
The Wellesley Recreation Department is pleased to announce the renamed and revamped WINGS program. WINGS will now be known as R.E.C. (Recreational Enrichment Classes). We are thrilled to be able to offer some new and exciting educational and enrichment classes this summer such as Vet School, Coding, 3D Construction and Exploring Science just to name a few. Many classes are offered in both the AM and PM sessions.  Questions? Contact Chad Norton: cnorton@wellesleyma.gov
Read the 2018 REC Program Descriptions (mobile friendly)
Printable 2018 REC Program Brochure (PDF)
Register Online
Bates Buzz News & Reminders:
Bates Buzz
Jun 14, 2018
-
Dear Bates Families,As the year comes to a close, I would like to thank you for allowing us the privilege of teaching your children. We have had a wonderful year, and we appreciate all that you do to support our ... Continue reading...
Bates Buzz
May 16, 2018
-
Dear Bates Families,Thank you to our generous PTO and parents for an outstanding Teacher Appreciation Week last week. The faculty and staff enjoyed a delicious lunch, morning coffees by Expresso Dave, a candy bar, flowers and many thoughtful notes from ... Continue reading...
Upcoming Dates:
Nothing from Sunday, June 24 to Sunday, July 8.
View more upcoming dates in our monthly view calendar…
---
School Information:
Principal: Toni Jolley
Secretary: Maureen Herzig
Nurses: Chris Spolidoro & Maxine Creanza
116 Elmwood Road, Wellesley MA 02481 • Map & Directions
Office Tel: 781-446-6260
Voice Mail: 781-446-6315
Fax: 781-263-1520
Absentee Line: 781-446-6315 ;8 (Option 8)
School Office Email: batesoffice@wellesleyps.org
School Hours:
Monday, Tuesday: 8:30 am – 3:05 pm
Wednesday: 8:30 am – 12:00 pm
Thursday, Friday: 8:30 am – 3:05 pm