WMS Principal Email: itom@wellesleyps.org
Wellesley Public Schools will be closed until Monday, May 4. This situation is fluid, please stay tuned for updates.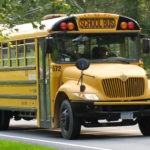 Bus Transportation Services for 2020-21
WPS is planning for transportation services for the upcoming 2020-21 school year. In accordance with State regulations and School Committee policy, free transportation will be provided for students in Kindergarten through Grade 6 residing more than 2 miles from your school. We will continue to offer fee-based transportation services to all other students (that is, students who live less than two miles from school or students in grades 7 through 12). The fee will be $521 per student, with a family cap of $1,142. In other words, when there are more than two children in a family participating in the fee-based transportation program, the fee for the third child is $100 and any additional child thereafter is free. The deadline for online registration with payment in full is April 17, 2020.
More Social Less Media
A new initiative of the WPS Department of Technology. Goals of the project are:
To provide a technology-free program for students, teachers, and families to re-establish healthy connections to the people around them
Align to district-wide Profile of a Graduate, Challenge Success and social-emotional learning initiatives
Upcoming Dates:
View more dates in our monthly view calendar…
---
School Information:
Principal: Mark Ito
Secretary: Patty Chong
Nurses: Kristina Gusmini, Caroline Reading
50 Kingsbury Street, Wellesley MA 02481 • Map & Directions
Office Tel: 781-446-6250
Voice Mail: 781-446-6235
Fax: 781-446-6208
Absentee Line: 781-446-6235 ;2 (Option 2)
Principal Email: itom@wellesleyps.org
Office Email: wps-ms-Main-Office-Staff@wellesleyps.org
School Hours:
Monday-Friday: 7:40 am – 2:29 pm
Office Hours:
Monday-Friday: 7:00 am – 4:15 pm