At our community meeting last week I shared with our school community a special book called Your Fantastic Elastic Brain by JoAnn Deak. The book helps us to understand some of the brain research on how mistakes help us learn and actually grow our brains. We discussed how trying something new and difficult also helps our brain grow. This is a great book to help teach growth mindset principles to children. We hope all children will embrace challenge, persevere and accept their mistakes as opportunities to learn and grow.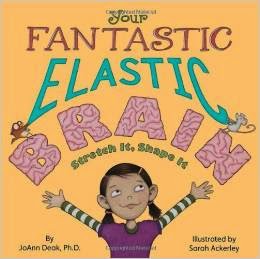 Parents can help children embrace a growth mindset by talking about our own mistakes and asking questions such as, "What was the best mistake you made today?"
As students trained as runners to run the Bates Mini-Marathon, they all experienced the challenge of tackling something hard and persevering. At our community meeting we celebrated the accomplishment of our collective running of 2,757 laps around the school. That's almost 700 miles!
Another highlight of our meeting was a beautiful singing of Here Comes the Sun with several Bates staff members on guitar and tambourine. Thank you to music teacher Beth Perry for her leadership.