Daily Announcements
---
Announcements: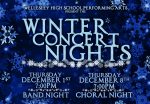 Winter Concert Nights
Thursday, December 1 at 7:00 PM
Featuring the Concert Band & Wind Ensemble
Thursday, December 8 at 7:00 PM
Featuring Concert Choir, Brooks Brothers, Song Sisters, Keynote Singers, & Rice Street Singers
Free Admission – All Performances held at the Katherine L. Babson Jr. Auditorium at Wellesley High School (more…)
Principal's Message & Reminders:
Junior Auction Volunteer Meeting
Dec 5, 2016
-
Hi Junior Class Parents & Guardians, A huge thanks to all of the people who came to the first Junior Auction Plan meeting. Our next plan meeting is going to be December 6th at 7:00 pm. This meeting will be ... Continue reading...
Pre-Pep Rally Breakfast Sign Up
Nov 17, 2016
-
Dear Parents and Guardians, The Wellesley High School Class Officers (all four grades) will be holding an All-School Breakfast at 8:00 a.m. on Wednesday, November 23 (the morning of our Pep Rally). We are providing breakfast for all the students ... Continue reading...
Upcoming Dates:
View more dates in our monthly view calendar…
---
School Information:
Principal: Dr. Jamie Chisum
Secretary: Diane Zinck
Nurses: Shari Johnson, Pam Sheridan
50 Rice Street, Wellesley MA 02481 • Map, Directions & Traffic Patterns
Tel: 781-446-6290
Fax: 781-446-6308
Please Report Absences by House
Main Office Phone Extension Shortcuts
781-446-6290
Bradford House x1
Perrin House x2
Phillips House x3
Principal's Office x5
Guidance Office & METCO x6
Athletics x7
Special Education x8
Nurse x9
School Hours:
Monday-Friday: 7:30 am – 2:30 pm