Honor the leap as well as the landing.
Shannon Donavan-Monti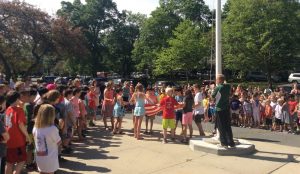 Dear Fiske Families,
It has been a wonderful year at Fiske!  On the first day of school we raised the American flag as a community, and today we lowered it as a community.  What has happened between those two ceremonies is the culmination of parents/guardians, teachers, and staff working together to provide an environment for social and learning experiences that pave the road for our children's future.
Every day we work together to grow as a school that embraces the Fiske Core Values: Fair, Inclusive, Safe, Kind and Encouraging. This year students have taken leadership roles that included fundraising for regional and global issues, leading school wide assemblies, voting on a school mascot, and sharing their opinions through persuasive writing.  Students participated in a variety of creative arts programs, field trips, after school enrichment programs, and the Fisketastic Day of Play. Plans are already in the works for more learning adventures for the 2016-2017 school year.
Summer is here but the work continues.  While Fiske enters into phase II of construction, Beth Watson and I will have an office at Sprague School. We can be reached by email; watsonb@wellesleyps.org, mcgregorr@wellesleyps.org or by phone at 781-446-6265.
This year your children have spent time mastering new math and reading skills. Please remember to have your children practice these skills over the summer. Both our Literacy Specialist, Kristin Stoetzel, and Math Coach, Cheryl Condon, have provided the attached resources to help parents/guardians with ideas for fun summer reading and math activities for your children. In addition, please see the letter from the K-12 Music Director, Dr. Quintana, regarding fall music programs at Wellesley.  These music programs begin in September so please take a moment to read her very informative letter.
Thank you to all our teachers for creating such a supportive and caring learning environment for all of our students.  At this time I would like to make you aware of some staffing changes.  Michele Solek will be teaching Kindergarten and Marie Cosgrove will be returning to teach art.  A huge thank you to Matt Haberstroh for his amazing work in art this year.  We wish Mr. Haberstroh all the best in his future endeavors.
I hope you all have a wonderful summer full of fun and adventure.  Thank you all for your support in making our school the home of the Fisketastic Falcons!
Sincerely,
Rachel McGregor
Principal, Fiske School
Performing Arts Elementary Newsletter.docx