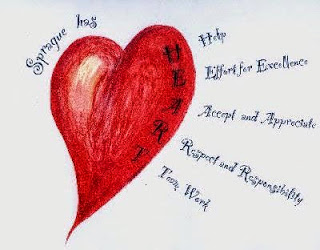 Dear Sprague Community,
I am so enjoying the chance to get to know your fun and friendly children. I have been starting each day with morning announcements and the pledge of allegiance led by student leaders. I have also been reading short messages that promote thinking about character traits. These short messages are called, "Words of Wisdom" and are published by a company called, Project Wisdom. Some daily topics could include: helping, responsibility, caring, positive attitude, trustworthiness, confidence, honesty, citizenship, or self-awareness. The goal is promote character building and social emotional competencies and also encourage everyone to do and be their best. We have had two all school gatherings focusing on community building and HEART values. These will be a chance for us to get all grade levels together for some fun and to set a positive tone for learning. We will plan to have all school gatherings at least twice a month.
Tuesday, September 9th is a primary election day. Sprague is a polling site, but we will keep all doors locked so that voters can only access the gym. There is a PTO meeting on Tuesday as well at 9 a.m. The New Family Picnic will take place at 6 p.m. that evening. What a busy day!
Back to School Night is Thursday, September 11th. This evening is for parents to learn about grade level expectations and curriculum. Children do not attend. Teachers in grades 3-5 will give presentations at 6:30 and teachers in grades K-2 will give presentations at 7:15.
Special thanks to Karen Haberly for planting the beautiful flowers in the planters in front of the school. Thanks also to the PTO for providing funds to purchase new playground balls and bags for each grade level. Please read the following announcements and have a great week!
The Peer Mentoring program at Sprague pairs selected high school students with interested Sprague students in grades 3-5. Once a week, high school mentors come to Sprague to help students with homework. This is a great opportunity for your child to receive additional help with homework after school on a regular basis!
For Who: Sprague students in grades 3-5
Where and When: At Sprague in Ms. Blumenthal's classroom every Monday from 3:05pm to 4:00pm. This program will run from October 6th to November 24. These are the scheduled dates for the program: Oct. 6, Oct. 20, Oct. 27; Nov. 3, Nov. 10, and Nov. 17.
If you are interested in signing up your child, please email Ms. Blumenthal blumenthall@wellesleyps.org. Please note, the number of students accepted will be dependent on how many high school students volunteer.
Our wonderful school nurse asked me to share the following with you:
From the Nurse: Welcome!
As Sprague School's nurse, I'm glad to welcome you and your children to a new school year. At Sprague, nursing coverage is provided during all school hours. I am here four days each week, with Marianne MacLean in the nurse's office on Fridays. Our goal is to help your child(ren) take full advantage of the many educational opportunities here at Sprague, so please contact us if we can be of any assistance. If your child has any specific health concerns or serious allergies, if his or her health status changes, or if there is any way in which we can help, please be sure to let us know. Then we can all work together to provide the best environment for your child.
Guidelines for School Attendance
When making a decision about your child(ren)'s school attendance, please be mindful that several members of our Sprague Community are at an increased risk when exposed to communicable illnesses. This is what I recommend:
(1) Fever-free for 24 hours without using fever-reducing medicine (acetaminophen (Tylenol), ibuprofen (Advil), etc). This means a morning temperature no higher that 99.4 when taken orally. (Please note that children and teenagers should never be given aspirin for a fever and that ibuprofen should always be administered with food.)
(2) On antibiotic therapy for 24 hours when being treated for a contagious bacterial infection (such as strep throat). Ear infections are not contagious, so school attendance is dependent on the child's level of discomfort.
(3) An ailment such as a cold needs to be evaluated carefully. If your child has copious nasal discharge, frequent cough, or a fever, he or she is best treated by a day of rest and drinking fluids at home. However, if the cold does not affect activity tolerance and the nasal discharge, sneezing and coughing are only occasional, the child is fine to attend school.
(4) Stomachache is a very nonspecific term and is often difficult to assess. A child with vomiting and/or diarrhea should be kept home until symptoms have resolved for at least 12 hours and he or she is able to keep down food and liquid. Be sure to call your physician if fever and stomach pains persist or if your child has poor oral intake and appears dehydrated (dry mouth, no tears, urinates less than 4 times in 24 hours).
(5) A good night's sleep the night before – if your child is awake much of the night (vomiting, diarrhea, coughing, etc) then he or she will most likely not have a productive school day. Generally, any complaint that causes your child to lose a significant amount of sleep is a strong indicator that a day home from school is warranted.
The education of your children is our top priority here at Sprague. However, if your child is not able to concentrate because he or she is too tired, or is frequently coughing or sneezing, or is in and out of the classroom going to the nurse's office, then chances are high that not much learning is taking place. In addition, the illness is most certainly spreading to others in the classroom.
As always, please feel free to call me if you have any questions or concerns.
Sharon
Wellesley Public Schools would like to continue connecting with you via email. If you prefer to be removed from our list, please contact Wellesley Public Schools directly. To stop receiving all email messages distributed through our SchoolMessenger service, follow this link and confirm: Unsubscribe
SchoolMessenger is a notification service used by the nation's leading school systems to connect with parents, students and staff through voice, SMS text, email, and social media.
Weekly news and announcements from Ms. Snyder