Dear Sprague Community, This week's note is full of items from around the school and town! Give Back Day is Friday, November 21st at Sprague. Our Assembly Committee has planned activities in which students can 'give back' to our school community. There are four tenets to the theme:
maintain what you have
reuse and recycle
share what you can spare
lend a hand
Students will be placed in mixed age groups with a teacher facilitator. Some groups will pick up trash or week, while others will make natural cleaning products or make instruments out of recycled materials, posters, or light switch covers that will remind people to conserve. Originally, we had planned this day for last Friday to coincide with America Recycles Day on Nov. 15th, but it was rescheduled due to an internal conflict. I recently saw an article about the importance of teaching kindness in schools. It was online (EDUTOPIA, Nov. 12, 2014, "Why Teaching Kindness in Schools is Essential to Reducing Bullying.") and highlighted the positive effects of practicing kindness. The author, Patty O'Grady, is a Ph.D. and expert in neuroscience, emotional learning, and positive psychology. She emphasizes that students do not learn by just talking about kindness, they have to experience it and reproduce it. She asserts that benefits of students practicing kindness include: happy, caring children, increased peer acceptance, greater sense of belonging and self-esteem, increased health benefits, increased feelings of gratitude, decreased depression, better concentration, and less bullying. Certainly, when kids feel good about themselves, they tend to do better in all things they try. Teachers include lessons on treating others with kindness in the curriculum and in classroom discussions regularly. In the article, the author speaks about teaching kindness rather than using 'canned' anti-bullying programs. "When kindness and compassion are taught instead, it fosters the positive behavior that's expected. Promoting its psychological opposite is key in reducing bullying to create warm and inclusive school environments." Many teachers teach explicit lessons included in Open Circle resources and also hold class meetings to reinforce positive behaviors and kindness. There are many quotes posted around our school building, but one of my favorites is, "Be a little kinder than is necessary." We hope that the more children experience kindness here at Sprague and out in the world, the more they will spread it. That would be a good contagion. (That's my lead for the following note from our wonderful nurse, Sharon Kahn.) From the Nurse – Secondhand Smoke: A Serious Health Risk To Children Thursday, November 20, 2014 is the Great American Smokeout, a day that highlights the dangers of tobacco use, the challenges of quitting smoking, and the need to protect people from exposure to secondhand smoke. Secondhand smoke, a combination of smoke exhaled by smokers and from the burning ends of a cigarette, cigar or pipe, contains more than 4,000 chemicals, 70 of which are known to be carcinogenic. Nonsmokers who are exposed to secondhand smoke absorb these substances just like smokers do. Exposure to secondhand smoke is known to lead to a variety of health problems, including lung and other cancers, heart disease, asthma, allergies, eye irritation, and respiratory illnesses such as sore throats, bronchitis, and pneumonia. Children exposed to secondhand smoke are at an increased risk of sudden infant death syndrome (SIDS), lymphoma, leukemia, brain tumors, colds, allergies, asthma, ear infections, pneumonia, heart disease, and bronchitis. Exposure to secondhand smoke slows the growth of children's lungs. It causes children with asthma to experience more frequent and severe attacks because the chemicals directly irritate the airways. Statistics show that even children who do not have asthma suffer from twice the number of respiratory infections when their parents smoke around them. And children raised in homes where parents smoke have twice the risk of developing lung cancer when they are adults. Additionally, in the United States, secondhand smoke causes about 42,000 heart disease deaths each year in nonsmokers. Many of the harmful health effects (including asthma) are most clearly manifested in children because they are especially vulnerable to the poisons in secondhand smoke. Children breathe more rapidly and have smaller lungs than adults; they breathe more air per pound of body weight than adults; and because kids' respiratory systems are still developing they are prone to increased exposure to and adverse effects from inhaled substances. Children receiving high doses of secondhand smoke, such as those with smoking parents, run the greatest relative risk of experiencing permanent negative health effects resulting in permanent decreased lung function. There is no safe level of exposure to secondhand smoke. Studies have shown that even low levels can be harmful because secondhand smoke causes disease and death in children and adults who don't smoke. The only way to fully protect nonsmokers is to eliminate smoking in indoor spaces. Making your home smoke-free may be one of the most important things you can do for the health of your family. Sharon From WHS…. If you are looking for a night of musical entertainment, look no further! The WHS Fall Jazz Concert is tonight, Tuesday, November 18 at 7pm in the auditorium. Over the last decade, WHS has established itself as one of the finest jazz programs in the state. Each of our jazz ensembles consistently receive top ratings at festivals including a first-place finish at the Berklee Jazz Festival for the 2:00 jazz Band last year and a 6th consecutive appearance at the Hatch Shell for the Rice Street Singers. Tonight they are pleased to welcome Peter Eldridge of the New York Voices to our stage. Peter is a world renowned jazz vocalist and pianist. He will perform with the Rice Street Singers and the 2:00 jazz band as well as his own individual set. From our school psychologist, Mr Marder: Dear Parent(s) and/ or Guardians, In early December, I will be starting a divorce counseling group for students in grades 3-5. Please send me an email if you would like your child to be part of this group or if you have any questions. Thank you, Scott Marder, MA, EdS, NCSP marders@wellesleyps.org 781-263-1965 ext. 2575 Many thanks to Becca Cahaly and Angie Hemmerle for organizing the staff luncheon last Wednesday! A FANTASTIC LUNCHEON FOR ALL OUR TEACHERS AND STAFF SPONSORED BY THE KINDERGARTEN, 1ST AND 2ND GRADES! ~ THANK YOU to Ana Alexander, Bridget Banta, Jenn Caiazzo, Christine Choate, Nancy Colbert, Gregory Desautels, Jill Fischmann, Angie Gakidis, Kim Giangrasso, Glynis Gould, Emily Shanahan & Chad Harris, Patty Javidi, Nandita Kapoor, Sarah Lyn Kashou, Heather Kirkpatrick, Vitaly Koltov, Crystalle Lacouture, Mbaira Maorongarti, Lisa Neighbors, Anastasia Pantelides, Susan Prince, Michael Rodman, Lucienne Ronco, Marissa Rosenbaum, Andrea Scampini, Jaquie Stathis, Ju Liu & Yi Wang, Betsey Weintraub, Ameika Wilson, Juan Wu, and Shuo Zhuang for making anotherTeacher/Staff Appreciation Lunch of the year such a success!! Many thanks ~ Angie Hemmerle and Becca Cahaly, Co-Chairs, Teacher/Staff Appreciation Important dates: Nov. 21: Give Back Day Nov. 27, 28: Thanksgiving Break Dec. 1: No school: Professional Development Day for teachers Dec. 4: Walk to School Day Dec. 11: Cookie Walk I am passing along this information about a STEAM opportunity for girls on November 22nd through Wellesley College: Hello! We are Robogals, a new group on campus that aims to introduce young girls to robotics, programming, and engineering through fun and engaging activities (www.robogals.org). We plan to run workshops for girls in Boston area schools, and are currently planning a pilot workshop to test run our activities. We would love to have your children in grades K-5 participate in this workshop (especially if they are girls!) so we can learn what we need to work on before expanding our outreach efforts. If interested, please register here: http://goo.gl/WJByRL. (*Note that if spots fill up, priority will be given to girls.) If you have any questions at all, feel free to contact Tali Marcus at tmarcus@wellesley.edu. Thanks, Robogals Wellesley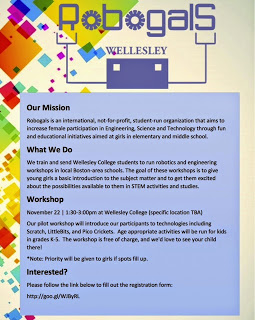 Wellesley Public Schools would like to continue connecting with you via email. If you prefer to be removed from our list, please contact Wellesley Public Schools directly. To stop receiving all email messages distributed through our SchoolMessenger service, follow this link and confirm: Unsubscribe If you need to update your email address or phone number, please contact the secretary at your child's school. SchoolMessenger is a notification service used by the nation's leading school systems to connect with parents, students and staff through voice, SMS text, email, and social media.
Weekly note from Ms. Snyder–November 18, 2014