Dear Sprague Community, I hope you all enjoyed the holiday weekend with friends and family. The PTO has very generously given all you bakers this week off, but hope that you will bake many delicious cookies for the Cookie Walk on December 11th. Event chair Elizabeth Young has been working with a terrific committee to plan this fun afternoon. I am looking forward to seeing how it all works and particularly looking forward to finding the perfect chocolate chip cookies! As the weather gets colder, please be sure your child has warm clothing for outdoor recess each day. When it snows, students will need boots and snow pants as well as jackets, hats, and gloves for outdoor play. As I am sure you know, we try to get children outdoors to play whenever possible, so it is very important that they have appropriate clothing to stay warm and dry for the rest of the day. It is also a good idea to write your child's name inside these articles of clothing. Our Lost and Found bins were overflowing earlier this year and we hope to help children find any items they may misplace. I read an interesting summary of an article about executive functioning in the Marshall Memo this week. For those of you in the business world, it did not refer to how executives in the corner office get their work done, but rather to the ability of the brain to organize our thoughts and actions so we can all—kids included—get things done. The message is that we can help our kids get better at organizing and controlling themselves so they are more productive in their learning and in their lives. If you click on the link to the entire article, you will also find separate links to activity guides with ideas for songs, games, and physical activities that help kids develop self-regulation skills. The activities are separated by age groupings (3-5, 5-7, 7-12). Here is the summary with a link to the entire article:
Developing Executive Function in Young Children
In this article on the Harvard Graduate School of Education's Usable Knowledge website, Bari Walsh says, "Executive function – our ability to remember and use what we know, defeat our unproductive impulses, and switch gears and adjust to new demands – is increasingly understood as a key element not just of learning but of lifelong success." Executive function acts as "an air traffic control system of the mind – helping us manage streams of information, revise plans, stay organized, filter out distractions, cope with stress, and make healthy decisions." Most children are first introduced to executive-function skills by their parents in the following ways; -Reliable routines; -Meaningful and responsive interactions; -Play that focuses attention and stirs the beginnings of self-control; -Imaginary play; -Reading books and storytelling; -Having children act out stories; -Singing songs and having children sing and create songs; -Taking field trips. This article (click the link below) has a number of links to websites and resources helpful to parents and educators. "The Art of Control: Activities and Resources to Enhance Executive Function in Young Children" by Bari Walsh in Harvard's Usable Knowledge website, https://www.gse.harvard.edu/news/uk/14/10/art-control The Massachusetts Department of Transitional Assistance has asked all principals to spread the word that any family that receives DTA services can take advantage of a partnership with 11 educational or cultural institutions that offer free or reduced admission when presented an EBT card. Interested families can call 1-800-445-6604 for more information. Some participating organizations include: Boston Children's Museum, Museum of Science, Museum of Fine Arts, and the Institute of Contemporary Art. There will be a Drama Club offering for 5th graders beginning in January. Please see the attached flyer and email Ms. Snyder if your child is interested in participating. Please include your child's name, teacher's name, email address, and phone number. Thank you. Reminders: December 2 was the last day for Engineering Club. Global Child classes are extended until 4:20 on Dec. 2 and Dec. 9. Parents are invited to attend the Dec. 16th class, which will end at 4:00. Dec. 4: Walk to School Day Dec. 4: PTO meeting at 9:00 a.m. Dec. 11: Cookie Walk from 2:30-4:30 p.m. Dec. 16: School Budget presentation to School Committee @ 7:00 p.m. Dec. 24-Jan. 2: Holiday Break Jan. 5: Classes resume Jan. 16: 5th Grade Chorus and Band Concert @ 9:00 a.m.—Families are invited to attend. In December, we will focus on the "R" in H.E.A.R.T. for our HEART awards. Students who are recognized also get to put a paper heart on the large "R" in the hallway. Check out the photo of the letters below. It was taken last month so the "A" is now full of paper hearts also.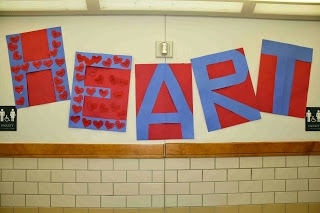 Wellesley Public Schools would like to continue connecting with you via email. If you prefer to be removed from our list, please contact Wellesley Public Schools directly. To stop receiving all email messages distributed through our SchoolMessenger service, follow this link and confirm: Unsubscribe If you need to update your email address or phone number, please contact the secretary at your child's school. SchoolMessenger is a notification service used by the nation's leading school systems to connect with parents, students and staff through voice, SMS text, email, and social media.
Weekly note from Ms. Snyder–December 2, 2014