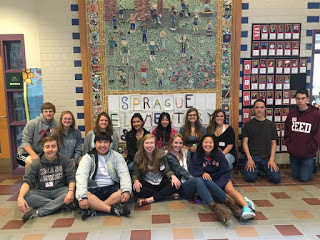 Dear Sprague Community, I had a blast this morning walking with the "Sprague Train" from the Wellesley Farms neighborhood. We did not take the most direct route, but included many families. I even earned a LARGE footie charm! We had 253 walkers for our last Walk to School Day! Thanks to Ms. Flitsch and the many parent volunteers this year for their efforts! Our wonderful art teacher, Jen Stabnick, former Sprague parent Margaret Lyne, and Sprague staff members hosted former students for the annual Sprague Alumni Picnic. On June 3rd, the grills were fired up and Sprague teachers, new and seasoned, cooked burgers and hot dogs and mingled with the 5th grade class of 2008–the first class to have completed grades K-5 at Sprague. The former Spraguers shared their successes and told everyone of their college plans. There were even a few former parents present. Afterwards, they took a trip down Memory Lane and walked through the school to reminisce. A photo of some of them by the hallway mural is attached. Field Day Field Day is this Thursday. We can't wait. Here are a few reminders from Ms. Flitsch: We will be outside for an extended period of time – Students will need to bring:
Large water bottle (filled)
Hat
Sunscreen
Please wear:
sneakers, shorts, short sleeve shirts. (Students are encouraged to wear "Sprague School" attire)* *Rain date is Tuesday, the 25th
* Spectators are welcome World Language News We are so pleased to announce the appointment of Barbara Barnett to be our new Elementary World Language Department Head. Barbara comes to us from Bedford, where she has served as the Foreign Language Department Head since 2003. Barbara has a Masters degree in Spanish Language and Culture from the Universidad de Salamanca, is a native speaker of Spanish, and has many fond memories of learning English when she was in elementary school. Barbara will lead the charge in developing our new Spanish Elementary program, collaborating with teachers and administrators across the district, and working with community members to grow our program. She will also work with the Sprague Elementary Spanish teacher and with curriculum leaders to develop our K-5 curriculum next year. Please join us in welcoming Barbara to Wellesley! Incoming Kindergarten News The School Committee voted to approve the change in start date for kindergarten for the 2015-2016 school year. Kindergarten classes will begin on the first day of school, Wednesday, September 2, 2015. This is also the start day for grades 1-5. Kindergartners will be dismissed at 12:00 noon for the first 7 days of school (which includes 2 Wednesdays). The first full day for kindergarten will be September 15, 2015. (There is no school on Monday, September 14th.) WCCC will offer childcare for $45 per day from 12:00-3:00. This childcare will be offered in a kindergarten classroom as school will be in session for all other grades. There will be an informational meeting to answer any questions parents may have. Please spread the word! Parent Information Night for incoming Kindergarten Families Wednesday, June 17th @ 7:00 PM in the Sprague cafeteria Please join us to learn about: 1. The seven half-days of kindergarten start to the school year 2. The WCCC options available from 12:00-3:00 PM for each half day of the kindergarten seven half-days 3. General information about kindergarten 4. A slide show of a day in kindergarten 5. Question and Answer session WOW Essay Winners 5th grade WOW essay winners from Sprague are Tessa Rose Crowley and Anna Hemmerle. They were recognized at the School Committee meeting on June 8th. Congratulations to them! Get ready for Summer Reading AND Share our HEARTs! Children's Book Drive Monday, June 8- Friday, June 12 Bring your gently used children's books to school and they will be collected and given to children in need. Volunteers will be collecting books in car line all week and there will be a collection bin in the lobby. Book Swap @ The Family Picnic Wednesday June 10 Bring a book, take a book – gather your summer reading titles! All ages welcome. Look for the book swap table at the Family Picnic. In-Store Book Fair at Wellesley Books Thursday June 11 – Saturday June 13 20% of all sales (with Sprague Coupon or just mention Sprague) will go to a "sister" school in a small, rural town in Maine greatly in need of books. What better way to show our HEART values than help another school in need? Questions? Contact Lisa Neighbors (lisa@blondetulip.com) or Jenn Friedman (jennfriedman39@gmail.com) Dates to remember: June 9: Last Walk to School Day June 10: Sprague Family Picnic @ 6 PM on playground June 11: Field Day June 15: Volunteer Appreciation Breakfast June 17: Chorus, Band, Orchestra Concert @ 9:00 June 18: Farewell Assembly for grade 5; grade 4 invited @ 9:00 a.m. June 19: LAST DAY! (For students) Clap Out at 11:50 a.m.—DISMISSAL @ 12! June 22: Teachers Last Day; PTO provides lunch
Wellesley Public Schools would like to continue connecting with you via email. If you prefer to be removed from our list, please contact Wellesley Public Schools directly. To stop receiving all email messages distributed through our SchoolMessenger service, follow this link and confirm: Unsubscribe If you need to update your email address or phone number, please contact the secretary at your child's school. SchoolMessenger is a notification service used by the nation's leading school systems to connect with parents, students and staff through voice, SMS text, email, and social media.
Weekly note from Ms Snyder–June 9, 2015