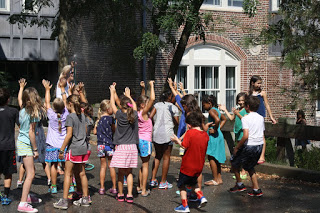 Dear Sprague Community, With temperatures in the 90's both today and forecast for much of the week, we are truly lucky to call Sprague our school! The air conditioning made for a perfectly normal day today with the exception of hot recess times. We did cool off with a little water spraying at recess though. (See attached photo). Our "Back to School Night" is this Thursday, September 10th from 6:30-8:00 p.m. We hope to see you all there! Teachers will give presentations in classrooms so that parents may gain an understanding of grade level curriculum and expectations. Children should not attend. I will give a short welcome in the gym at 7:00, followed by a brief presentation about our World Language pilot and scheduled roll out at Sprague. The schedule will be slightly different this year. 6:30-7:00: Grades K-2 classroom presentations 7:00-7:20: Whole School presentation in the gym (Ms. Snyder and Ms. Peare) 7:25-7:55: Grades 3-5 classroom presentations The new routine of recess before lunch is going well. With the hot temperatures, we left lunchboxes indoors today. Research has shown that recess before lunch has a number of potential benefits. At Sprague, we hope to see the following:
-students eating more of their lunches
-less food waste
-calmer environment in the cafeteria
-students returning to class ready to learn after lunchtime
For those of you new to Sprague, we use the Open Circle curriculum as well as Social Thinking curriculum to teach social/emotional growth. Many classes will talk about "Whole Body Listening". Many classrooms develop rules for listening in whole group discussions. Most include things like: listening to the speaker, eyes on the speaker, keeping your body to yourself, raising your hand to talk, and paying attention. Ask your child about class discussions in his/her classroom. You may want to reinforce this concept at the dinner table. J Author Trudy Ludwig will visit Sprague in October and give a presentation to our students! Read more below: Bestselling Author Trudy Ludwig
Coming this Fall to Our Elementary School!
This October 5 -7, parents, students, and staff at Sprague, Bates, and Hunnewell Elementary Schools will have the opportunity to spend time with children's advocate and award-winning author Trudy Ludwig. Trudy has been featured on ABC's "Good Morning America," PBS's nationally syndicated show, "Keeping Kids Healthy," Wall Street Journal, Huffington Post, Reading Rainbow, the National Crime Prevention Council's Circle of Respect program, and has served as an expert panel member on Sesame Street Workshop's video series addressing bullying. Her books (My Secret Bully, Just Kidding, Sorry!, Trouble Talk®, Too Perfect, Confessions of a Former Bully, Better Than You, The Invisible Boy and her newest release, Gifts from the Enemy) have received national praise for helping children cope with and thrive in their social world.
In each of her student assemblies for kindergarten-grade 2 and grades 3-5, Trudy will read one of her books to the audience and discuss the story and the characters' roles. Through engaging, age-appropriate activities and role-play with the author, the children will learn important life skills related to making healthy friendship choices. On Wednesday, Oct. 7, Trudy will also be providing an afternoon staff in-service for the co-sponsoring schools' staff to provide them with more tips, tools, and resources to assist them in their ongoing, proactive efforts to create safer social-emotional learning environments for their students. ATTENTION PARENTS: On Tuesday evening, October 6, parents from Sprague, Bates,and Hunnewell are invited to come hear Trudy's special parent presentation, "Understanding Our Kids' Online & Offline Social World: Friendships, Cliques & Power Plays." The parent event, scheduled from 6:30 p.m.-8:00 p.m., is for adults only and will take place at Wellesley Middle School Auditorium. We wish to give special thanks to the PTO for making this author visit possible. From the Nurse: Welcome! As Sprague School's nurse, I'm very happy to welcome you and your children to a new school year. At Sprague, nursing coverage is provided during all school hours. I am here four days each week, with Nancy Falb in the nurse's office on Fridays. Our goal is to help your child(ren) take full advantage of the many educational opportunities here at Sprague, so please contact us if we can be of any assistance. If your child has any specific health concerns or serious allergies, if his or her health status changes, or if there is any way in which we can help, please be sure to let us know. Then we can all work together to provide the best environment for your child. Guidelines for School Attendance When making a decision about your child(ren)'s school attendance, please be mindful that some members of our Sprague Community are at an increased risk when exposed to communicable illnesses. This is what I recommend: (1) Fever-free for 24 hours without using fever-reducing medicine (acetaminophen (Tylenol), ibuprofen (Advil), etc). This means a morning temperature no higher that 99.4 when taken orally. (Please note that children and teenagers should never be given aspirin for a fever and that ibuprofen should always be administered with food.) (2) On antibiotic therapy for 24 hours when being treated for a contagious bacterial infection (such as strep throat). Ear infections are not contagious, so school attendance is dependent on the child's level of discomfort. (3) An ailment such as a cold needs to be evaluated carefully. If your child has copious nasal discharge, frequent cough, or a fever, he or she is best treated by a day of rest and drinking fluids at home. However, if the cold does not affect activity tolerance and the nasal discharge, sneezing and coughing are only occasional, the child is fine to attend school. (4) Stomach ache is a very nonspecific term and is often difficult to assess. A child with vomiting and/or diarrhea should be kept home until symptoms have resolved for at least 12 hours and he or she is able to keep down food and liquid. Be sure to call your physician if fever and stomach pains persist or if your child has poor oral intake and appears dehydrated (dry mouth, no tears, urinates less than 4 times in 24 hours). (5) A good night's sleep the night before – if your child is awake much of the night (vomiting, diarrhea, coughing, etc) then he or she will most likely not have a productive school day. Generally, any complaint that causes your child to lose a significant amount of sleep is a strong indicator that a day home from school is warranted. The education of your children is our top priority here at Sprague. However, if your child is not able to concentrate because he or she is too tired, or is frequently coughing or sneezing, or is in and out of the classroom going to the nurse's office, then chances are high that not much learning is taking place. In addition, the illness is most certainly spreading to others in the classroom. As always, please feel free to call me if you have any questions or concerns. I am anticipating that we will have a wonderful year! Sharon Dates to remember: Sept. 8: New Family Picnic at 6 pm—families BYO Sept. 10: Back to School Night from 6:30-8:00 p.m. Sept.11: Grade 5 Leadership Retreat at Morse's Pond from 12:15-3:00 weather permitting Sept. 14: No school—Rosh Hashana Sept. 16: Instrumental Music Demo for grades 2-5 during the school day Sept. 17: Ice Cream Social at 6 pm Sept. 18: Walk to School Day
Wellesley Public Schools would like to continue connecting with you via email. If you prefer to be removed from our list, please contact Wellesley Public Schools directly. To stop receiving all email messages distributed through our SchoolMessenger service, follow this link and confirm: Unsubscribe If you need to update your email address or phone number, please contact the secretary at your child's school. SchoolMessenger is a notification service used by the nation's leading school systems to connect with parents, students and staff through voice, SMS text, email, and social media.
Weekly note from Ms. Snyder