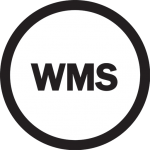 Grade 5 Parent Workshop
Parent and Student Panel to share insights and answer questions about Grade 6.
Friday, May 10 at 9:00-10:30 a.m
Middle School Cafeteria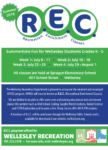 Summer R.E.C. (Recreation Enrichment Classes)
Summertime Fun for Wellesley Students Grades K – 5
Week 1: July 8 – 11 • Week 2: July 15 – 18 Week 3: July 22 – 25 • Week 4: July 29 – August 1
All classes are held at Sprague Elementary School
We are thrilled to be able to offer some new and exciting educational and enrichment classes this summer such as Med School, Coding, Graphic Novel Creations, Rocket Science and STEM Exploration just to name a few. Many classes offer AM & PM sessions. Program Information and Online Registration is available at wellesleyrec.org
Principal's Message
Apr 2, 2019
-
Hello Upham Community, As you know we are in the middle of our Upham Auction. The Silent Auction (link is here https://upham2019.ggo.bid/bidding/package-browse) actually opened today and will remain open until Thursday, April 4th at 10:00 pm. A big shout out goes… ... Continue reading...
Principal's Message
Mar 15, 2019
-
;text-indent:0px;text-transform:none;white-space:normal;widows:2;word-spacing:0px;-webkit-text-stroke-width:0px;text-decoration-style:initial;font-size:12pt;font-family:Calibri, sans-serif;">Dear Upham Community, The Wellesley Public Schools has been working on revising our current Report Card. Over the year the Standards-Based Report Card Committee has been working on a new Standards Based Report Card for the 2019-2020 School Year.… ... Continue reading...
Upcoming Dates:
View more dates in our monthly view calendar…
---
School Information:
Principal: Jeffery Dees
Secretary: Robin Boucher
Nurse: Ann Warmington
35 Wynnewood Road, Wellesley MA 02481 • Map & Directions
Office Tel: 781-446-6285
Voice Mail: 781-263-1510
Fax: 781-263-1507
Absentee Line: 781-263-1510 ;8 (Option 8)
Email: wps-upham-office@wellesleyps.org
School Hours:
Monday, Tuesday: 8:30 am – 3:05 pm
Wednesday: 8:30 am – 12:00 pm
Thursday, Friday: 8:30 am – 3:05 pm
Office Hours: