Senior Activities 
Wednesday, May 19th: Senior Pep Rally 
Time: 9:35am – 11:00am (Seniors will miss Advisory and Purple Block) Location: Darcy Field 
Monday, May 24th: Pet Day Parade 
Time: 7:30am – 8:15am (Seniors will miss 15-30 minutes of Orange Block) Location: WHS Outdoor Parade Path (similar to Halloween Parade) 
Tuesday, May 25th: Senior Picnic + Teacher Appreciation Time: 1:30pm – 2:30pm 
Location: WHS Outdoor Lunch Locations 
Wednesday, May 26th: Community Service Day Time: 8:00am – 12:00pm (Seniors will miss all classes) 
Location: Various locations throughout Wellesley Community 
Thursday May 27th: Rain Date for Tuesday 
Friday, May 28th: Color Wars (PENDING BOARD OF HEALTH APPROVAL) Time: 11:00am – 2:00pm (Seniors will miss Purple and Gray Block) Location: Hunnewell Fields
Graduation Commencement Ceremony
Friday, June 4th, 2021 5:00 p.m.
Hunnewell Field (Please See Diagram)
We are very excited to host commencement on Hunnewell Field this year!
Students will sit in pods on the field with two (2) seats behind them for parents/guardians.  Admittance to the event is by ticket only, families will receive their tickets electronically prior to June 4th, ticket must be present at time of entrance.
Please note, the entire ceremony will be live streamed for the viewing pleasure of friends and extended families.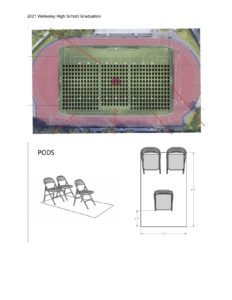 Graduation Seating Plan with Pods
Senior Parade
Saturday, June 5th, 2021 9:00 a.m.
Babson College
more details to follow
Raindates
If rain on Friday evening…
Graduation
Saturday, June 5th, 2021 at 9:00 a.m.
Hunnewell Field
Parade
Sunday, June 6th, 2021 at 9:00 a.m.
Babson College