Senior Activities 
Friday, May 28th
Graduation Rehearsal
Time: 10:45am – 11:15am
Location: WHS Gymnasium
Color Wars (field day games)
Time: 11:15am – 2:00pm (Seniors will miss Purple and Gray Block)
Location: Hunnewell Fields  
Tuesday, June 1st
Yearbook Distribution
2:30 p.m. – 3:30 p.m.
Locaiton: Wellesley High School
Wednesday, June 2nd

Yearbook Distribution
8:30 a.m. – 9:15 a.m.
1:30 p.m. – 2:30 p.m.
Location: Wellesley High School
Senior Prom/Activity
Time:  6:30 p.m. – 7:00 p.m. registration and arrival at the main entrance.
Event 7:00 p.m. – 10 p.m.
Location:  Wellesley High School
Thursday, June 3rd
Yearbook Signing
7:00 p.m. – 8:00 p.m.
Senior Video Presentation
8:00 p.m. – 8:30 p.m.
Location: Wellesley High School
Friday, June 4th
Graduation Day
Rehearsal
Friday, June 4th, 2021 8:00 a.m. – 11:00 a.m.
Ceremony
Friday, June 4th, 2021 5:00 p.m.
Hunnewell Field (Please See Diagram)
Students will sit in pods on the field with two (2) seats behind them for parents/guardians.  Admittance to the event is by invitation only, students will receive colored wristbands the morning of June 4th, wristband must be present at time of entrance.
Please note, the entire ceremony will be live streamed for the viewing pleasure of friends and extended families.
https://www.youtube.com/c/WPSYouTube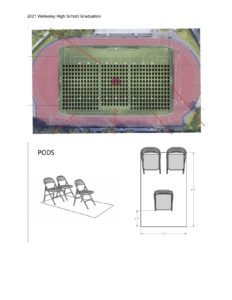 Graduation Seating Plan with Pods
Rain date
If we cannot hold the ceremony due to weather conditions, it will be Saturday, June 5th at 9:00 am with a graduate arrival time of 8:00 am.
Saturday, June 5th
Car Parade – Rain or Shine
Please read a complete schedule and detailed information here.