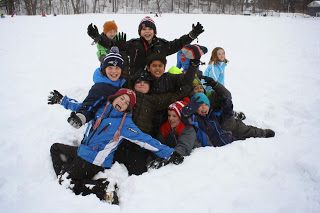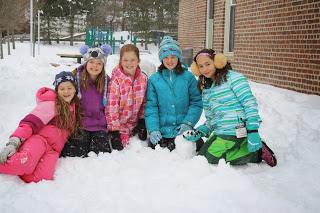 Dear Sprague Community, "Snowmageddon," "Snowpocalypse"…..whatever you want to call it, it's 'snow' joke! (Sorry, I couldn't resist.) In any case, I really can't remember this much snow in a one week span. Sprague students certainly loved playing in the snow at recess last week and I imagine they will enjoy it again this week. We use 20 degrees as the minimum temperature for outdoor recess, so it's likely children will get out to play this week. Students really do need boots, jackets, snow pants, hats, and gloves each day to stay warm and dry during and after outdoor play. Thanks so much for sending all of these things in to school each day. I know it involves some extra steps and effort to remember all that! We have a few postponements due to the snow days this week:
Global Child Language Classes will begin NEXT Tuesday, Feb. 10th.
The Valentine Community Service Project will take place tomorrow, Wednesday, Feb. 4th from 12:00-1:00 p.m.
Walk to School Day for February has been postponed until next Wednesday, Feb. 11th.
PTO board meeting has been postponed until Feb. 11th.
Please remember to return the envelopes and parent comment sheets that came home with your child's Progress Report. You can keep the actual report, but please return the envelope as we will use it again in June. Speaking of June, with all the snow days so far, the last day of school is scheduled to be Thursday, June 18th. Let's hope we don't need any more snow days! You may wonder about the work that teachers do on Wednesday afternoons. This Wednesday, teachers will be participating in professional development around the elementary science curriculum. As you may know, we recently reviewed the social studies curriculum and began teaching new units at each grade level. Information about the social studies units can be found under the learning tab on the district website. During the course of this year, some teachers have been piloting new science units and will be making recommendations about which units should be adopted system-wide. Both science and social studies professional development sessions have been embedded in the Wednesday afternoon calendar. In addition, groups of teachers engage in other important learning on other Wednesdays. At Sprague, we have a number of learning groups. One of those groups is focusing on Carol Dweck's work around 'growth mindset.' We have a book group formed and will be discussing Dweck's work as it relates to the school setting. Her work is equally interesting to parents. Basically, through her research she has shown that those who believe that people are born with a fixed amount of intelligence, skill, or talent tended to show less growth and improvement on challenging tasks than those who believe that effort impacts their performance most. These notions certainly can impact how we provide feedback to children and how we plan for instruction. There are also implications for how parents respond to setbacks children may experience in other areas, such as sports. I will share other snippets from our work, but am sharing the charts below from a chapter on mindset in a book called, "Fall Down 7 Times, Get up 8." Dweck (2006) asserts that mindsets can differ even in the same person. One may have a growth mindset about academics, but a fixed mindset about a sport. Even so, she asserts that mindsets can change. Growth Mindset Beliefs
A belief that effort is a positive, constructive force.
Development and progress are important–not just the product or the achievement.
One can substantially change, stretch, and grow, and that is desirable.
Brains can become bigger. Challenge is good.
Being on the learning edge is the smart thing to do.
Fixed Mindset Beliefs
Either I am smart or I am not.
One is born with a certain amount of intelligence.
Smart is about making no mistakes, going fast, and about the outcome being perfect.
Failure is not an outcome, it is an identity.
If I fail, people may realize I am/was an imposter, and I am not as good as they think I am.
If I fail, I may not only be judged, but I might also be unworthy of love.
Dates to remember: Feb. 4: Valentine Community Service activity (after school in Art room at 12:00) Feb. 10: Grade 3 field trip (rescheduled) Feb. 11: Kindergarten Roundup #1 in the Sprague library from 3-6 p.m. Feb. 13: Drama Club performance at 8:45 a.m. in the gym Feb. 16-20: February School Vacation Week Feb. 23: School Council meeting at 3:15 March 6: Open House 8-9:30 a.m. March 7 (Sat): Kindergarten Round up #2 in Sprague library from 9a.m.-12 p.m. March 12: Incoming Kindergarten Parent Info Night at 6:45 p.m.
Wellesley Public Schools would like to continue connecting with you via email. If you prefer to be removed from our list, please contact Wellesley Public Schools directly. To stop receiving all email messages distributed through our SchoolMessenger service, follow this link and confirm: Unsubscribe If you need to update your email address or phone number, please contact the secretary at your child's school. SchoolMessenger is a notification service used by the nation's leading school systems to connect with parents, students and staff through voice, SMS text, email, and social media.
Weekly note from Ms. Snyder–February 3, 2015