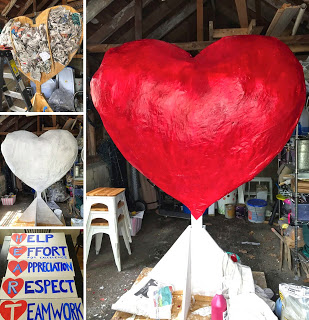 Dear Sprague Community, Sprague is truly amazing! Thank you so much for donating to relief efforts in Nepal. The grand total is… $1,361.90! We are donating to two organizations: International Relief Teams and World Food Program USA. We had some hard working 8th grade volunteers at Sprague last Wednesday. They visited as part of a community service project at the Middle School. We had about 20 students who worked hard to help out at our school. Many students spread mulch in our garden, helped in classrooms, sorted our Lost and Found items, and did so with a smile. Thanks to WMS for sending such wonderful students to lend a hand. World Language Update: Sprague and Hardy will be the pilot sites for World Language implementation in the 2015-2016 school year. Students in grades K-2 will participate in this pilot. We are very excited about this addition to our programs and are working on planning schedules that support this implementation as well reviewing applications from potential teaching candidates. There will be an informational meeting on Monday May 18th at 7 PM at Wellesley Middle School with language expert, Helena Curtain and school leadership. We hope you can attend. There will also be a option for parents to hear Helena Curtain's presentation during the day on May 19th at 8:45 a.m. in the Sprague cafeteria. WOW Parade: Sprague is planning to have a great showing at the parade this Sunday. Parent Bridget Banta is organizing the Sprague Float and has worked with other parents to create a large HEART that is sure to be the envy of all the schools! See the photos at the end of this note. There will be an option for parents and students to participate in after school float decorating on Friday. Students should be accompanied by a parent or other adult to participate. The float trailer and H.E.A.R.T. Sculpture (thanks to Keir Jones) will arrive at Sprague on Friday morning. We like to put in a safe place where children can sign the paper mache, paint signs and decorate the flatbed truck. The parade will take place on Sunday, May 17hth at 1:00 p.m.. The start of the parade is on Washington Street (Route 16) at the Route 9 overpass. The Sprague float will be located on Woodlawn Ave. near Fuller Rd. Our pole number is 11-1 and we are #94 in the parade. Please arrive at 12 if you plan on marching. All students need to be accompanied by an adult. The parade ends on Crest about 100 feet after the Linden Street intersection. At the review stand, children can sing the Sprague School song. In addition to Sprague's HEART values, our float is linked to this year's parade theme: "The Celebration of the 40TH Anniversary of the End of the Viet Nam War and Honoring Those Who Served." All kids should wear sunscreen and we will have water on the float. The PTO is providing some candy to pass out. Students who are unable to walk the length of the parade have first priority riding on the float and must be accompanied by a parent. T-shirt pick-up will be Friday at drop-off and pick-up. Look for Bridget Banta. Unfortunately, the PTO was unable to process any orders for T-shirts that were received after 12:00pm on May 5thth. Food Pantry Drive May 11th – May 22nd Help make the food drive abundantly successful for those in need in our town. Here is how:
Bring donations to school between now and May 22nd.
5th graders will accept donations in car line the week of May 18th (easy drop off option)
Each grade is collecting as follows:

** Kindergarten: Deodorant, Toothpaste, Toothbrushes

** First Grade: Canned Meats (Chicken, Turkey, Spam), Pasta

** Second Grade: Toilet Paper, Vegetable Oil 

** Third Grade: Jams, Jellies (esp. Non Grape), Canned Fruit

** Fourth Grade: Shampoo, Shaving Cream

** Fifth Grade: Bagged White Rice, Ketchup, Paper Towels There will be a labeled bin outside the Front office for additional collection as well. Contact Danae Foley with any questions at foliopoulos@comcast.net P.O.P.S. (From Parents of Performing Arts Students) Parents interested in the Arts (Music, Drama, Orchestra, Band, etc.) are invited to a Tea at the home of a Sprague parent. Date: Friday, August 28 Time: TBD…either 10 AM or 7 PM Place: 11 Colburn Rd. Wellesley (home of Marguerite Chatelier) RSVP: 617-283-7016 or chateliermm@yahoo.com Dates to remember: May 14, 15: Grade 5 Science MCAS May 18: World Language Parent Meeting @ 7 PM at WMS auditorium May 19: Daytime option for World Language Parent Meeting @ 8:45 in Sprague cafeteria May 25: No school-Memorial Day May 29: Sprague Auction at Wellesley Country Club (See PTO for tickets) June 2: Walk to School Day June 3, 4, and 5: Grade 5 trip to Hale Reservation (don't forget to register!) June 9: Family Picnic on Sprague field and playground (BYODinner) –frozen treat provided J June 11: Field Day June 19: Last day of school-half day (Wed. June 17 will be a full day.)
Wellesley Public Schools would like to continue connecting with you via email. If you prefer to be removed from our list, please contact Wellesley Public Schools directly. To stop receiving all email messages distributed through our SchoolMessenger service, follow this link and confirm: Unsubscribe If you need to update your email address or phone number, please contact the secretary at your child's school. SchoolMessenger is a notification service used by the nation's leading school systems to connect with parents, students and staff through voice, SMS text, email, and social media.
Weekly note from Ms. Snyder–May 12, 2015