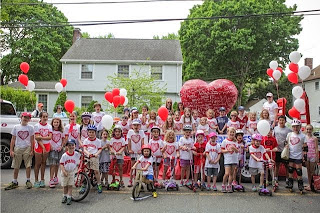 Dear Sprague Community, The warm weather is finally here to stay. It's been such a treat compared to the winter months and we are happy to see our kids outside playing each morning. As a gentle reminder, we begin sending students inside at 8:25 and classes begin at 8:30. Students who arrive after 8:30 must come to the office to get a tardy slip. World Language: Language expert, Helena Curtain, visited Wellesley this week and gave a wonderful presentation about the benefits of learning a second language as early as possible. She reminded the audience that brains of people who know more than one language are actually denser and more flexible. She cited research that indicates that students with another language develop empathy, cultural awareness, and score higher on standardized tests in all subject areas compared to monolingual peers. At School Committee, last week, assistant superintendent Dr. Dean Blase announced the language choice for our pilot program….drum roll…..it will be Spanish! We will be interviewing candidates during the next few weeks. The pilot at Sprague will include foreign language instruction in grades K-2 next year. Instruction will begin in November 2015 after a period of curriculum development in the fall. Very exciting! WOW Parade: Thanks to parents Bridget Banta and Keir Jones for their leadership with the Sprague School float! Sprague won the Most Original Award with a strong showing of over 50 students marching in the parade last Sunday! Please consider donating to our Food Drive to benefit the Wellesley Food Pantry this week: Food Pantry Drive May 11th – May 22nd Help make the food drive abundantly successful for those in need in our town. Here is how:
Bring donations to school between now and May 22nd.
Each grade is collecting as follows:

** Kindergarten: Deodorant, Toothpaste, Toothbrushes

** First Grade: Canned Meats (Chicken, Turkey, Spam), Pasta

** Second Grade: Toilet Paper, Vegetable Oil 

** Third Grade: Jams, Jellies (esp. Non Grape), Canned Fruit

** Fourth Grade: Shampoo, Shaving Cream

** Fifth Grade: Bagged White Rice, Ketchup, Paper Towels There will be a labeled bin outside the Front office for additional collection as well. Contact Danae Foley with any questions at foliopoulos@comcast.net P.O.P.S. (From Parents of Performing Arts Students) Parents interested in the Arts (Music, Drama, Orchestra, Band, etc.) are invited to a Tea at the home of a Sprague parent. Date: Friday, August 28 Time: TBD…either 10 AM or 7 PM Place: 11 Colburn Rd. Wellesley (home of Marguerite Chatelier) RSVP: 617-283-7016 or chateliermm@yahoo.com Dates to remember: May 25: No school-Memorial Day May 29: Sprague Auction at Wellesley Country Club (See PTO for tickets) June 11: Field Day June 19: Last day of school—half day (Wed. June 17 will be a full day)
Wellesley Public Schools would like to continue connecting with you via email. If you prefer to be removed from our list, please contact Wellesley Public Schools directly. To stop receiving all email messages distributed through our SchoolMessenger service, follow this link and confirm: Unsubscribe If you need to update your email address or phone number, please contact the secretary at your child's school. SchoolMessenger is a notification service used by the nation's leading school systems to connect with parents, students and staff through voice, SMS text, email, and social media.
Weekly note from Ms. Snyder–May 20, 2015