Dear Sprague Community, Brrrr, its cold outside!!! Please be sure your child has all the warm clothes needed for outdoor recess each day. We go out as long at the temperature is 20 degrees or above. Children need hats, gloves, and warm clothes. It is a good idea to label everything or at least your child's coat with his/her name so we can return it is misplaced. If we get snow, children will need boots and snowpants as well. Thanks for your help. Look for the flag in the mornings to see if it is cold enough for us to wait inside. If the flag is not there, children should wait outdoors. Geography Bee Congratulations to all of the Sprague School Geography Bee participants and finalists! Students in grades 4 and 5 took a qualifying test, which resulted in the School Geography Bee Final on January 4th. Finalists were: Michael Skuratovsky, Emma Goodall, and Ruari Sadasiv in 5EB, Gary Martin and Gianna Chatham in 5KC, Charlie Coleman and Katie Green in 5BH, Nina Goujiamanis and Ishan Kundu in 5MH, Stella Glassenberg and Charlotte Elwy in 4JH, Ravi Laud and Robert Foster in 4TD, and Andreas Monsen and Maya Vernazza in 4JM. This was the 14th annual school level Geography Bee at Sprague. Questions were related to place locations, historical geography, and cultural geography of the U.S. and the world. Special congratulations go out to Robert Frost, for winning the Bee this year. His name will be added to the plaque outside the alcove in the school. Robert will take an online qualifying test to see if he advances to the state level bee held in Worcester, MA. We wish him well! We also want to give special thanks to 5th grade teacher Moe Henzel for coordinating the Bee and to Jill Heckman for moderating.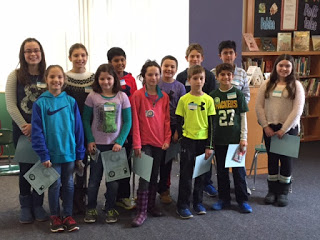 Reminders: You can put money on your child's lunch account by logging into myschoolbucks.com. You can check the menu each month by visiting the school website, clicking on the family tab and the food service tab. Look under menus. Each school has a different menu. As we begin the New Year, please make every effort to have your child arrive at school on time. I know it can be more difficult with colder weather, extra clothing, and more traffic. Students who arrive late miss instructional time. Students in grades K-2 have begun Spanish classes, so it is very important that they arrive on time. Classroom teachers are beginning instruction at 8:35 each day. Thank you for your support. Special Collection One of our 5th graders will be collecting new sporting goods items and toy items for the Home for Little Wanderers during the month of January. Look for the donation box in the lobby. All items must be new. They are collecting basketballs, baseballs, soccer balls, Frisbees, roller blades, tennis rackets, hula hoops…basically any sporting item that you feel is appropriate. They will also collect toys including: arts and crafts items, ethnic dolls, board games, legos, playing cards, and musical toys. Growth Mindset Remember that adults can foster a growth mindset in children by praising their effective efforts and noticing effective strategies rather than saying, "Look how smart you are!" Check out this article summary about growth mindset and math from the Marshall Memo:
Does a Growth Mindset Make Students Better Math Problem-Solvers?
"Having a positive mindset in math may do more than just help students feel more confident about their skills and more willing to keep trying when they fail," reports Sarah Sparks in this article in Education Week. "It may prime their brains to think better." Recent neuroscientific research at Stanford University is showing how students' beliefs about math learning can produce more efficient brain activity. Lang Chen and his colleagues studied elementary students' brains with fMRI (functional magnetic resonance imaging) and found that those with a "growth" mindset about math did better at spotting correct and incorrect math problems than those with a "fixed" mindset, even after controlling for differences in IQ, age, working memory, reading level, and math anxiety. The brains of students with high positive-mindset levels had greater activity and faster, smoother connections in the areas associated with quick recall of facts and math problem-solving. "This is very, very exciting," said Stanford professor Carol Dweck (who was not part of this research project). "My hunch is that often in the fixed mindset your mind is preoccupied with 'Is this hard?' 'Will I look smart?' 'What will happen if I don't do this?' 'I'm not good at math,' instead of getting that brain ready to do it." It's analogous to warming up a car on a cold morning before driving off – the engine is primed to work more efficiently. The key insight from this research is that the brain isn't compartmentalized, with motivation separate from math problem-solving. "The emotion and thought structures in the brain are totally entwined, totally docked in the brain," says Mary Helen Immordino-Yang at the University of Southern California. "If you are trying to do math and worrying about whether you are going to fail or not, rather than the process of doing math… that is not deep learning." Chen and Jo Boaler (also at Stanford) are hard at work on figuring out how to help students shift from a fixed to a growth mindset. "Mindset can change quite a lot across age and grade level," says Chen, "so we really want to see how that change can relate to different brain functions and different math achievement." "In Math, Positive Mindset May Prime Students' Brains" by Sarah Sparks in Education Week, December 9, 2015 (Vol. 35, #14, p. 6), www.edweek.org
From the Nurse: How to Stay Healthy January is "Wash Your Hands Month" at Sprague School The most simple and effective way to prevent illness is to wash hands often, with soap and warm water and friction. Rub hands together vigorously and scrub all surfaces for 10 to 20 seconds. (Ask your first graders to sing the "Wash, wash, wash your hands" song.) The wet soap combined with the scrubbing action helps dislodge and remove germs that can cause infection. Regular soap is fine; antibacterial soap is not necessary. When soap and water are not available, use alcohol-based sanitizers. Rub hands until they are dry. The gel doesn't need water to work; the alcohol kills germs that cause colds and the flu. However, alcohol-based sanitizers do not remove dirt or many food residues. (This is an important consideration when maintaining precautions for food allergies.) Also, sanitizers are proven most effective in those individuals who already practice frequent proper hand washing. Avoid touching your eyes, nose or mouth. Germs spread when people touch something that is contaminated and then touch their eyes, nose or mouth. Eating, nail biting, thumb sucking, handling food, and touching objects are all ways that germs may be spread. Many germs can live for a long time on doorknobs, telephones, and other surfaces. Now that we are in the midst of the cold and flu season, it's an important time to emphasize good hand washing with our children. Proper hand washing is the single most effective way to stop the spread of germs that cause infection. Scientists estimate that 80% of infections are transmitted by hands. During the past monthI have been visiting the classrooms to review effective hand washing and germ etiquette with the students. One of the best ways for children to develop good hand washing behaviors is for adults to set an example with proper, frequent hand washing. Remembering these steps will help to stop the spread of germs in your household and throughout the Sprague community:
Use warm water and plenty of soap.
Rub your hands together vigorously for at least 10 seconds to make a good lather.
Scrub all surfaces – don't forget fingernails and the backs of your hands.
Rinse well.
Dry thoroughly.
A short review of hand hygiene can be seen on the video "Put Your Hands Together" at www.cdc.gov/CDCTV/handstogether. Another good review can be found at www.publichealthgreybruce.on.ca/communicable/handwashing . Each of these videos is less than 4 minutes but provides useful information for preventing the spread of infection. Be mindful to cover your mouth and nose when you cough or sneeze. Bacteria and viruses that infect the nose, throat and lungs cause illnesses such as colds, flu and strep throat. The germs spread from person to person when an infected person coughs or sneezes as the droplets move through the air. (Ask your children to demonstrate proper cough and sneeze etiquette as learned here at Sprague.) So cover your cough or sneeze, using your elbow or sleeve; if you use a tissue wash your hands immediately after. Eat a well balanced diet and get regular exercise and plenty of sleep to boost your immune system so you will be less likely to get sick. Drink plenty of water to keep well hydrated. Proper hydration is essential to a strong immune system and will help you feel better as well. It is especially important for us to follow these measures now to prevent the spread of infection during the winter when we all share such close quarters. Remember to avoid close contact with people who are sick. When you are sick, keep your distance from others to protect them from getting sick. If you feel ill, stay home from work, errands, and social gatherings and keep sick kids home from school or daycare. In this way, you will help prevent spread of your illness. Please keep in mind that our current guideline for school attendance is that students should be fever-free for at least 24 hours, without the use of fever-reducing medicine, before returning to school. Feel free to contact me if you have any questions. Sharon Dates to remember: Jan. 5: School Committee Meeting/Budget Review at 7 PM Jan. 7: Walk to School Day Jan. 8: Winter Concert featuring Grade 5 Band and Chorus at 8:50 a.m. Parents invited. Jan. 18: Martin Luther King Day—NO SCHOOL Jan. 22: MLK Concert at 8:50 a.m. featuring students in Grade 4 and Grade 5. Parents invited.
Wellesley Public Schools would like to continue connecting with you via email. If you prefer to be removed from our list, please contact Wellesley Public Schools directly. To stop receiving all email messages distributed through our SchoolMessenger service, follow this link and confirm: Unsubscribe If you need to update your email address or phone number, please contact the secretary at your child's school. SchoolMessenger is a notification service used by the nation's leading school systems to connect with parents, students and staff through voice, SMS text, email, and social media.
Weekly note from Ms. Snyder