Dear Sprague Community, It is with sadness that I tell you that Jack Glorioso, one of our night custodians passed away on Sunday. Jack was a very kind soul, who worked at Sprague in the late afternoon and evenings. Many children knew him from participating in after school activities here. If you think it is appropriate, please share this news with your child. Jack had been out on medical leave recently, but was still working at Sprague into the late fall. He had been with the Wellesley Public Schools since 2002 . Jack came to Sprague in 2006 and also worked at PAWS during his time with the Wellesley Public Schools. He had a landscaping business as well. He was friendly, kind, and always helpful. We will surely miss him. Kindergarten Roundup It's almost time for the Kindergarten Roundup! That means if you know of families with children who will be 5 by August 31st, they should come to sign up their child for kindergarten. The first Roundup (aka…registration) will take place in the Sprague library on Wednesday, February 10 from 2:30-6:30 PM. The second Roundup date will be Saturday, March 5 (also in the Sprague library) from 8:00 AM-1:00 PM. Parents will need proof of residency, health forms including immunization records, and the WPS forms, which can be found on the district website. Progress Reports Progress Reports will be sent home with students in grades K-5 on January 29th. Our teachers spend a good deal of time writing these reports to inform you of how your child is progressing based on grade level standards. Since it is mid-year, do not be surprised to see 2's and 3's indicating that your child is progressing. At this point in the year, most children are still working on most grade level standards. The narrative portion will give you a very good idea of your child's areas of strength as well as areas that may be more challenging for them. Look for the written Progress on Jan. 29th in your child's backpack. Children and Languages Helena Curtain, author of Children and Languages, has been working with us to develop our Spanish program. Dr. Curtain will be visiting Wellesley Public Schools during the week of January 11. She will be presenting an informational program for elementary parents on Tuesday, January 12 at 7 p.m. at the Wellesley High School Katherine L. Babson Jr. Auditorium. Many parents saw her presentation last year. It will be the same presentation and is designed for parents of K-2 students at the schools that are not currently piloting Spanish and grade 3 parents at Sprague and Hardy. That said, all are welcome…especially if you are interested and were not able to attend last year. Spanish at Sprague Children in grades K-2 are learning to say "Buenos días," "Buenas tardes," and "Buenas noches," as well as to ask and answer basic questions. Mrs. Peare, our Spanish teacher is transitioning to providing just about all of her instruction in Spanish. Many times, students learn to understand far more in a second language than they can actually say on their own. Mrs. Peare and Mrs. Barnett (Hardy School) have been working hard to identify language goals while developing curriculum. Ask your child, "¿Cómo estás?" and see what he or she says. You can try "¿Cómo te llamas?" as well! Take a look at the picture below to see an example of how Mrs. Peare incorporates visuals into her lessons that are already engaging and fun. Later in the spring, we will be inviting parents in to see Spanish classes. We will keep you posted!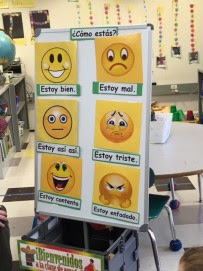 Correction The winner of the Sprague school level Geography Bee was Robert Foster in 4TD. His name was incorrectly printed in last week's note. I am sorry for the error. Congratulations to Robert! MCAS MCAS testing will take place again this year for students in grades 3-5. Students in those grades will take both an English/Language Arts test and a Mathematics test. Students in grade 5 will also take a Science test. The Massachusetts DESE (Dept. of Elementary and Secondary Education) has made a decision to not adopt the PARCC test going forward, but rather create a new MCAS 2.0 by 2017/18. This year, MCAS will include some new question types that the DESE would like to try out for validity purposes. It is my understanding that the new question types will be scored separately and will not be included in student proficiency scores, growth percentiles, or school accountability reports. The grade 4 long composition has been eliminated. Please see the Sprague testing schedule below and (if you have a 3r, 4th, or 5th grader,) make every effort for your child to be present on testing days. We can offer make ups, but then students will miss important class time on the make up day. Dates to remember: January 12: Children and Languages parent talk with Helena Curtain at WHS @ 7PM January 18: No school—Martin Luther King Day January 22: Concert featuring grades 4/5—parents invited MCAS testing schedule Spring 2016 ELA Grade 3 : March 29, 31 Grade 4: April 1, 4 Grade 5: April 7, 8 Make ups: April 6, 11, 12 Math and Science Grade 3 Math: May 12, 13 Grade 4 Math: May 19, 20 Grade 5 Math: May 9, 10 Grade 5 Science: May 16, 17 Make ups: May 11, 18, 23
Wellesley Public Schools would like to continue connecting with you via email. If you prefer to be removed from our list, please contact Wellesley Public Schools directly. To stop receiving all email messages distributed through our SchoolMessenger service, follow this link and confirm: Unsubscribe If you need to update your email address or phone number, please contact the secretary at your child's school. SchoolMessenger is a notification service used by the nation's leading school systems to connect with parents, students and staff through voice, SMS text, email, and social media.
Weekly note from Ms. Snyder–January 12, 2016