Dear Sprague Community,
The Book Fair is in full swing. We are so fortunate to offer a wonderful selection of high quality books for students and parents. Please consider stopping by to check out the selections. Teachers also have 'wish bins' if you choose to buy a title for the classroom collection. The Book Fair will be open early before school on Thursday for the 'Dads and Donuts' event. All working parents are welcome to attend. Each class will attend the Book Fair during the school day. Your child's teacher will let you know the day and time. Parents are welcome to join their child's class to shop.
We will have our annual Halloween Parade on Monday, October 31st beginning at about 8:45 a.m. Parents are welcome to attend and should plan to view the parade from outside. Classes will come outside when they are ready to march.
Sprague School will once again participate in Wellesley Dental Group's 9th Annual Community Candy Drive to benefit the US troops serving overseas. From November 1st to November 9th, we will be collecting candy, along with handwritten notes and cards for our soldiers.
The goal is to teach our kids lessons in giving, by encouraging them to share their extra Halloween candy with our troops. The sweet treats and the handwritten cards are a little reminder of home for our troops, and a message of support just in time for Veteran's Day. The packages will be sent via CarePacks, a non-profit organization, along with oral hygiene supplies. We will have collection bins in the lobby beginning on Nov. 1st.
We'd like to thank last year's fifth grade class for their gift of Imagination Playground blocks. Students were introduced to these oversized foam blocks at our school gathering on Friday. We will begin taking them outdoors at recess time next week. For now, they are being stored indoors so the K-1 classes can try them out in small groups. See photo below.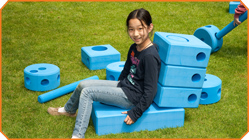 Dates to remember:
Oct. 25, 26, 27: Book Fair
Oct. 31: Halloween Parade at 8:45 a.m.
Nov. 1, 2, 9: Parent conferences—12;00 dismissal (note Nov. 1 is a Tuesday)
Nov. 8: Election Day—late start at 10:30 a.m.
Nov. 9: WEF Spelling Bee fundraiser
Nov. 11: No school—Veteran's Day
Dec. 8: Cookie Walk
Weekly note from Ms. Snyder–October 25, 2016