Dear Sprague Community,
I think the groundhog was right….'the groundhog saw his shadow tall, so winter isn't done at all.'
Please check our Lost and Found one last time before February vacation as we will be donating unclaimed items at that time. There is an oversized display table in the front lobby with many, many items including mittens and gloves without mates! Speaking of clothing, our nurse's office is in need of some donations of pants and leggings in sizes 7-12 for use when students come in from recess with wet clothing. Any donations will be appreciated.
Kindness Olympics at Sprague
We are in midst of looking for acts of kindness to recognize for our Kindness Olympics. Each class has a Kindness Jar and is looking to fill it with marbles that represent acts of kindness. Remind your child to look for acts of kindness, be kind to others, and report them to the teacher! Our Kindness Olympics will run from Feb. 2- Feb. 16.
Drop off and Pick up
I am attaching 2 visuals for your reference as reminders of our procedures .Thanks to PTO president Jenn Fallon for creating the documents. I know that parents make an effort to follow our procedures and that it can be very frustrating when there is a long line of cars or other drivers leaving vehicles in places that are either inconvenient or unsafe for our students. No doubt that being patient is a challenge when one is in a hurry. Please remember to share this information with caregivers or relatives who may come to pick your child up at school. In a nutshell, park in any marked space (except the raffle winner and handicap spaces), cross at the marked crosswalks, and drop off in carline inside the cones. Thank you for your support.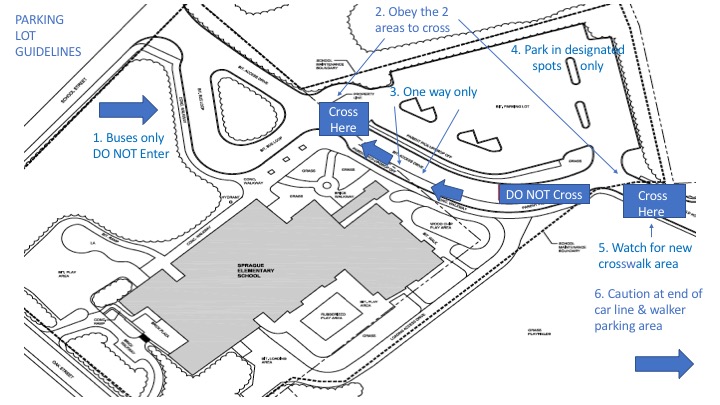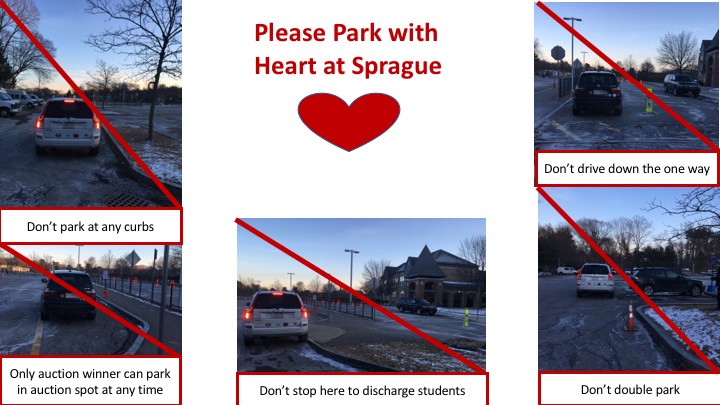 A quick word about the Raffle Winner Parking Spot for those who are new to Sprague…..
The PTO raffles off the parking spot by the sidewalk in the parking lot for half the school year. Anyone can win by buying a raffle ticket during the Cookie Walk/Teacher Raffle. They also auction off this same spot for half the year at the PTO Auction. The Auction will take place in April this year. It is a live auction item and can end up being a bit pricey….although there are who would say it is 'priceless.' There will be more information about the Auction in the Pulse, but it is on the calendar for April 27th.
Dates to remember:
Feb. 8: PTO meeting at 9:00 AM
Feb. 19-23: February Vacation Week
March 2: A-Catemy Awards at 8:45 AM
March 3: Kindergarten Roundup #2 from 9 AM-12 PM in the Sprague Library
March 15: Gr. 5 vs. Faculty Basketball Game at 4 PM at WMS
March 23: Open House from 8:00-9:30 AM
Weekly note from Ms. Snyder–Feb. 7, 2018