Dear Upham Community,
Hello, parents and teachers. The Massachusetts Commissioner of Education has made a recommendation that schools currently in a full remote or hybrid model should transition to an in-person instruction model by April 5th. Currently, at the district level, we are planning for this important transition. The six feet of distancing will be reduced to three feet. Due to the small attendance at Upham, we can accommodate everyone with ease. Arrival and dismissal will remain the same. Our building schedule will not change to accommodate the ease of transition. I know this raises so many questions for you. I wanted to reach out and give you a heads-up. There will be district meetings to discuss the transition and I will relay those dates for the meetings when they are established. So, stay tuned for more information in the coming weeks. Yahoo!
Arrival Currently
Please be aware that we do not have anyone supervising the students before the 8:30 AM opening. Make sure to drop off your children no earlier than 8:25 AM. If students come into the building before the 8:30 bell they will be asked to sit in the hallway next to their room. Thank you for helping us with this situation.
MCAS
The MA Department of Education has remained steadfast in its attitude toward pushing forward with the MCAS for the spring. We are in the middle of making plans for administering the test. The dates for the administration of the ELA, Mathematics, and STE will begin May 10 through June 11. There is nothing for you to do to prepare your child. We are going to make this stress-free for the students. We will talk to the students about the testing and expectations. If you have any questions please contact me.
Rainbow Peace Flag
Once you are allowed to come into the building on a "regular" visit you will notice in the foyer a Rainbow Peace Flag. Below the flag is a testament that reflects our core values for all who enter the hallways and teach at Upham. This is the inscription that has been placed below the flag. The Rainbow Peace Flag is placed here as a symbol of equity and justice-for every culture, race, spirituality, gender, sexuality, ability, and age. We seek the PEACE humankind will only know through equity of resources and opportunity. The presence of this flag inspires conversations, honors differences, contests violence, strengthens solidarity, and gives hope, and seeks to unite the world not to divide it. The flesh tone colors with the black lettering stand side by side, a symbol of solidarity and equality for all.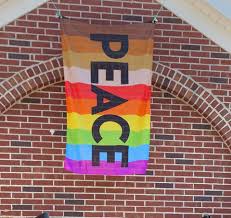 We seem to be making a turn to returning to a sense of normalcy. Thank you for trusting us with your most precious children. It is an honor and privilege to serve you and your children in this very difficult time in our lives.
Thank you for your continued support and belief in us.
Dare to Dream,
Mr. Dees