The WPS Library Media Program Curriculum
---
Elementary Schools
In the elementary library program, one important goal is to support students in their learning while helping them develop an understanding and love of literature. Additionally, we support our teaching staff by acquiring online resources and books to support the daily curriculum. Students in grades K-5 attend library class once each week where they are encouraged to think, create, share and grow through inquiry, inclusiveness, collaboration, curation, and exploration. Literature appreciation, information literacy skills, and critical thinking skills are emphasized.   In all libraries, students are encouraged to check out reading materials that will challenge and interest them.
Certified library media specialists teach students in grades 2-5 are taught for 50 minutes periods, while kindergarten and first-grade students have thirty-minute classes. Fifth-grade students use the library weekly on a flexible basis and are co-taught by the media specialist and their classroom teacher usually focusing on a research project.
Although school library collections vary in size, all are appropriate for the population of their schools and include books, magazines, videos, and audiobooks.  Each library has a combination of desktop and laptop computers that are available to students and staff for research and exploration. Many libraries house digital still and video cameras for in-school use by faculty and students.
Curricular resources are purchased to support the core curriculum of the school and are often used by teachers to supplement textbooks in the classroom. There is also an emphasis on providing students with access to the most recently published quality literature for their independent and assigned reading.
---
Wellesley Middle School

Students arrive in the fall of sixth grade with a love of reading and a strong foundation of information literacy skills they have learned in the elementary library media program.   Although students do not have a regularly scheduled library class in middle school, they begin very soon to apply the research skills and knowledge learned in elementary school through teacher-directed research assignments.
Through flexible scheduling and collaboration between the Library Media Specialist and classroom teachers, middle school students use our library to find, evaluate and use informational resources to answer questions and conduct research.   In addition, students visit the library to choose books for outside reading projects.
A major goal of the library media program is that students be able to select from a wide variety of materials that most nearly suit their specific needs.  All eighth-grade students should leave WMS as independent, clear thinking and self-motivated learners.
---
Wellesley High School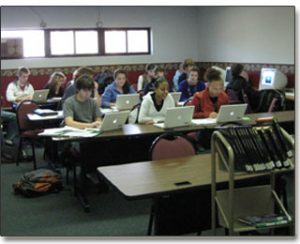 As certified teachers, Wellesley High School librarians assist students and teachers by developing a library collection that is aligned with the curriculum, collaborating with teachers, and creating a library environment conducive to learning.
Although it is common for teachers to schedule just one or two class periods in the library, students then return on their own to seek individual assistance with using databases and print materials to continue their research.
Librarians help students with:
Developing research topics
Accessing appropriate resources (databases, books, reference books, Web sites)
Web searching
Website Evaluation
Note-taking skills
Ethical use of information
Citation formatting