Colleagues,
I hope you each had a productive week. I also hope that some of you had a chance to check out our High School musical, "Something Rotten" last weekend, which was spectacular! Special thanks to Director Kara Sullivan and Choreographer Janet Sozio for their support of our students and Christine Carpenter for all her work to bring the Renaissance to life through her costumes. And thanks to Performing Arts Director Mike LaCava and Allison Madden for all of their logistics work to make this happen. Keep your eye out for the WMS musical, "All Shook Up" in early December. Check out our Performing Arts page for more opportunities to see our kids in action in the coming weeks.
This week we also sent home viral testing kits ahead of the Thanksgiving break, which we hope will provide our staff and families with tools to stay proactive when developing COVID symptoms. We'll repeat this process prior to the December break. (Thank you to Ashley Hulme and Niki Ofenloch for their efforts to distribute these kits to each school.)

Our Staff Professional Development day is coming up on Monday, November 28th. We are very excited to receive a keynote address from Mike Mattos, reinforcing the importance of our MTSS work in support all students. Please remember that this year, staff should report to their respective schools for the day's activities. Please see the message from Sandy Trach for all of the details related to the day.
Finally, as we head into the Thanksgiving holiday next week, I wanted to express my sincere thanks to you all for your tireless work each day in support of our students. I hope you each have a safe and restful holiday with family and friends.

-David
---

Wellesley Food Pantry would like to ask our community to remember those less fortunate at this time of the year and request your support of WFP. We are in need of financial support as well as donations of items from our wish list, which can be found at our website: www.wellesleyfoodpantry.org. We also have collection bins for donations at Roche Bros. (beyond the cash registers along the wall) or at Whole Foods (by the exit door).

We have a client list of nearly 400 people who live in Wellesley and rely on us to supplement their food resources – many of whom are senior citizens or children. If you would like to organize a food drive or collect donations for the pantry please contact us at fooddrives@wellesleyfoodpantry.org for information on our needs and to coordinate donation drop-off. You can also call and leave us a message at (781) 235-1188.

Thank you for your support and we wish you a very happy holiday season.

---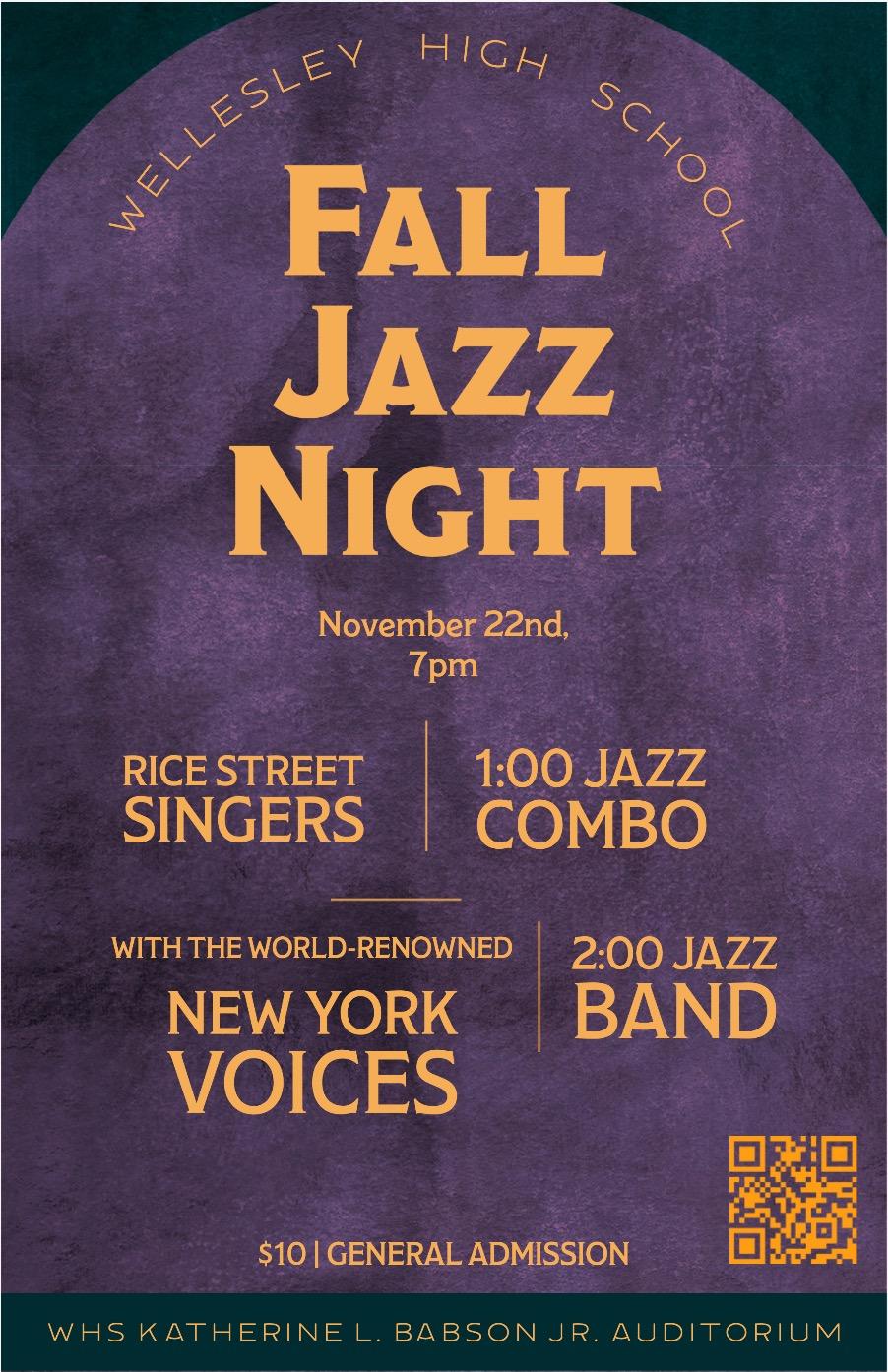 WHS Jazz Combo, WHS Jazz Band and WHS Rice Street Singers to perform at annual "Fall Jazz Night"
Tuesday, November 22nd at 7:00 p.m.
Please join us this Tuesday, November 22 at 7pm for the Fall Jazz Concert at Wellesley High School. In addition to our WHS Jazz Groups, this year we have a special treat when we welcome the Grammy-winning New York Voices to Wellesley High School. The New York Voices have been considered among the world's greatest performing artists for over 3 decades and are constantly on tour in the United States and Europe. They have performed with such artists as the Count Basie Orchestra and the Dizzy Gillespie All-Star Big Band. Over the last 15 years, we have had the individual members of the New York Voices as guest artists on our WHS jazz concerts and are excited to have the whole group perform here this year. In 2017, the Rice Street Singers had an opportunity to perform with them in Atlantic City, NJ as the feature ensemble at the NAfME Eastern Division Music Education Conference for a packed ballroom of music educators from 12 states along the Eastern Seaboard.
Tickets are now available online to purchase ahead of time or you can purchase them at the door (cash or check only at the door). Tickets are $10 each and can be purchased at this link (NOTE: the Jazz Concert Ticket link is at the bottom of the page when you visit this link) :
We hope to see you there!
For more information, feel free to reach out to Choral Director Dr. Kevin McDonald (mcdonaldk@wellesleyps.org), Jazz Band Director Mr. Steve Scott (scotts@wellesleylps.org) or Director of Performing Arts Mr. Michael LaCava (lacavam@wellesleyps.org)
---
2022-2023 ACCEPT Educator Leadership Institute (ELI)
Part-Time preparation for Administrative Leadership and Licensure Program for Educators (Principal/Assistant Principal at one of two levels: Pre-K-8, 5-12).
Application deadline: December 15, 2022
Classes begin: January 11, 2023
Information Sessions: (same session repeated both dates)
Monday, November 7, 2022, 5:00 – 6:30 pm
Tuesday, December 6, 2022, 5:00 – 6:30 pm
Sample classroom activities and an opportunity to discuss the program with current students, graduates and faculty are provided.
Location of Information Sessions:
ACCEPT Headquarters
4 Tech Circle
Natick, MA 01760
To register for an Information Session: eliadmin@accept.org
ELI has prepared and licensed over 500 distinguished educational administrators in districts across Massachusetts since 2003. Graduates have assumed roles as Principals, Assistant Principals, Supervisors and Directors (ELI no longer offers a Supervisor/Director License). The 18-month part-time program includes:
High engagement pedagogy with extensive fieldwork opportunities
Firsthand involvement with practicing administrators
Optional Masters Degree in Educational Leadership and Management (Financial Aid Available)
Excellent placement record
Strong peer and faculty Support Network

---
Calendar
11/23/22 – Early Dismissal Thanksgiving Eve
11/24/22 – Thanksgiving Day
11/28/22 – Professional (Staff) Development – All Schools
11/29/22 – Students Return from Break
---
Baby News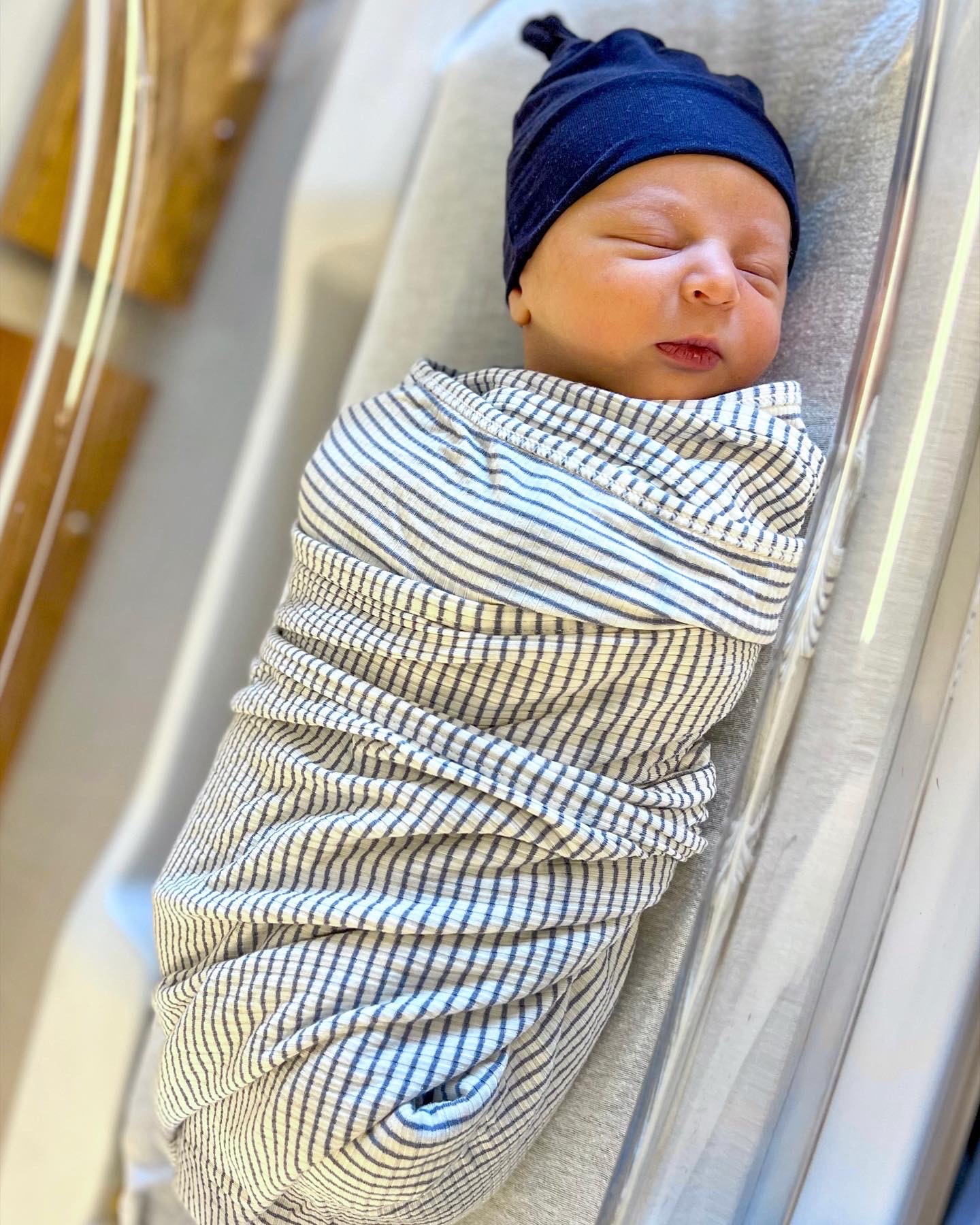 Congratulations to Emma Estabrook, Paraprofessional at PAWS Preschool, on the birth of her son Colin, born November 1, 2022, 19 inches and 7 pounds 1 ounce.
---
Human Relation Services
The Human Relation Services (HRS) can help. Wellesley Public Schools has contracted with HRS to provide up to ten free counseling visits for you and/or your family members. This program is designed to help you deal with stresses of life and work –including personal and family issues, drug or alcohol problems, and job related tension. It offers prevention and intervention to reduce these stresses and improve coping skills.
HRS is located at 11 Chapel Place in Wellesley and can be reached at 781-235-4950. This is a confidential service. Wellesley Public Schools is not aware of the names of employees or their family members who utilize this service.
---
Do you have a question for the WPS Human Resources Department?

Email AskHR@Wellesleyps.org. The Human Resources Department is happy to assist you.

---
WPS Internal Job Postings on District Website
For all Internal Job Postings, please go to "Internal Job Postings" under the Faculty tab of the District's website.

---
Superintendent's Bulletin
Superintendent's Bulletin: 11/19/22