Dear Colleagues,
I hope you each had a productive week. I wanted to thank the members of the WMS Social Studies Department for hosting their first-ever 8th grade Civics Fair. The students did a great job of engaging civic leaders and presenting thoughtful, summary details of the issues they explored and the next steps that they hoped to see. This level of engagement around issues that our students have identified as important to them was exceptional. I know the many members of our community in attendance were equally impressed.
With the beautiful weather on tap for this weekend, I hope you'll consider participating in the Friends of Wellesley Spring Hike on Sunday at Millennium Park in West Roxbury. This is a great event aimed at bringing together our Wellesley and Boston communities.
Thanks for all that you do each day to support our students and have a great weekend!
Best regards,
David
---
Calendar
May 07 – Friends of Wellesley METCO Hike
May 29 – Memorial Day – Offices/Schools Closed
---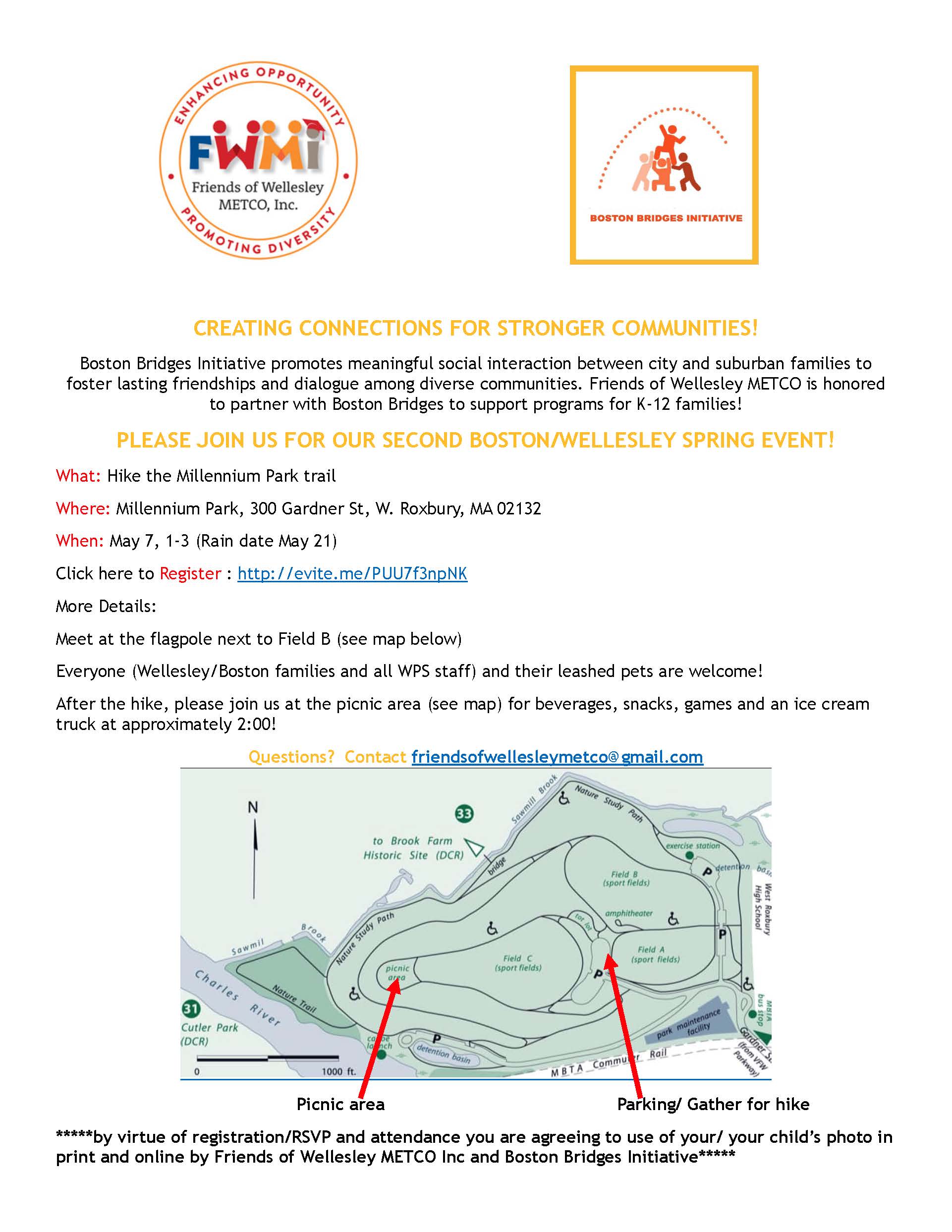 ---
Employment Opportunities: Summer Learning Support Program
Dates: July 10 – August 3, 2023
Teachers and Para openings
Positions are listed in TalentEd, internal postings section.

---
Tuition Reimbursement Deadline
Spring Reminder
Just a reminder that Unit A members seeking tuition reimbursement for graduate coursework in accordance with the Unit A collective bargaining agreement must submit the completed application for reimbursement along with evidence of enrollment into a program and course cost, proof of payment and transcript no later than June 1, 2023. The Tuition Reimbursement form can be found on the HR page of the WPS website (wellesleyps.org/hr/general-forms/).  
The contract states:
Course reimbursement for graduate courses taken by staff who are without master's degrees and/or who are seeking professional licensure as required by the Massachusetts Department of Education or when a specialist teacher's immediate supervisor, subject to the approval of the Assistant Superintendent, verifies that there are no further in‐district courses available for recertification in that specialist's field, that specialist may apply for tuition reimbursement. Any Unit A member for whom no DESE license exists, including but not limited to occupational and physical therapists, so long as that member maintains appropriate certification and/or licensure required to perform his or her duties, shall be eligible to apply for tuition reimbursement.
---
Human Relation Services
The Human Relation Services (HRS) can help. Wellesley Public Schools has contracted with HRS to provide up to ten free counseling visits for you and/or your family members. This program is designed to help you deal with stresses of life and work –including personal and family issues, drug or alcohol problems, and job related tension. It offers prevention and intervention to reduce these stresses and improve coping skills.
HRS is located at 11 Chapel Place in Wellesley and can be reached at 781-235-4950. This is a confidential service. Wellesley Public Schools is not aware of the names of employees or their family members who utilize this service.

---
Do you have a question for the WPS Human Resources Department?



Email AskHR@Wellesleyps.org. The Human Resources Department is happy to assist you.

---
WPS Internal Job Postings on District Website
For all Internal Job Postings, please go to "Internal Job Postings" under the Faculty tab of the District's website.

---
Superintendent's Bulletin
Superintendent's Bulletin: 05/05/23