Dear Colleagues,
Each year during Teacher Appreciation Week, we pause to honor the educators who make a difference in the lives of students each day. I am so grateful for the teachers in my own life, whose shoulders I stand on and whose example led me to ultimately choose education as my career path. I hope you each take a moment to reflect on the educators who have influenced your lives and your path to WPS. You now touch the lives of students in the very same way and you are part of a legacy that makes our profession and impact so unique. I am proud to support your good work and I know I speak for a grateful community in honoring you this week.
This week is also Nurse Appreciation Week, and I would be remiss if I didn't also recognize the critical work of our school nurses. The quality of care they provide to students (and staff) is incredible. Each week they attend to the physical, social, and emotional needs present in our buildings and do so with great compassion. They are health professionals, but also educators and they deserve our thanks.
Thank you for all that you do for our students and a special shout-out to all of our mothers this weekend.
Best regards,
David
---
Calendar
05/06 – 05/29/19 – WPS K-12 Student Art Show – Wellesley Free Library
05/23/19 – School Committee Meeting – Town Hall – 6:30 pm
05/29/19 – Memorial Day – No School
06/03/19 – Deadline for Graduate Course Reimbursement Submissions
06/04/19 – School Committee Meeting – Town Hall – 6:30 pm​​​​​​​
​​​​​​​WPS K-12 Student Art Show – May 6 – 29th See details below.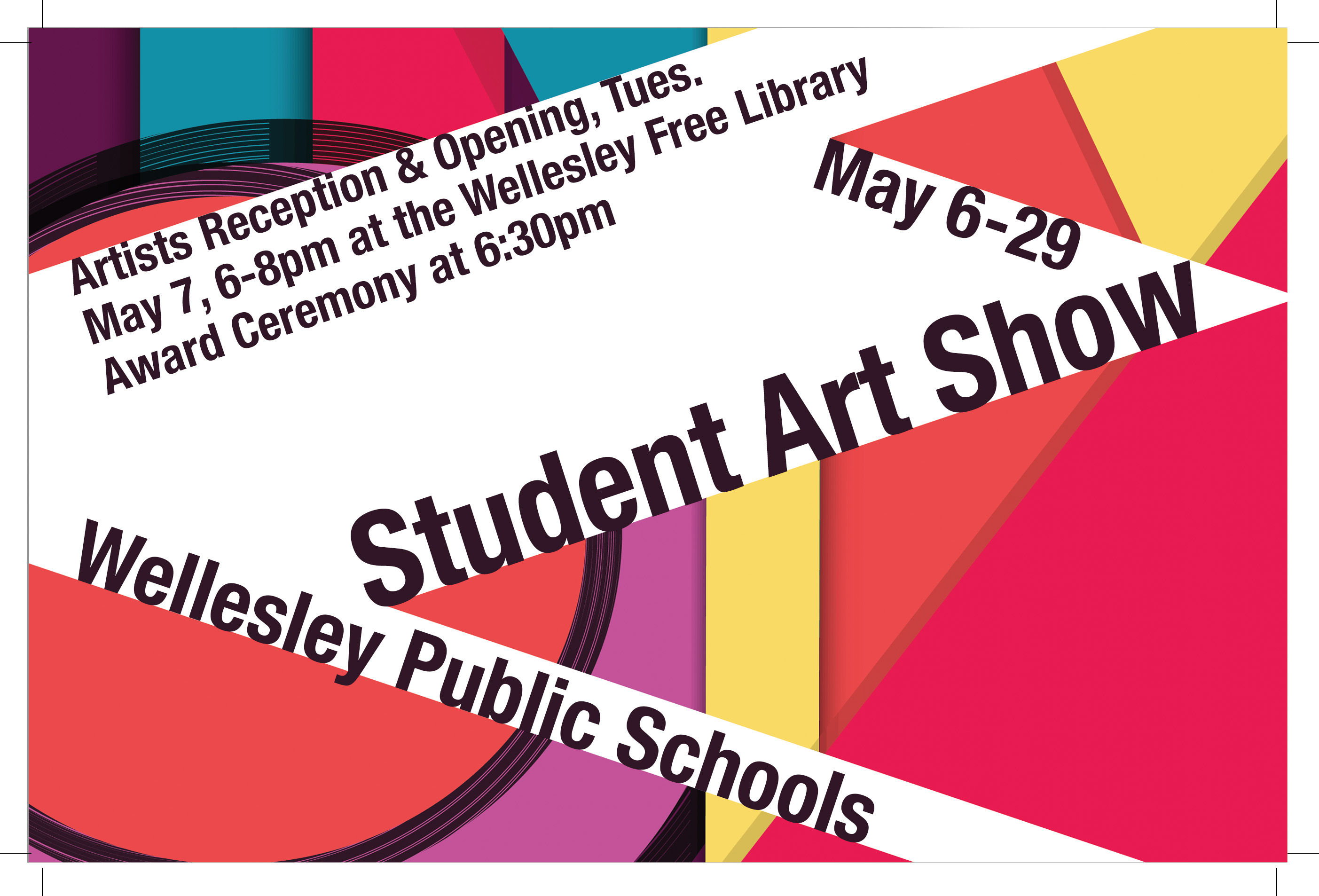 Proctors Needed!
Associate Supervisors are needed to administer SATs for June 1, 2018. Proctors are needed to monitor the halls, direct students to their classrooms and assist the Main Office staff with running the test center, as needed. Both positions are paid positions via the College Board.
The following positions are open:
Proctor (Hall Monitor): $100, 7:00am to 1:00pm*
Associate Supervisor (Test Proctor): $125-$133, 6:45am to 1:30pm*
*All positions have the opportunity for early release should students arrive and complete testing early.
Please note the following:
According to College Board guidelines, Associate Supervisors and Proctors must be current or retired faculty or other professional staff of WPS or from a neighboring institution or a graduate student.
Also, according to College Board guidelines, an Associate Supervisor or Proctor cannot administer any SAT Program test that will be taken by a member of their household or immediate family at any test center NATION WIDE.
If you are interested in any or all of the dates and are eligible according to the College Board guidelines, please email Kyle Gekopi at gekopik@wellesleyps.org.
In your correspondence, please indicate which position you would be most interested in filling, as well as your current address and cell phone number.
IMPORTANT: Indicating interest doesn't guarantee a position as the number of Associate Supervisors and Proctors required to run the test center is based on the number of students testing as well as their needs. Every effort will be made to make positions available to as many people as possible.
​​​​​​​Graduate Course Reimbursement
Course reimbursement funding of $30,000 is available to distribute in FY20 among qualified teachers. This funding is for graduate course work done as part of a master's degree program to fulfill a teacher's obligations for the Massachusetts Educators Professional License and for course work required to achieve the next stage of licensure culminating in a professional license and/or when a specialist teacher's immediate supervisor, subject to the approval of the Assistant Superintendent, verifies that there are no further in-district courses available for recertification in that specialist's field, that specialist may apply for tuition reimbursement. Any Unit A member for whom no DESE license exists, including but not limited to occupational and physical therapists, so long as that member maintains appropriate certification and/or licensure required to perform his or her duties, shall be eligible to apply for tuition reimbursement. To apply for this course reimbursement, please send, by no later June 3, 2019, the completed reimbursement form, along with evidence of your enrollment in an applicable master/doctoral degree program, name and description of the course, evidence of course cost (a billing statement), proof of payment (i.e. credit card statement, canceled check or receipt of payment), and transcript to Valerie Spruill, Administrative Assistant to the Director of Human Resources, spruillv@wellesleyps.org. You will be notified of the amount awarded to you some time prior to the first paycheck in September 2019. Please note: all information must be received by June 3, 2019 or you will be disqualified for reimbursement. All courses must have occurred in the summer of 2018, fall of 2018 and spring of 2019 and have been completed by June 3, 2019. Any courses taken prior to the summer of 2018 will not count for reimbursement.
​​​​​​​MTRS Member Benefits Seminars
Your MTRS Benefits" seminar is an optional, free, two-hour (4–6 p.m.) informal program for MTRS members who want more information about retirement benefits—whether you are a recent member, mid-career educator or soon-to-be retiree. Topics include:
MTRS benefits and services,

estimating your retirement benefits under the regular and RetirementPlus formulas,

various issues you need to consider in retirement, including health insurance coverage, taxation of your retirement benefit, the rules on working after retirement, Social Security—and more!
Choose from the following dates and locations, and click here to register today!
NORTHAMPTON

, Thursday, May 16, Northampton High School auditorium

WOBURN

, Thursday, May 16, Woburn Memorial High School auditorium

PEABODY

, Tuesday, May 21, Peabody Veterans Memorial High School auditorium

WILBRAHAM

, Tuesday, May 21, Minnechaug Regional High School auditorium

HANOVER

, Thursday, May 30, Hanover High School auditorium
​​​​​​​
​​​​​​​Insurance Benefits Information
Health and Dental Insurance Benefits information is handled by the Town Hall Benefits Office. Inquiries should be directed to Joanne Liburd at JLiburd@wellesleyma.gov or by calling 781-431-1019 extension 2244. ​​​​​​​​​​​​​​​​​​​​​​​​​​​​​​
​​​​​​​
Renewing Your Educator's License?
Information about requirements to renew your educator license is available on the WPS website. Click here to go to the HR Licensure tab. When you apply for your license on the DESE website under ELAR, the DESE will send you an electronic communication about what is missing from your licensure file in order to renew. The HR licensure tab and your ELAR account are two tools to assist you with information about licensure renewal. ​​​​​​​
​​​​​​​
WPS Internal Job Postings on District Website
​​​​​​​For all Internal Job Postings, please go to "Internal Job Postings" under the Faculty tab of the District's website. ​​​​​​​
---
Superintendent's Bulletin
Superintendent's Bulletin: 5/10/19