Colleagues,
Happy new year! I hope you each enjoyed the holiday break and found some down-time among the many festivities and family gatherings. I also hope our two-day week has allowed you to ease into the new year and get your sea legs back. 
We have a busy month coming up with more public work on our FY21 Budget, as well as community forums on the Upham/Hardy project and draft elementary redistricting scenarios.
My wish for all of us in this new year is that we take time to attend to our own physical and emotional wellness.  By investing in ourselves outside of work, we will almost certainly be better able to support our students at school.  Enjoy the first weekend of the new year and don't forget to root for the Pats tomorrow!
Best regards,
David
---
Calendar
01/06/20 – WEF Grant Applications Deadline
01/07/20 – School Committee Meeting – Town Hall – 6:30 pm
01/20/20 – Martin Luther King Jr. Day – No School
01/21/20 – School Committee Meeting – Police Station – 6:30 pm
---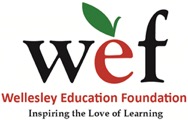 2020 WEF Grant Applications 
Deadline:  Monday, January 6th    Decision Notifications:  Early April 
Did you know??
●      WEF funded over $224,000 through 29 grants last year!
●      Grants funded at all WPS levels – elementary, middle and high school.
●      WEF has a grant history 2010-2019 for review.
We welcome your inspiring and innovative applications.  Please start the process at https://www.wellesleyeducationfoundation.org/  > the menu bar > Educators Tab > Apply for a Grant tab
Jessamy Harrington, Lisa Hicks, and Carrie Reepmeyer
WEF Grants Co-Chairs, 2019-2020
wefgrantapplications@gmail.com
---
Van Drivers Needed – Employee Referral Bonus $300
Wellesley Public Schools is looking for full time/full year Special Needs 7D Van Drivers.   No 7D license, no problem. We will train and assist the right candidates to obtain their 7D license to drive special needs students.   Current 7D or CDL license holders can start now. $15.65 to $16.51 per hour depending on experience.   If you refer someone and they are hired and work at least 6 months in the position, you will receive a $300 referral bonus after the 6 month waiting period.   Interested candidates should contact Deane McGoldrick at RMcgoldrick@wellesleyma.gov.  The applicants should mention that you referred them when they apply.  
---
Seminar Day 2020 – Presenters Needed! 
The holiday season is upon us, and on behalf of Student Congress at Wellesley High School, we would like to offer you an opportunity to avoid all those divisive conversations about politics around the dinner table. Instead, might we recommend you invite your loved ones to participate in this year's Seminar Day!
If you're a new teacher or need a refresher on what Seminar Day is, please scroll to the bottom of this post and read the short description. If you already know the gist, please consider presenting a passion of yours or reaching out to those who may have something valuable, interesting, and/or exciting for our students to hear about. We have included the sign-up form below for you. If you would like us to personally reach out to someone (family, friend, or acquaintance) who may have a topic to present to our students, please pass along any information to us. You can also feel free to send the link along to them as well. Speakers can speak for one block, two blocks, or all three! We are now pleased to be able to offer 10 PDP's for presenting at Seminar Day!
Thank you!
Zach Nicol and Carly Matarazzo
What is Seminar Day?
Seminar day occurs on the March half day every year at WHS. Instead of classes, we plan three one-hour blocks of seminars, and our students (and staff) attend the ones that align with their interests and passions. The schedule for the day is as follows:
Block A: 8:20-9:20am
Block B: 9:25-10:25 am
Block C: 10:30-11:30 am
---
Do you have a question for the WPS Human Resources Department? Email AskHR@Wellesleyps.org.  The Human Resources Department is happy to assist you.  
---
New DESE License Call Center Hours
The DESE Licensure Call Center will offer an additional five hours per week of service to educators and prospective educators. Effective Monday, January 6, 2020 the Licensure Call Center (781-338-6600) will be open each business day from 9:00 a.m.-1:00 p.m. and from 2:00 p.m.-5:00 p.m. Almost 50 percent of the responses from a recent survey favored these new hours over other options. 
---
Human Relations Services
As we enter the holiday season, stress can increase.  The Human Relation Services (HRS) can help.  Wellesley Public Schools has contracted with HRS to provide up to ten free counseling visits for you and/or your family members.  This program is designed to help you deal with stresses of life and work –including personal and family issues, drug or alcohol problems, and job related tension.  It offers prevention and intervention to reduce these stresses and  improve coping skills.  
HRS is located at 11 Chapel Place in Wellesley and can be reached at 781-235-4950. This is a confidential service. Wellesley Public Schools is not aware of the names of employees or their family members who utilize this service. 
---
 WPS Internal Job Postings on District Website
For all Internal Job Postings, please go to "Internal Job Postings" under the Faculty tab of the District's website.   
---
Superintendent's Bulletin
Superintendent's Bulletin: 1-3-20