Dear Colleagues,
I hope you each had a great week as the end of the school year is rapidly approaching. On Wednesday, the Wellesley Education Foundation (WEF) once again hosted the "Chair Ceremony" for our colleagues who have reached the milestone of 25 years of service in WPS. The 12 honorees each received a Wellesley Chair in recognition of their exemplary service to our community, maintaining a long Wellesley tradition, for which we remain grateful. Please join me in congratulating the following colleagues for earning their chair this year:
John Burns (WHS Social Studies Teacher), Lisa Cannon (Hunnewell Grade 2 teacher), Carolyn Collins (PreK-5 Science, Technology/Engineering Department Head), Kirk Fredericks (WMS Fitness & Health Teacher), John Griffith (WHS Fitness & Health Teacher), Kathy Haller-McNeil (Schofield Occupational Therapist), Moe Henzel (Sprague Gr 4 Teacher), Kathy Hood (Schofield Kindergarten Teacher), Erica Ilyin (Bates Gr 5 Teacher), Julie Kenerson (Gr 6 Social Studies Teacher), Christine Laborde-Casterot (WHS French Teacher), and Erika Weberg-Vina (WHS Family & Consumer Science Teacher).
The following narratives are the introductory comments made at the WEF ceremony on behalf of each honoree:
John Burns joined Wellesley High School midway through the '95-'96 school year. At that time, he was the first teacher hired into the Social Studies Department in a quarter of a century, at the forefront of what became a wave of personnel changes over the following few years. Since then, he has taught each of the Department's survey courses, most frequently World History, and developed electives in both East Asian and Russian History & Culture, as well as in Philosophy. He credits the years he spent in his youth as a fan of the then still-cursed Red Sox for helping prepare him for the slings and arrows of a career as a teacher.
Lisa Cannon was offered a 1-year position at Hunnewell Elementary School. One year turned into 25 and she is loving every minute! Through the years, Lisa has been guided by outstanding colleagues – many of whom are here today! – and continues to benefit from their support. Standing upon their shoulders, Lisa looks ahead to meeting future challenges, contributing to ongoing collaboration, and joining students for part of their journey through childhood.
Carolyn Collins made a life and career switch from the world of Fine Art auctions at Sotheby's in New York to the world of elementary education, joining the Wellesley Public Schools in 1994. She began her teaching career as a 5th grade teacher at Schofield where she taught for many years before deciding to be a vagabond and sail the Caribbean Sea for a couple of years. When the winds blew her back to Wellesley, she taught at the Upham School before charting another new course, this time to become the Department head for elementary science and engineering. She is proud of having revamped the entire PK-5 science curriculum, updating it and adding engineering at all grade levels.
Kirk Fredericks is in his 26th year of teaching fitness and health at Wellesley middle school after graduating from Springfield College. Over his career Kirk has coached several sports at many levels for the Wellesley school system including soccer, basketball, and baseball. He was the voice of the Raiders football team for Coach Levin and Coach Tracey every Saturday morning. Kirk and the Former Director of Fitness and Health created the Turkey Trot at Wellesley Middle School that continues to help the Wellesley food pantry and the Haven women shelter in Framingham at Thanksgiving. He was also a key figure in creating the Wellesley middle school mini marathon which has over 1000 WMS students focusing on their fitness each and every year, culminating in a 1.6 mile race.
John Griffith has been a Fitness and Health teacher at Wellesley High School since 1996. His passion is reflected in the many different areas of physical education that he teaches including Adventure education, Sports Education, and Fitness Center Workout. Although a sports enthusiast and coach, John most values the importance of experiential learning.
When Kathy Haller-McNeil began in Wellesley, she worked at Hunnewell, Schofield, and Fiske elementary schools. Her responsibilities gradually landed her solely at Schofield, where she's been for at least the last fifteen years. When not working, Kathy enjoys baking, exploring new places with her family, and riding her bike with her Maltipoo in tow.
Moe Henzel came to Hunnewell School with Principal Ellen Cunniff in 1996, after working for two years as a Literacy Specialist in Framingham and prior to that, as a classroom teacher for six years in Longmeadow, Massachusetts. After the birth of her daughter, Molly Rose, Moe returned to the "newly opened" Sprague Elementary School, and has been there ever since. She enjoys running, yoga, reading, and Sudokus.
Kathy Hood started at Schofield in 1996 as a Kindergarten teacher and with the exception of one year, has remained in that position. She loves being involved with children in their early years. She feels very fortunate to have worked with so many wonderful colleagues, students and families over the years at Schofield.
Erica Ilyin came to the Wellesley Public Schools right after completing college and her master's degree. She has been teaching in the same classroom at Bates ever since! Erica taught third grade for two years, and has been teaching fifth grade for twenty-four. Her favorite thing about fifth graders is their ability to discuss almost any topic in great depth. Erica has a wonderful husband, Dmitriy, and three terrific children – Nikolai, Anna, and Paulina, as well as her dog Bandit, who is great at taking her for walks!
Julie Kenerson came to Wellesley Public Schools after teaching for 2 ½ years in Switzerland and one year of 1st grade in Milton's French immersion program. She taught 5th grade at Fiske for seven years before graduating to the Middle School where she has taught 6th grade Social Studies and/or Language Arts ever since. She encourages her students to be kind and to think of themselves as being part of the larger community. Julie enjoys spending time outdoors with her husband Eric and their 10-year old son Lukas, and she will always honor the memory of her son Jake.
Christine Laborde-Casterot has loved every second of the 26 years she has worked in Wellesley. She is grateful for her colleagues with whom she enjoys having lunch each day (even though 20 minutes for lunch is way too short!) and she is also thankful for her students who are always a lot of fun! Christine started the same year as Richard Deppe, who was her department head. Unfortunately, he is no longer with us, but it was important to Christine to acknowledge him for believing in her and giving her the opportunity to work at Wellesley High School.
Erika Weberg-Vina started her journey at WHS as a recent undergrad and soon to be graduate student. During the last 2 1/2 decades she has served different superintendents, principals, students, and families. She stated that WHS has been an integral part of her life and that it doesn't seem like two and a half decades have passed. She hopes to continue contributing and learning along with her WHS community for many years to come. Seeing herself grow personally and professionally while observing her own students grow and eventually move on to pursue greater things has been her greatest satisfaction during all these years WHS.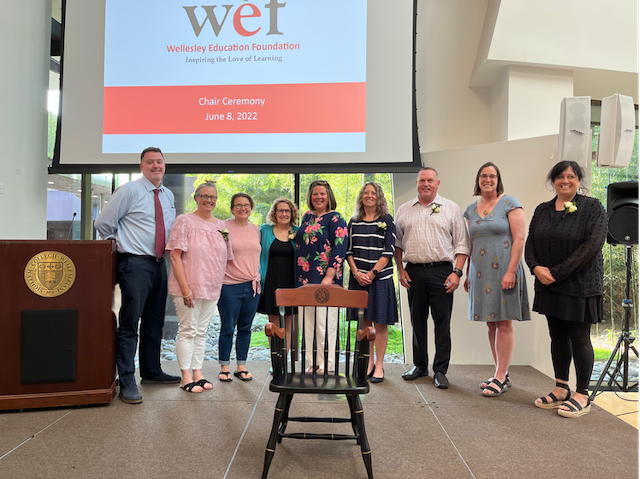 ---
Calendar
6/14/22 – School Committee Meeting – 6:30 pm
6/20/22 – Juneteenth – No School
6/21/22 – Last Day of School for Students! Half Day
6/21/22 – School Committee Meeting – 6:30 pm
6/22/22 – Last Day of School for Teachers!
---
Congratulations to Dr. Kevin McDonald (WHS Choral Director) who has been named as one of the Quarter Finalists for the 2023 Grammy Awad for Music Educator of the Year!
---
WPS Summer Support Staff Needed
Wellesley Public Schools is offering summer support for students. The program begins on Tuesday, July 5th, and runs for four consecutive weeks. The hours are 8:30 a.m.-11:30 a.m., Monday through Thursday (Except Week 1) .
WPS is seeking applicants for several positions. To view the postings and apply for these internal positions, you must create your account in TalentEd. Please contact John Finneron if you have any questions regarding the summer program.
---
Affordable Housing Opportunity – 40 William Street
Please use this link to access information and an application regarding an upcoming lottery for affordable rental units at The Nines located at 40 William Street. 88 affordable units will be available. A portion of the units are coming online now, with the remaining units likely available in December 2022. Qualifying Town of Wellesley employees are eligible for a local preference, as well as Wellesley residents, and households with children attending the Wellesley Public Schools, including METCO students.
For those interested, there will be a Public Information Meeting via Zoom on Tuesday, June 28, 2022 at 6:30 pm. The zoom link and password can be found in the attached document.
Application deadline is July 25, 2022, and the affordable housing lottery will be conducted Friday, August 26, 2022 at 3:00 pm via zoom.
For more information please contact MCO Housing Services at 978-456-8388 or email us at lotteryinfo@mcohousingservices.com
---
Coaches Needed for 2022-23 School Year:
Head Coach: WHS Boys Cross Country
Start date: 8/22/22
Head Coach: WHS Girls Basketball
Start date:11/28/22
---
Human Relations Services
The Human Relation Services (HRS) can help. Wellesley Public Schools has contracted with HRS to provide up to ten free counseling visits for you and/or your family members. This program is designed to help you deal with stresses of life and work –including personal and family issues, drug or alcohol problems, and job related tension. It offers prevention and intervention to reduce these stresses and improve coping skills.
HRS is located at 11 Chapel Place in Wellesley and can be reached at 781-235-4950. This is a confidential service. Wellesley Public Schools is not aware of the names of employees or their family members who utilize this service.

---
Do you have a question for the WPS Human Resources Department?
Email AskHR@Wellesleyps.org. The Human Resources Department is happy to assist you.

---
WPS Internal Job Postings on District Website
For all Internal Job Postings, please go to "Internal Job Postings" under the Faculty tab of the District's website.
---
Superintendent's Bulletin
Superintendent's Bulletin: 06/10/22