Dear Colleagues,
I hope you each had a productive week. (And what a difference in our weather!) I know some of our schools had their back-to-school nights this week. I was privileged to attend Schofield's last night and watched with both pride and admiration the teacher presentations in many classrooms. These typically included brief bios of our colleagues' education and families, and summaries of curricula and classroom routines. I especially appreciated the sage advice provided to the families of our youngest students on how they could extend learning at home, particularly by reading with their students and talking with them about the characters and plot. In Bevin Hale's second grade class, she shared the following quote, which really resonated with me and many parents in attendance.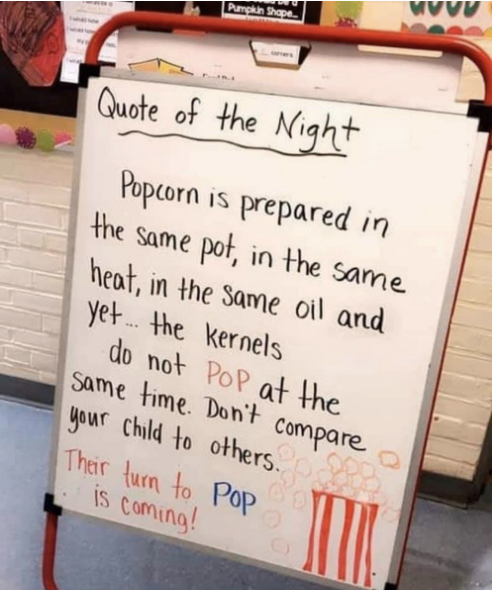 Most parents will likely not remember everything that was said on these evenings, but they will remember how they felt. I know many parents left Schofield last night feeling grateful for such a caring and expert learning environment. Thanks to you all, that's something that I know will be replicated throughout our district in the coming weeks.
Thanks for all that you do to support our students and families. Have a great weekend!
Best, David
---
Are You Interested in After School Work?
The Fitness and Health Department is seeking teachers, paraprofessionals and teaching assistants who are interested in working in the Intramural Program at Wellesley Middle School or in the Fitness Center at the High School.
Responsibilities for the WMS Intramural Program include: running sessions and after school activities for all three grades. Specific assignments and activities vary and are organized by the WMS Intramural Coordinator.
Responsibilities for the WHS Fitness Center include: monitoring and overseeing the students utilizing the Fitness Center both before or afterschool. Specific day assignments vary and are organized by the Department Head for Fitness and Health. Certification in CPR is required, but assistance with that is offered.
If you are interested, please apply for both positions via the WPS Job Postings tab under "Internal" postings. Thank you!
---
Calendar
September 25th (Monday) – Yom Kippur – Schools Closed
October 9th (Monday) – Indigenous Peoples Day – Schools and Offices Closed
November 10th (Friday) – Veteran's Day – Schools and Offices Closed
November 22nd (Wednesday) – Early Release – Schools and Offices Closed
November 23rd & 24th (Thursday & Friday) Thanksgiving Recess – Schools and Offices Closed
November 27th (Monday) Professional Day – Schools Closed
December 25th – January 1st December Break – Schools Closed
---
Human Relation Services
The Human Relation Services (HRS) can help. Wellesley Public Schools has contracted with HRS to provide up to ten free counseling visits for you and/or your family members. This program is designed to help you deal with stresses of life and work –including personal and family issues, drug or alcohol problems, and job related tension. It offers prevention and intervention to reduce these stresses and improve coping skills.
HRS is located at 11 Chapel Place in Wellesley and can be reached at 781-235-4950. This is a confidential service. Wellesley Public Schools is not aware of the names of employees or their family members who utilize this service.

---
Do you have a question for the WPS Human Resources Department?



Email AskHR@Wellesleyps.org. The Human Resources Department is happy to assist you.

---
WPS Internal Job Postings on District Website
For all Internal Job Postings, please go to "Internal Job Postings" under the Faculty tab of the District's website.

---
Superintendent's Bulletin
Superintendent's Bulletin: 09/15/23