Colleagues,
While driving into work this morning, I listened to a local radio station playing clips from the "Butterball Hotline".  They recounted a variety of turkey preparation tips ranging from thawing a frozen bird (1 day of thawing for every 4 pounds) to cooking it (about 4 hours for a 20-lb bird at 325 degrees. This assumes, of course, that your turkey is fully thawed!) We are clearly very close to Thanksgiving next week.
Thanksgiving remains my favorite holiday and as is the case with many of our staff, I am excited to have my family under one roof again for the first time since August.
If you are in the area on Thursday and want to observe the oldest high school football rivalry in the country, come to the Hunnewell Stadium on Thursday morning and cheer for our Raiders as they take on Needham for the 132nd time.  (For the record, Wellesley retains a two-game winning advantage across all of these years!)   And don't forget to travel to Needham on Wednesday afternoon to cheer for our senior girls in the annual Powder Puff Game!
One quick request:  We are in the process of writing our annual progress report for 2018-19.  If you have any stories, awards, events, etc., that you wish to be included, please submit those to progressreport@wellesleyps.org or include it at this link.  (If you have a high-quality photo to go along with your story, even better!)
Finally, we just learned this morning that WMS French Teacher Rebecca Blouwolff was named the American Council on the Teaching of Foreign Languages (ACTFL) National Teacher of the Year.  What a well-deserved honor for this amazing educator!
Enjoy the weekend and have a safe and restful Thanksgiving next week. 
Best regards,
David
---
Calendar
11/26/19 – School Committee Meeting – Town Hall – 6:30 pm
11/27/19 – Thanksgiving Break Begins  – Half Day
12/2/19 – Professional Day – No School
12/3/19 – School Committee Meeting – Town Hall – 6:30 pm
12/11/19 – School Committee Meeting – Town Hall – 5:30 pm
---
Congratulations to  Sarah Williams (Bates Special Educator) on her marriage to Ryan Boudreau on November 16, 2019.
---
Condolences to Kelly O'Sullivan (Fiske Gr 5 Teacher) on the loss of her grandmother, Lillian Sullivan, on November 15, 2019.
---
WTP Performances – Complimentary Tickets Available for WPS Staff – Upcoming Performance:  Frozen Jr.
The Wellesley Theatre Project would like to offer Wellesley Public School employees up to two complimentary tickets to performances throughout the year!  Seats have been set aside for all performances. Please email info@wellesleytheatreproject.org or call 781-235-1550 to let them know which performance you would like to attend. We hope to see you at a show!
---
Educational Leadership and Policy Studies Program
Please click here to view BU Wheelock's reinvigorated EdD program conducted by school and district practitioners and designed for working professionals. 
---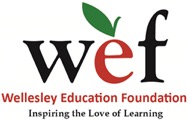 2020 WEF Grant Applications 
Deadline:  Monday, January 6th    Decision Notifications:  Early April 
Did you know??
●      WEF funded over $224,000 through 29 grants last year!
●      Grants funded at all WPS levels – elementary, middle and high school.
●      WEF has a grant history 2010-2019 for review.
We welcome your inspiring and innovative applications.  Please start the process at https://www.wellesleyeducationfoundation.org/  > the menu bar > Educators Tab > Apply for a Grant tab
Jessamy Harrington, Lisa Hicks, and Carrie Reepmeyer
WEF Grants Co-Chairs, 2019-2020
wefgrantapplications@gmail.com
---
Logging into AESOP
Last year we changed to a single sign in option for AESOP.  This means that you can use the same log in and password for AESOP as you do for your Gmail account.  Please follow the directions below to sign into AESOP.Sign into your Gmail account.  Open a new tab and go to the Faculty page of the Wellesley website. Use the link "AESOP for WPS Staff"
Click the line down the bottom of this page that says "or sign in with organization SSO"
Click the blue rectangle that says "Go to my organization's sign in page"
Enter your Gmail log in and password
---
Do you have a question for the WPS Human Resources Department?
Email AskHR@Wellesleyps.org.  The Human Resources Department is happy to assist you.  
---
Human Relations Services
As we enter the holiday season, stress can increase.  The Human Relation Services (HRS) can help.  Wellesley Public Schools has contracted with HRS to provide up to ten free counseling visits for you and/or your family members.  This program is designed to help you deal with stresses of life and work –including personal and family issues, drug or alcohol problems, and job related tension.  It offers prevention and intervention to reduce these stresses and  improve coping skills.  
HRS is located at 11 Chapel Place in Wellesley and can be reached at 781-235-4950. This is a confidential service. Wellesley Public Schools is not aware of the names of employees or their family members who utilize this service. 
---
 WPS Internal Job Postings on District Website
For all Internal Job Postings, please go to "Internal Job Postings" under the Faculty tab of the District's website.   
---
Superintendent's Bulletin
Superintendent's Bulletin: 11/22/19