HAVE A NICE WEEKEND!
---
Calendar
12/10 or 12/11/19 – School Committee Meeting – Town Hall – 6:30 pm
12/23/19-1/1/20 – Winter Break – No School
01/06/20 – WEF Grant Applications Deadline
01/07/20 – School Committee Meeting – Town Hall – 6:30 pm
---
Congratulations to  Preschool Teacher Danielle Lange (PAWS) on the birth of her son, Theo Al, on November 26, 2019.
---
Condolences to PAWS Teaching Assistant Stephanie Lewis on the loss of her grandfather, Roy Lewis, on November 16, 2019; and to Assistant Superintendent of Teaching & Learning Joan Dabrowski, on the loss of her father, Stan Dabrowski, on December 3, 2019.
---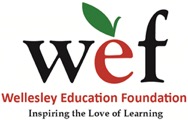 2020 WEF Grant Applications 
Deadline:  Monday, January 6th    Decision Notifications:  Early April 
Did you know??
●      WEF funded over $224,000 through 29 grants last year!
●      Grants funded at all WPS levels – elementary, middle and high school.
●      WEF has a grant history 2010-2019 for review.
We welcome your inspiring and innovative applications.  Please start the process at https://www.wellesleyeducationfoundation.org/  > the menu bar > Educators Tab > Apply for a Grant tab
Jessamy Harrington, Lisa Hicks, and Carrie Reepmeyer
WEF Grants Co-Chairs, 2019-2020
wefgrantapplications@gmail.com
---
WTP Performances – Complimentary Tickets Available for WPS Staff – Upcoming Performance:  Frozen Jr.
The Wellesley Theatre Project would like to offer Wellesley Public School employees up to two complimentary tickets to performances throughout the year!  Seats have been set aside for all performances. Please email info@wellesleytheatreproject.org or call 781-235-1550 to let them know which performance you would like to attend. We hope to see you at a show!
Last year we changed to a single sign in option for AESOP.  This means that you can use the same log in and password for AESOP as you do for your Gmail account.  Please follow the directions below to sign into AESOP.Sign into your Gmail account.  Open a new tab and go to the Faculty page of the Wellesley website. Use the link "AESOP for WPS Staff"
Click the line down the bottom of this page that says "or sign in with organization SSO"
Click the blue rectangle that says "Go to my organization's sign in page"
Enter your Gmail log in and password
---
Do you have a question for the WPS Human Resources Department?
Email AskHR@Wellesleyps.org.  The Human Resources Department is happy to assist you.  
---
Human Relations Services
As we enter the holiday season, stress can increase.  The Human Relation Services (HRS) can help.  Wellesley Public Schools has contracted with HRS to provide up to ten free counseling visits for you and/or your family members.  This program is designed to help you deal with stresses of life and work –including personal and family issues, drug or alcohol problems, and job related tension.  It offers prevention and intervention to reduce these stresses and  improve coping skills.  
HRS is located at 11 Chapel Place in Wellesley and can be reached at 781-235-4950. This is a confidential service. Wellesley Public Schools is not aware of the names of employees or their family members who utilize this service. 
---
 WPS Internal Job Postings on District Website
For all Internal Job Postings, please go to "Internal Job Postings" under the Faculty tab of the District's website.   
---
Superintendent's Bulletin
Superintendent's Bulletin: 12/06/19 Rev