Dear Colleagues,
I hope you each had a productive week. This week, I've been reflecting on how fortunate we are to have such amazing community allies who partner with us in too many ways to count and often amplify our impact with students and families. For example, the Wellesley League of Women Voters was registering students to vote at WHS this week. What an important step to reinforce the importance of civic engagement with our students.
On Wednesday night, the Wellesley Youth Commission and PTOs from the middle and high school sponsored a film screening and discussion of "If Only", which focuses on teen drug addiction. (Did you know that Fetanyl is 50 times stronger than heroine and 100 times stronger than morphine? It's also one of the leading causes of fatal overdoses in our country.)
On Thursday night, the Wellesley Education Foundation helped sponsor a talk by Dharik Mallaprgada of the MIT Energy Initiative, as part of the many STEM week activities focused on sustainability in Wellesley.
This is just a sampling of activities and I'm guessing you can each point to many other current examples in which parents and community volunteers are supporting your work. Let's not take this support for granted as it doesn't exist at this level in every community. Please take a moment to thank the many volunteers who believe in our collective efforts and work each day to support public education in our community.
Thanks for all that you do each day to support our students and have a great weekend.
-David
---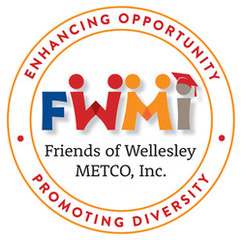 Run the Boston Marathon for FWMI

Are you interested in running the Boston Marathon in support of Friends of Wellesley METCO, Inc? We're looking for someone to lace up their shoes, tackle 26.2 miles on the historic course, while supporting the educational experience of the 154 METCO students in Wellesley Public Schools.

Applications are due by November 14th by 5 pm. If you're interested in receiving the application or have any questions, please contact Erica MacInnes, Boston marathon runner and Friends of Wellesley Metco Inc. board member at emacinnes14@gmail.com or 617-784-9428.

You can make a difference by running for FWMI. The Friends of Wellesley METCO, Inc is an independent charitable ordination program dedicated to helping Wellesley's METCO students make the most of the education opportunities and enriching experiences provided by the METCO program.
---
Congratulations
New baby girl for Scott (Schofield Head Custodian) and Kayla Taylor, little Nora Rita Taylor arrived October 13th.
---
Calendar
11/01/22 – Early Release PreK-5 – Parent Teacher Conferences
11/11/22 – Veterans' Day – No School
11/15/22 – Flu Shot Clinic for Faculty
---
FLU CLINIC for Faculty
In partnership with the Wellesley Health Department, there will be a free flu shot clinic on Tuesday, November 15th from 2:30PM to 4:30PM at Wellesley High School in the cafeteria.
Please fill out the registration link below as soon as possible, you will be assigned a specific time slot and receive a confirmation email. The clinic is for staff only.
https://home.color.com/vaccine/register/wellesleyhealth
---
Reminders Regarding Salary Lane Change Process
Letters of Intent to Change Lanes are due annually by November 1 for the following school year. The letter/email should include your present lane, intended lane and year in which you plan to make the change. Please email or send your letter of intent to Jackie Meyer meyerj@wellesleyps.org. To change lanes in SY23-24, your letter must be submitted no later than November 1, 2022. Please note that your letter of intent does not carry over from year to year.
Also: For professional staff slated for a lane change this school year (SY22-23): All transcripts and other proof of completion must be submitted by November 1, 2022.
---
Human Relations Services
The Human Relation Services (HRS) can help. Wellesley Public Schools has contracted with HRS to provide up to ten free counseling visits for you and/or your family members. This program is designed to help you deal with stresses of life and work –including personal and family issues, drug or alcohol problems, and job related tension. It offers prevention and intervention to reduce these stresses and improve coping skills.
HRS is located at 11 Chapel Place in Wellesley and can be reached at 781-235-4950. This is a confidential service. Wellesley Public Schools is not aware of the names of employees or their family members who utilize this service.

---
Do you have a question for the WPS Human Resources Department?
Email AskHR@Wellesleyps.org. The Human Resources Department is happy to assist you.

---
WPS Internal Job Postings on District Website
For all Internal Job Postings, please go to "Internal Job Postings" under the Faculty tab of the District's website.
---
Superintendent's Bulletin
Superintendent's Bulletin: 10/21/22